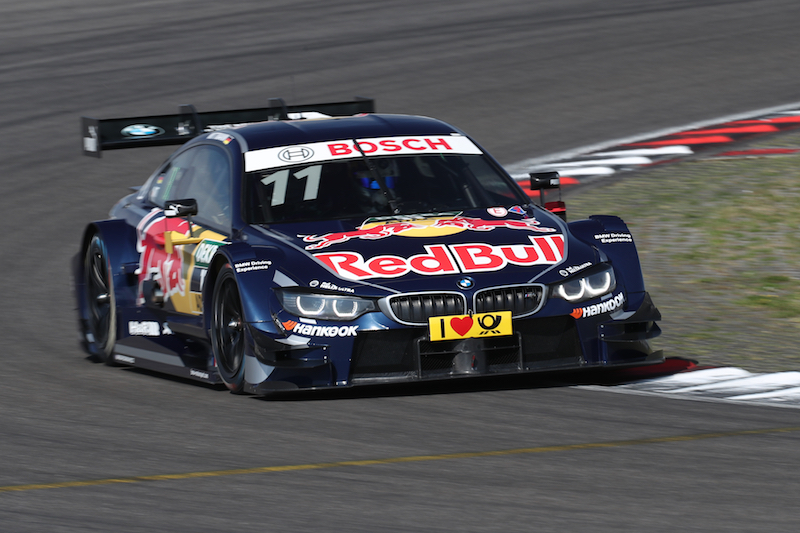 Team RMG's Marco Wittmann dominated proceedings for the Deutsche Tourenwagen Masters (DTM) sprint race at the Nürburging, extending his lead in the drivers' title race to 35 points over nearest rival, Mercedes HWA's Robert Wickens.
The 2014 champion led from lights-to-flag over BMW stable mate Tom Blomqvist, finishing 7.412 seconds ahead of the Anglo-Swede after 29 laps around the 3.629-km circuit.
Jamie Green would complete the podium ahead of fellow Audi Sport driver Edoardo Mortara, as the latter made a mistake on the last lap, trying to pass Blomqvist for second.
Paul Di Resta would be the best-placed of the Mercedes drivers in sixth place, ahead of Lucas Auer, in what was a race for some of the Stuttgart drivers to forget with race incidents causing problems.
Daniel Juncadella and Gary Paffett were spun out in two separate incidents, with both drivers finishing their respective races in 17th and 19th after the 40-minute race.
Juncadella was spun out as he was battling Bruno Spengler for fifth at turn five on lap 16, with Paffett also being spun out by Timo Scheider at the turn 9/10 chicane on the very same lap.
Both Spengler and Scheider received drive-through penalties as a result, and finished the race in 18th and 21st.
Augusto Farfus was making up some ground, before being hit hard and spun out by Adrien Tambay at the turn one hairpin on lap ten, which saw the Frenchman retire shortly afterwards.
Maxime Martin would take a hard-earned eighth place, having fought his way past Wickens and Maximilian Götz, who completed the top ten, with the latter having a paint-swapping battle with Mattias Ekström. The Canadian is currently being investigated by the stewards, as a result of an unsafe start into the formation lap.
Ekström and Götz fought in the latter stages of the race, with the two-time champion deciding to park his Audi RS5 DTM in the garage, after excessive contact forced him to be the third and final retiree from the race.
Nico Müller finished just outside the top ten by 0.424 seconds at the finish, as he was unable to take advantage of the battle between Götz and Ekström, which is currently under investigation by the stewards.
Felix Rosenqvist was still able to battle for the duration of the race, with the Swede finishing in 12th place, ahead of Christian Vietoris and a charging Mike Rockenfeller, who made his way up from 22nd on the grid after a difficult qualifying.
The final DTM free practice session at the Nürburgring gets underway at 10:40 CEST (BST + 1), lasting for 30 minutes.
Race result
| | | | | | | | | | |
| --- | --- | --- | --- | --- | --- | --- | --- | --- | --- |
| POS | NO | DRIVER | NAT | ENTRANT | CAR | LAPS | TIME/GAP | BEST | GD |
| 1 | 11 | Marco WITTMANN | | BMW Team RMG | BMW M4 DTM | 30 | 42:47.780 | 1:24.505 | 1 |
| 2 | 31 | Tom BLOMQVIST | | BMW Team RBM | BMW M4 DTM | 30 | 7.136 | 1:24.528 | 2 |
| 3 | 53 | Jamie GREEN | | Audi Sport Team Rosberg | Audi RS5 DTM | 30 | 9.031 | 1:24.468 | 3 |
| 4 | 48 | Edoardo MORTARA | | Audi Sport Team Abt Sportsline | Audi RS5 DTM | 30 | 9.783 | 1:24.502 | 4 |
| 5 | 16 | Timo GLOCK | | BMW Team RMG | BMW M4 DTM | 30 | 11.768 | 1:24.844 | 8 |
| 6 | 3 | Paul di RESTA | | Mercedes-AMG | Mercedes-AMG C63 DTM | 30 | 15.256 | 1:24.976 | 10 |
| 7 | 22 | Lucas AUER | | BWT Mercedes-AMG | Mercedes-AMG C63 DTM | 30 | 16.086 | 1:24.683 | 6 |
| 8 | 36 | Maxime MARTIN | | BMW Team RBM | BMW M4 DTM | 30 | 23.232 | 1:25.181 | 11 |
| 9 | 6 | Robert WICKENS | | SILBERPFEIL Energy/UBFS Invest Mercedes-AMG | Mercedes-AMG C63 DTM | 30 | 32.197 | 1:25.405 | 13 |
| 10 | 84 | Maximilian GÖTZ | | Mercedes-AMG | Mercedes-AMG C63 DTM | 30 | 34.656 | 1:25.229 | 12 |
| 11 | 51 | Nico MÜLLER | | Audi Sport Team Abt | Audi RS5 DTM | 30 | 35.08 | 1:25.383 | 20 |
| 12 | 88 | Felix ROSENQVIST | | EURONICS/FREE MEN'S WORLD Mercedes-AMG | Mercedes-AMG C63 DTM | 30 | 35.474 | 1:25.342 | 7 |
| 13 | 8 | Christian VIETORIS | | BWT Mercedes-AMG | Mercedes-AMG C63 DTM | 30 | 36.626 | 1:25.291 | 16 |
| 14 | 99 | Mike ROCKENFELLER | | Audi Sport Team Phoenix | Audi RS5 DTM | 30 | 39.61 | 1:25.455 | 22 |
| 15 | 17 | Miguel MOLINA | | Audi Sport Team Abt | Audi RS5 DTM | 30 | 42.009 | 1:25.376 | 18 |
| 16 | 100 | Martin TOMCZYK | | BMW Team Schnitzer | BMW M4 DTM | 30 | 43.445 | 1:25.234 | 17 |
| 17 | 12 | Daniel JUNCADELLA | | SILBERPFEIL Energy/UBFS Invest Mercedes-AMG | Mercedes-AMG C63 DTM | 30 | 43.974 | 1:24.638 | 5 |
| 18 | 7 | Bruno SPENGLER | | BMW Team MTEK | BMW M4 DTM | 30 | 45.506 | 1:24.662 | 9 |
| 19 | 2 | Gary PAFFETT | | EURONICS/FREE MEN'S WORLD Mercedes-AMG | Mercedes-AMG C63 DTM | 30 | 47.271 | 1:25.147 | 14 |
| 20 | 13 | António Félix da COSTA | | BMW Team Schnitzer | BMW M4 DTM | 30 | 49.613 | 1:25.404 | 21 |
| 21 | 10 | Timo SCHEIDER | | Audi Sport Team Phoenix | Audi RS5 DTM | 30 | 53.224 | 1:25.217 | 15 |
| 22 | 18 | Augusto FARFUS | | BMW Team MTEK | BMW M4 DTM | 30 | 54.631 | 1:25.685 | 24 |
| 23 | 5 | Mattias EKSTRÖM | | Audi Sport Team Abt Sportsline | Audi RS5 DTM | 23 | 7 LAPS | 1:24.925 | 19 |
| R | 27 | Adrien TAMBAY | | Audi Sport Team Rosberg | Audi RS5 DTM | 9 | 21 LAPS | 1:25.598 | 23 |