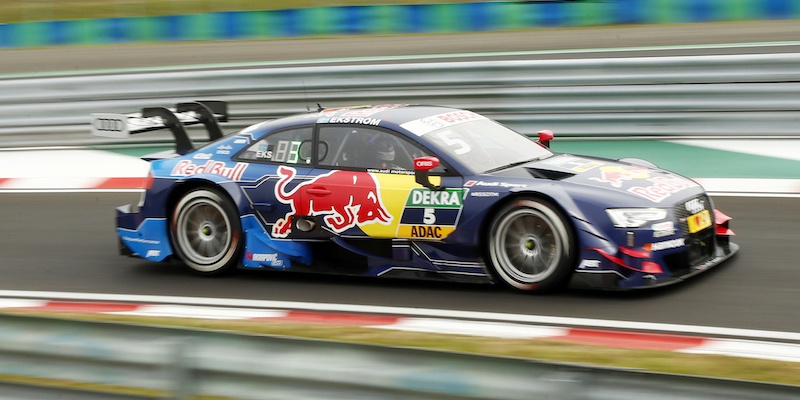 Audi's Mattias Ekström took his first Deutsche Tourenwagen Masters win since Spielberg 2015 at the Hungaroring feature race on Sunday afternoon, as the race for the drivers' title took another turn.
Ekström, who will not be participating in the series finale at Hockenheim, rounded off his season in style with his 24th DTM career win, capitalizing on a multi-car turn one incident that involved both Edoardo Mortara and Marco Wittmann, leading from lights-to-flag.
Team Rosberg's Adrien Tambay would take his second career podium, finishing 4.350 seconds behind Ekström, with Mercedes HWA's Daniel Juncadella securing his first podium finish in the DTM, rounding out the top three.
Wittmann carried on with damage to the steering and right hand side of his BMW M4 DTM, finishing a credible fourth, whilst chief rival Mortara suffered a right front puncture after the pair came to blows into turn one.
The Team RMG driver ended up coming cross the front of Mortara's Audi, before the slightest of contact speared him into Jamie Green, which eliminated the Brit from not only the race, but from the title fight.
Nico Müller and Augusto Farfus also retired in the early goings, due to incidents seeing many cars go wide at turn three on lap one.
The Italian is now 26 points behind Wittmann, but retired from the race with just 90 seconds remaining, having not made any inroads after the incident.
Juncadella took advantage of Robert Wickens being unable to take his grid spot, making a blistering start to jump into fifth by the first corner, before taking third halfway round the first lap.
António Félix da Costa took his best finish of the season in fifth, leading home Tom Blomqvist and Timo Glock, whilst Maxime Martin made it five BMWs in the top ten, finishing ninth behind Timo Scheider. Mike Rockenfeller completed the top ten, finishing 1.291 seconds ahead of Martin Tomczyk.
Robert Wickens' title chase came to an end after the finish, as the Canadian was the next best Mercedes driver in 12th, ahead of Felix Rosenqvist and Bruno Spengler.
Mercedes' efforts to defend their two titles from last season have not been rewarded, as their remaining drivers, Paul Di Resta, Christian Vietoris, Lucas Auer, Gary Paffett and Maximilian Götz were placed 15th, 16th, 17th, 18th and 19th respectively.
Miguel Molina was the last of the actual runners to complete the 36-lap race down in 20th, even with Mortara having been classified in 21st, due to having completed over 75 percent of the race distance.
The season finale takes place at the Hockenheimring in three weeks' time (14th to 16th October), with Wittmann on 188 points and Mortara on 162, as the pair battle for top honours and the DTM drivers' crown at the Baden-Württemburg circuit.
The Team title battle will also be decided, as Audi Sport Team Abt Sportsline extended their lead over BMW Team RMG to 17 points, whilst Audi Sport continues to lead the manufacturers' standings with 602 points, 37 ahead of BMW.
The conclusion of the 2016 Deutsche Tourenwagen Masters season is fast approaching, with more uncertainty than last year, as Hockenheim will see another new champion crowned for the second year in succession.
UPDATE: Both Juncadella and Wittmann were later excluded from the results for having their skid pan thicknesses below the minimum requirement, promoting Da Costa to third and slashing Wittmann's lead in the drivers' championship standings to 14 points over Mortara.
Original (provisional) race result (see revised)

| | | | | | | | | | |
| --- | --- | --- | --- | --- | --- | --- | --- | --- | --- |
| POS | NO | DRIVER | NAT | ENTRANT | CAR | LAPS | TIME/GAP | BEST | GD |
| 1 | 5 | Mattias EKSTRÖM | | Audi Sport Team Abt Sportsline | Audi RS5 DTM | 36 | 59:09.402 | 1:36.538 | 2 |
| 2 | 27 | Adrien TAMBAY | | Audi Sport Team Rosberg | Audi RS5 DTM | 36 | 4.350 | 1:37.019 | 10 |
| 3 | 12 | Daniel JUNCADELLA | | SILBERPFEIL Energy/UBFS Invest Mercedes-AMG | Mercedes-AMG C63 DTM | 36 | 15.870 | 1:37.403 | 11 |
| 4 | 11 | Marco WITTMANN | | BMW Team RMG | BMW M4 DTM | 36 | 23.295 | 1:37.633 | 3 |
| 5 | 13 | António Félix da COSTA | | BMW Team Schnitzer | BMW M4 DTM | 36 | 24.209 | 1:37.133 | 12 |
| 6 | 31 | Tom BLOMQVIST | | BMW Team RBM | BMW M4 DTM | 36 | 26.067 | 1:37.362 | 7 |
| 7 | 16 | Timo GLOCK | | BMW Team RMG | BMW M4 DTM | 36 | 26.813 | 1:37.460 | 15 |
| 8 | 10 | Timo SCHEIDER | | Audi Sport Team Phoenix | Audi RS5 DTM | 36 | 31.792 | 1:37.632 | 13 |
| 9 | 36 | Maxime MARTIN | | BMW Team RBM | BMW M4 DTM | 36 | 38.310 | 1:37.941 | 6 |
| 10 | 99 | Mike ROCKENFELLER | | Audi Sport Team Phoenix | Audi RS5 DTM | 36 | 38.675 | 1:37.488 | 16 |
| 11 | 100 | Martin TOMCZYK | | BMW Team Schnitzer | BMW M4 DTM | 36 | 39.966 | 1:37.831 | 17 |
| 12 | 6 | Robert WICKENS | | SILBERPFEIL Energy/UBFS Invest Mercedes-AMG | Mercedes-AMG C63 DTM | 36 | 40.327 | 1:37.632 | 8 |
| 13 | 88 | Felix ROSENQVIST | | EURONICS/FREE MEN'S WORLD Mercedes-AMG | Mercedes-AMG C63 DTM | 36 | 40.710 | 1:37.356 | 24 |
| 14 | 7 | Bruno SPENGLER | | BMW Team MTEK | BMW M4 DTM | 36 | 41.317 | 1:37.678 | 19 |
| 15 | 3 | Paul di RESTA | | Mercedes-AMG | Mercedes-AMG C63 DTM | 36 | 41.777 | 1:37.660 | 21 |
| 16 | 8 | Christian VIETORIS | | BWT Mercedes-AMG | Mercedes-AMG C63 DTM | 36 | 42.352 | 1:37.809 | 18 |
| 17 | 22 | Lucas AUER | | BWT Mercedes-AMG | Mercedes-AMG C63 DTM | 36 | 42.755 | 1:37.738 | 20 |
| 18 | 2 | Gary PAFFETT | | EURONICS/FREE MEN'S WORLD Mercedes-AMG | Mercedes-AMG C63 DTM | 36 | 43.015 | 1:37.270 | 22 |
| 19 | 84 | Maximilian GÖTZ | | Mercedes-AMG | Mercedes-AMG C63 DTM | 36 | 45.388 | 1:37.180 | 23 |
| 20 | 17 | Miguel MOLINA | | Audi Sport Team Abt | Audi RS5 DTM | 36 | 1:07.034 | 1:38.165 | 5 |
| 21 | 48 | Edoardo MORTARA | | Audi Sport Team Abt Sportsline | Audi RS5 DTM | 33 | 3 LAPS | 1:38.014 | 1 |
| R | 51 | Nico MÜLLER | | Audi Sport Team Abt | Audi RS5 DTM | 8 | 28 LAPS | 1:38.674 | 9 |
| R | 18 | Augusto FARFUS | | BMW Team MTEK | BMW M4 DTM | 2 | 34 LAPS | 00.000 | 14 |
| R | 53 | Jamie GREEN | | Audi Sport Team Rosberg | Audi RS5 DTM | 1 | 35 LAPS | 00.000 | 4 |