Colin Turkington hailed his comeback from last on the grid in race one to first in race three as exceeding his expectations after an 'amazing day' in the British Touring Car Championship at Oulton Park.
Team BMW's Turkington had originally qualified in seventh on Saturday, but the Northern Irishman had his times disallowed after having insufficient fuel in his car for the post-qualifying checks.
That left him to start from 27th and last in race one. With Oulton Park having a reputation for being a circuit where overtaking is challenging, the four-time champion impressed to make up 18 places in the opening encounter to take the chequered flag in ninth – gaining six places on the opening lap alone and making steady progress thereafter.
Further progress up to fourth came in race two, which would give the 41-year-old third on the grid for the final race of the weekend.
Up to second at the start, Turkington followed team-mate Adam Morgan for the first five laps, with Jake Hill on his tail behind, before fighting past Morgan for the lead in a side-by-side move that took three corners to complete.
Turkington went on to claim his 65th BTCC win and close to 35 points from the lead of the drivers' championship standings.
"It's been the most amazing day," said Turkington. "I was a bit down in the dumps on Saturday night knowing I had to start right at the back in P27 – right in the dip at Oulton!
"I didn't think we could make the progress we did, though. The reality exceeded my expectations. Oulton Park has been quite a good track for the BMW previously and although it can be tough to pass, we played our cards right and in each race it kept getting better and better.
"This victory means so much to me. I had to really graft for it, having started right at the back at the beginning of the day in the doldrums to the top step of the podium. It really means a lot.
"Having three BMWs on the podium is fantastic. Jake was on my case, but I could see where we were strong and where we were not – so it was nice in the last few laps to stretch my legs at the front."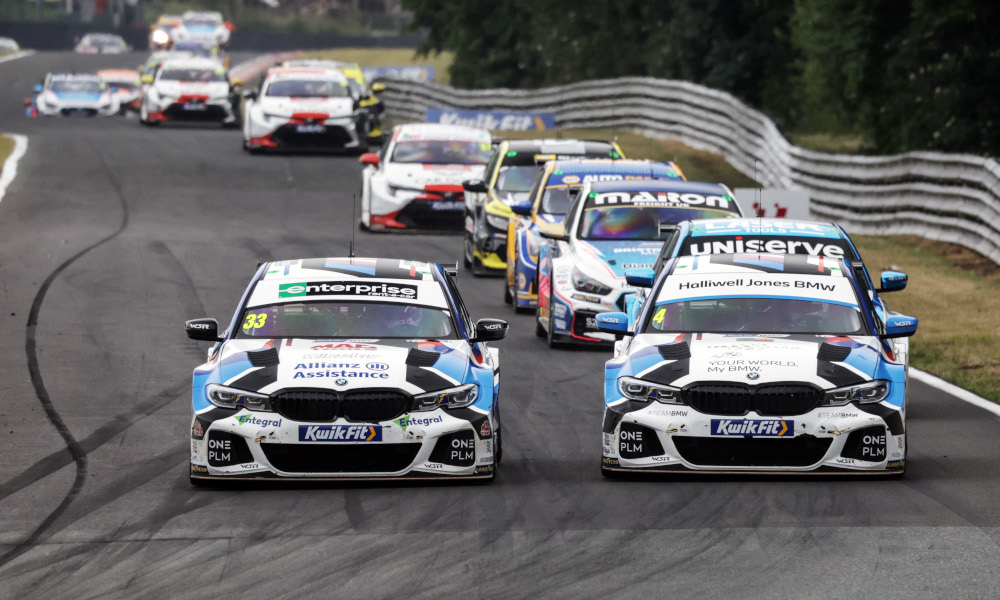 Turkington added that having his eldest son Lewis on ITV to promote the campaign 'Driving Dyslexia Forward' had also been a special moment for him.
"It was real standout weekend, with so many stars aligning. Having Lewis share the spotlight with me for ITV was very moving and I'm just as proud as you would expect.
"It was great having both boys back in the paddock for the first time this season on Saturday, and I'd like to thank everyone for all the fantastic messages of congratulations to me and support for Lewis."