BTC Racing's Josh Cook described his weekend in the British Touring Car Championship at Croft as 'worse than a bad weekend' after he missed the top ten in the first two races before lucking into the reverse grid draw.
Cook was almost nine tenths off the pace in both of Saturday's free practice sessions, before later qualifying down in 20th, eight tenths of a second from pole.
That left him with a lot of work to do in Sunday's races, and the Honda driver made limited progress in the first two races, moving up to 15th and then 11th respectively.
Cook benefitted from the reverse grid draw for race three switching the top 12 finishers, and he could only hold station in second, leaving the weekend with a podium result as a consolation.
Out-scoring title rival Tom Ingram in race three means Cook is just three points from the top of the drivers' standings, having lost the points lead during the weekend.
"It's been an incredibly difficult weekend," Cook told TouringCars.Net. "Oulton Park was tough and we made the best of a bad situation – and that was a bad weekend in touring cars. We played the game and got as many points as we needed.
"But this time it's been worse than a bad weekend. We qualified where our pace allowed – we weren't out of position.
"It's just been a case today of waiting for people to fall off, try and edge our way forwards and make a couple of overtakes.
"We were very lucky with the reverse draw that it gave me an opportunity to get some points back. That could quite easily have not happened, and we can't rely on that third race reverse draw to give us our points on a weekend.
"We'll take it today, but it's still not a good enough points haul for the weekend. We know that, and whilst we're happy with that final podium, nobody in the team is happy with the performance of our cars this weekend."
Cook feels that the M-Sport TOCA engine in the BTC Hondas is lacking the straight-line performance required to allow him to fight near the front at certain circuits.
"It's just parity between the engines. We said we don't feel it's where it needs to be. We know we've got a really good chassis.
"At times this weekend we just engineered away from what's been a really good car, which is fine, it helps us know that we are right in the sweet spot of our chassis, but we just cannot make up that deficit that we have in a straight line.
"I do think a little bit that the circuits we have already been successful at have masked problems – Brands Hatch Indy isn't a power circuit, it's too short and twisty. We were good on Saturday but on the Sunday the weather helped us a little bit and but we picked up the BMWs mistakes, so we took those big points on that weekend.
"At Thruxton, historically I've gone really well around there and the chassis is phenomenal. But Thruxton isn't a power circuit – although you need something somewhere near, it's not a power circuit because as soon as you're up to speed it's just about carrying momentum, as there are only two acceleration areas."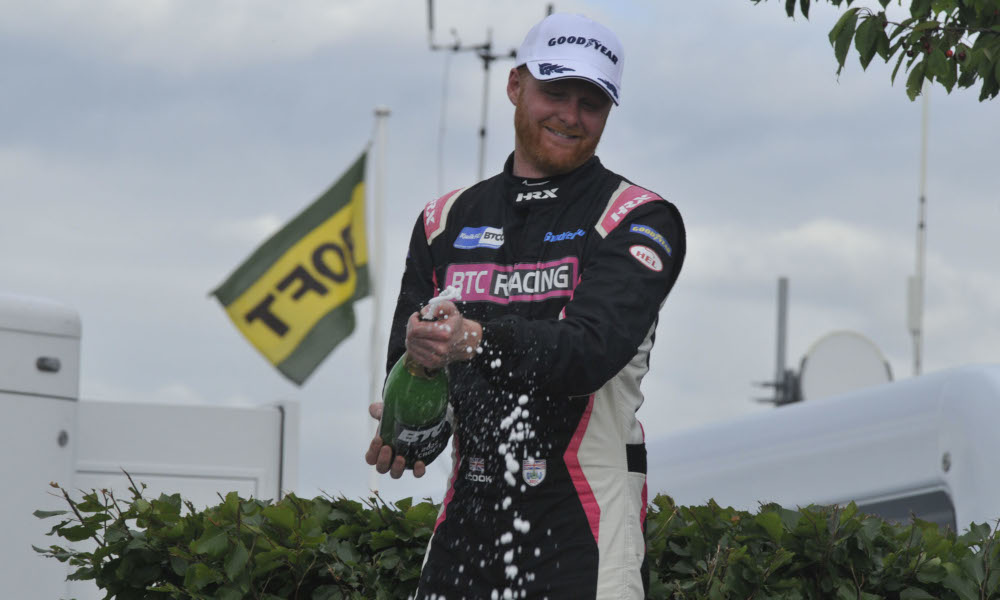 At Croft, Cook was amongst the very slowest in the speed traps, being 27th in the first sector, 25th in the second sector and 26th at the finish line out of 28 cars, lacking around 2.2 to 5.3 mph in contrast to the very fastest cars.
"We've not been strong in the speed traps anywhere, but the circuits that do require a decent amount of power, which are Croft, Oulton Park, Snetterton and potentially Knockhill, it's those sorts of circuits where we are going to struggle.
"It shouldn't be based on lap time, it should be based on out-and-out straight-line performance, because if we've got a good chassis and we can put in a good lap time we shouldn't be punished for that with performance.
"We feel that there's conversations to be had, but of course we're always going to be looking to see what we can do better as a team to improve our package and to improve our performances.
"If nothing changes, we're in big trouble."