Tom Ingram left Donington Park at the top of the British Touring Car Championship standings, with the Excelr8 Motorsport driver clearly enjoying not having to be concerned about success ballast anymore.
Having been fastest of all in the first practice session, and sixth in FP2, Ingram qualified his Hyundai in fourth for the first race of the season, in which all drivers would have equal hybrid boost.
The 28-year-old then benefitted when the WSR BMWs of Jake Hill and Colin Turkington held each other up early in race one, allowing him to sneak into the lead at Coppice before a safety car neutralisation.
Thereafter, Ingram had the upper hand and held on to open his account with victory. He followed up with second in race two, having been pipped by Gordon Shedden, before claiming fifth in the final race, including a well-judged pass on Adam Morgan on the penultimate lap.
Ingram admitted to TouringCars.Net after the weekend that leading the championship was relatively insignificant at this stage, but he was pleased to have his best-ever start to a campaign in the BTCC.
"It's a long season. It's good to leave the first race weekend on top and looking like we've done a good job, which is always satisfying," said Ingram.
"But does it mean anything to be leading the championship now? No, of course it doesn't. There's nine more weekends to go and we know anything can happen.
"Our weekend was successful and we're clearly very fast and we've clearly had some good results.
"Not to take anything away from ourselves because we did a bloody good job, but I think maybe the results were slightly advantageous with WSR having the issues that they had. It probably favoured us a little bit more than maybe it could have done.
"But nonetheless, we've come away in a good place. I think the rear-wheel drive cars are going to be quick this year, but hopefully we can keep some mid-corner performance which is seemingly where our car is pretty good at the minute.
"I'd like to hope that we can continue on that trend for the rest of the year."
In particular, Ingram enthused about the fact that he no longer has to carry success ballast which hampers his car set up, with the old ballast system being replaced by the new Hybrid Energy Management (HEM) system.
"It's nice to be in a position where we can focus on making the car better and not having to worry about going into the next weekend with 75 kg and having a car that feels awful."
"There's two ways of looking at it. I'm probably a little bit more old-school in my outlook on it, in the sense that it's a show, I totally understand that, and it's got to be good racing. You'd argue that it was bloody good racing today.
"Not to downgrade anyone or to say anything horrible about anyone, but everyone is racing against people that they should be racing against. In that sense, the racing has been really good off the back of it.
"The cars are going to get quicker and quicker because we're developing the same car each weekend.
"It used to annoy me a little bit with the success ballast that I'd be qualifying in 21st place and couldn't compete and you'd find that there were people up there that shouldn't necessarily be up there.
"Again, not to take anything away from them – it was part of the game – but it's not a school sports day and not everyone can win.
"At some point the quickest cars and drivers have to align, and that's what I think we'll start to see this year and the racing will be bloody brilliant off the back of it."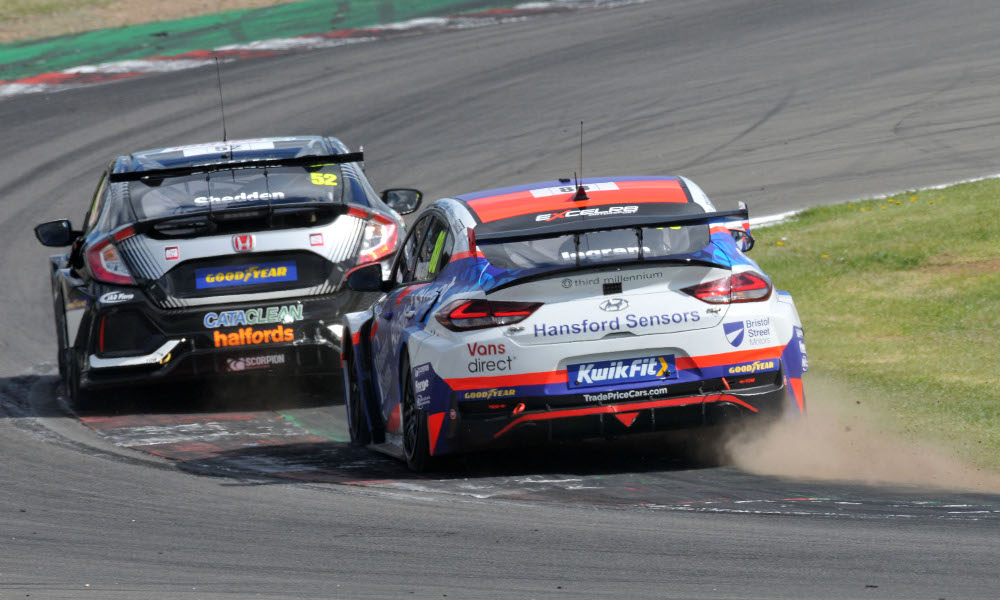 As well as the lack of ballast, Ingram thinks the new hybrid element is adding further interest to the mix this year.
"I really enjoy it – I absolutely love it. I think it's added to the racing, and I think we've ended up with a group of drivers now who have got the capacity to be thinking of other things.
"It means I am in control of my own race so I no longer have to rely on hopefully getting lower ballast in race two and coming through – I can play the race out.
"I can choose to save a bit of hybrid there to deploy later, or to close the gap up or not close the gap up, save some or not save some, so from that sense you know what, I think they've got it spot on.
"Are people going to moan about it? Of course, they're going to moan – there will always be people to moan about it. Are there going to be issues? Of course, there will be issues – I would be more concerned if there were no issues.
"I genuinely think, not to blow smoke up anyone's arse, that they've done a really bloody good job.
"The racing was great; qualifying was bloody close – six thousandths between the top four – and if you look at the races, you'd argue that they've been good races as there's been stuff going on all the way through. I've really enjoyed it."