This weekend marks the début of the all-electric PURE ETCR series at Vallelunga in Italy, where twelve drivers will take part in a series of battles and head-to-head sprints in the world's first multi-brand electric touring car series.
Three brands, CUPRA, Hyundai and Alfa Romeo, will be represented in the first electric touring car series, with the cars being run by Zengő Motorsport, Hyundai Motorsport and Romeo Ferraris in conjunction with M1RA, respectively.
The field boasts a star-studded dozen drivers, headed up by international title-winning stars such as Mattias Ekström of DTM fame, Jean-Karl Vernay of TCR title winning calibre and former World Touring Car and DTM driver Augusto Farfus.
Joining them will be experienced tin-top racers including Spaniard Jordi Gené, Brit Tom Chilton, Hungarian Dániel Nagy, Italian Luca Filippi and Spaniard Mikel Azcona.
New names are also entering touring car competition, with Brit Oli Webb and Brazilian Rodrigo Baptista joining from a sportscar racing background, whilst Italian Stefano Coletti boasts a wealth of single-seater experience. Also on the entry list is Frenchman John Filippi, who has raced touring cars for the past seven years.
Drivers will not only have to get used to racing the world's most powerful touring cars, but a range of other innovative and technical challenges.
Unlike most motorsport, all cars will run permanently on all-weather tyres in a bid to maintain as low a carbon footprint as possible for the new series, resulting in fewer trucks of rubber needing to be transported to the race tracks.
That means drivers will not have the benefit of full slick tyres in dry conditions, and with the powerful rear-wheel drive cars having impressive performance, spectacular sliding is anticipated around the circuits.
There will be no qualifying sessions or conventional races, either. A random draw on Friday evening will decide the split of drivers into two pools, with six going into Pool A and the other six going into Pool B.
In part the split is necessitated by the fact that there are only six ETCR cars currently developed which are transported to each event, with two drivers thus having to share the same car over a weekend.
Each Pool is further split into two groups of three, who will do battle on Saturday. Round one for each Pool consists of two battles of three cars each, lasting no more than 15 minutes. 300 kW of constant power will be afforded to each driver, plus a 'power up' boost of between 20 and 60 seconds, temporarily delivering up to 500 kW of power.
Round two for each Pool extends to three battles per Pool, as just two cars will take part in head-to-head battles, lasting no more than 12 minutes. The winners of the first round face each other, with second against second and third against third. Power levels are limited to 450 kW of constant power, with no power-ups allowed.
Round one and Round two conclude the track action for Saturday.
On Sunday, round three is first held which represents a solo time trial for each driver over one or two laps, depending upon the circuit length. The fastest driver from each Pool secures pole position for their SuperFinal.
The weekend concludes with the SuperFinal, where six cars take to the track in each Pool for the first time (representing all six ETCR cars entered into the series). The SuperFinal is also the longest battle of the weekend, lasting up to 20 minutes, with cars running at 300 kW of constant power, save for the power-ups which can take them up to 500 kW.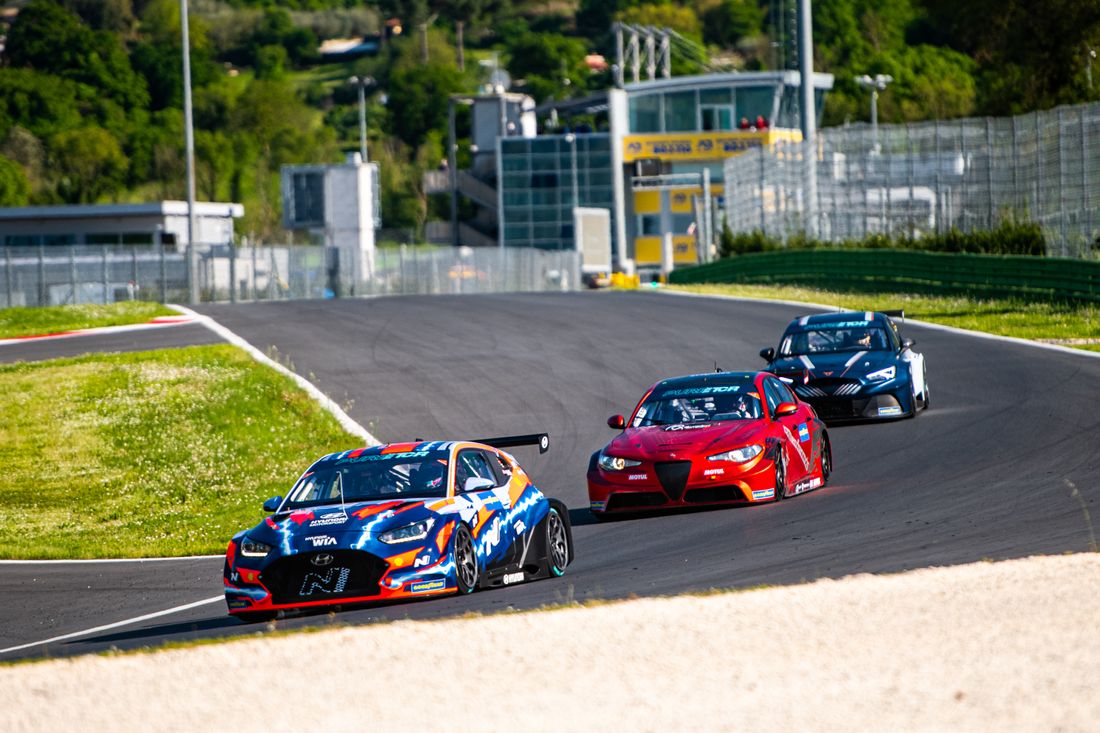 Points are awarded throughout the weekend, reflecting the increasing importance of each battle. Round 1 hands out points to the three drivers (15 – 10 – 4), whilst Round 2 awards 12 and 6 points respectively to the two drivers.
No points are awarded in Round 3, which decides the pole position for the SuperFinal.
Finally, Round 4 (the SuperFinal) awards the most significant points, with all six finishers scoring on a scale of 50 – 42 – 35 – 27 – 20 – 15.
Experienced racers expect close racing in high-power, low-downforce touring cars
Brazilian Augusto Farfus and Spaniard Jordi Gené have arguably the most and great diversity of experience in touring car racing, and both are expecting exciting on-track action from the new series.
Farfus competed in Super 2000-spec touring cars between 2004 and 2010 in the ETCC and WTCC, and in high-performance DTM machinery from 2012 to 2018, before switching to racing in TCR in 2019 with Hyundai in the WTCR.
The Brazilian expects that the racing will be close because of a combination of factors, which include the car's high performance, low downforce and all-weather racing tyres.
"In this project I would say pretty much everybody has to start from zero, like day zero at school," said Farfus to TouringCars.Net ahead of the event.
"The characteristics of the car and all of the systems on the car – every single component on the car – are very different from all cars I have driven so far.
"This was a big learning curve for everybody, it was a big challenge, and I think all of us push ourselves to the limit, and that's what we have.
"We have a car which I'm pretty sure is very competitive and we can be up there.
"Talking specifically about how the race will be, I think especially with the power up function, these cars, by not having so much aerodynamics, allow you to really drive close to each other.
"The braking zones are long, so allow drivers to dive and pull the move under braking.
"Of course, we are all in this championship as beginners, so we all need to learn, and I think we have all of the right cards to put on a good show.
"I think in our days in motorsport there was a period when the show has been put on the side a little bit, due to all the technologies and all of the functions, and now PURE ETCR is trying to come up with something new and show definitely that electric cars can be fun."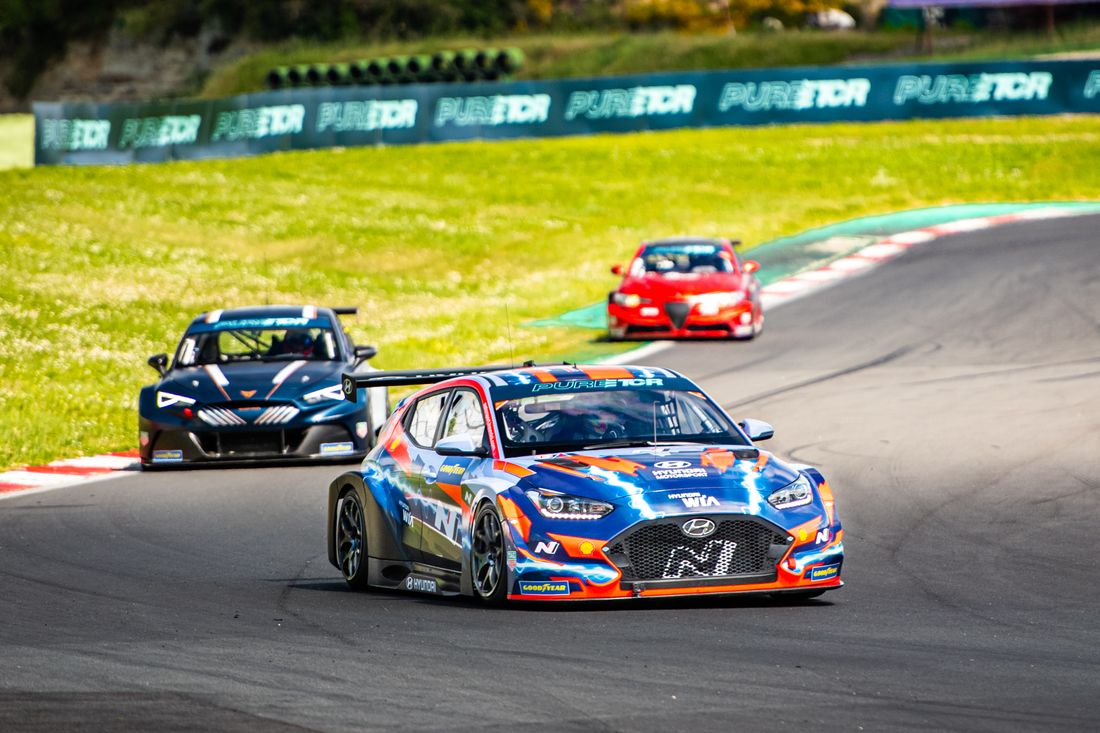 Gené's experience goes back even further than Farfus, with the 50-year-old racing in Super Touring cars in Spain in 1995 and 1996, before racing S2000-spec cars in the ETCC and WTCC from 2002 to 2010.
Gené also raced in the first season TCR Competition in 2015, although since then his race outings have been sporadic and one-offs. The Spaniard nevertheless has been instrumental in the development of the CUPRA ETCR car, having been a long-serving development driver for SEAT and CUPRA.
Gené expects the uniqueness of the tyres in particular will help to keep the racing close between all of the drivers whilst also ensuring an exciting show for the viewers.
"We've never raced so close with each other, and I don't know how the tyres are going to react when we start touching each other a little bit or changing direction very sharply," said Gené.
"So that's something that is going to be new and we will find out during this weekend.
"But in the end, racing is racing, so all in all the adrenaline that we have inside the helmet, it will show up and it will make us look for the very last area to try to overtake and not to be overtaken by the other drivers.
"I think it's going to be very challenging, especially because the car is not only about performance but is spectacular.
"We have the power up that will change the speed of the cars on the straight, we have the road / semi-slick tyres that will give us sliding when we really push the car hard, so I think it's something that I hope will look very nice on the TV and for sure it will be very exciting in the cars."
The ETCR drivers will take part in two practice sessions on Friday, before the first of the Pool battles on Saturday morning at 10:05 CEST (09:05 BST).
Timetable
Friday June 18
Free Practice 1: 14h00
Free Practice 2: 16h30
The Draw: 21h00
Saturday June 19
Round 1 (Pool A): 10h00-10h45
Round 2 (Pool A): 12h00-12h45
Round 1 (Pool B): 14h30-15h15
Round 2 (Pool B): 16h30-17h25
Sunday June 20
Round 3 (Pool A): 08h55-09h25
Round 3 (Pool B): 11h00-11h30
DHL SuperFinal A (Pool A): 13h10-13h50
DHL SuperFinal B (Pool B): 15h50- 16h45