Ashley Seward Motorsport has signed 16-year-old schoolkid Jay Hanson to race one of its Alfa Romeo Giulietta TCR cars in the 2020 TCR Australia series.
Hanson, who still has two years left to complete at school, will race the same car which Dylan O'Keeffe campaigned to four victories this year.
The Victorian driver graduates from the Australian Formula Ford Championship, immediately stepping up to touring car racing in one of the outfit's Giulietta Veloce cars.
"It's awesome to join forces with Ashley Seward Motorsport in the Alfa Romeo," said Hanson, who finished seventh overall in the 2019 Australian Formula Ford Championship with one race win.
"I can't wait for season 2020 and some of the great racing that we've seen in TCR Australia.
"There's going to be pressure on myself to at least finish in the top ten for the year, but hopefully we can be in a position to get some podiums by the end of the year.
"TCR is a worldwide category, and there's many places to go after the Australian Series.
"Eventually, I'd like to move overseas and race there, and the rookie prize to get a test with an international team is absolutely awesome."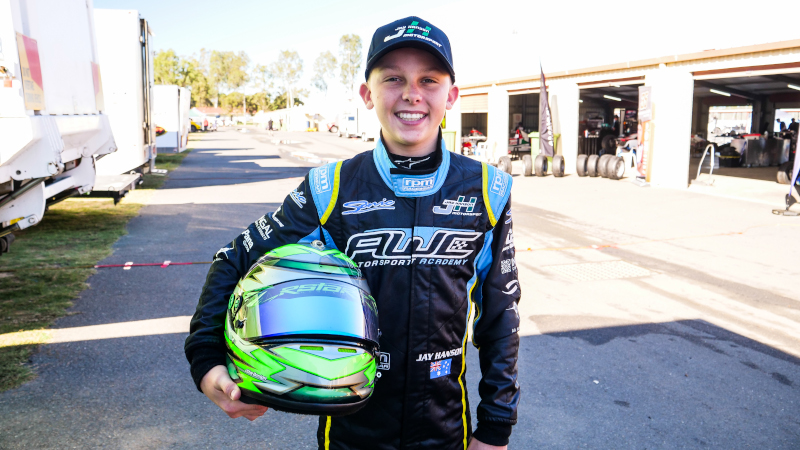 Hanson has already tested the team's car, taking to the track at Winton Motor Raceway in August. He will test again at Winton on Wednesday.
The youngster will be eligible for the Michelin Rookie Cup which offers a test with an international TCR team to the best-placed young driver.
Ashley Seward, Team Owner, welcomed Hanson to the expanded three-car team for 2020.
"It's really exciting to have Jay join us for our TCR program in the Alfa Romeo," said Seward. "He did an exceptionally good job in Formula Ford, and we had an evaluation day and he did a great job in the car.
"The power to weight ratio of a Formula Ford to a TCR are very similar, so I reckon from what we've seen with him, there's no reason why he can't be challenging for podium finishes."
"In terms of securing our other drivers, there's lots happening behind the scenes. This year has been challenging – we have good car speed, but we need to dot our Is and cross our Ts with a couple of aspects, but it was really a learning year.
"We're talking to lots of people about 2020, so stay tuned."