Halfords Yuasa Racing's Dan Cammish was in disbelief after his best ever British Touring Car Championship at Thruxton, which saw him rise to third in the standings after a win, podium and fifth-place finish across the trio of races.
Cammish headed the second row for the first encounter and would eventually finish second behind Sam Tordoff, despite describing his FK8 Honda Civic as a "handful" throughout the race.
Although that meant he carried 48kg of success ballast in race two, Cammish would recover from a terrible start – in which he nearly stalled – to finish fifth at the flag.
Drawn onto the front row for the final race after the top six were reversed, Cammish told TouringCars.Net he knew he was "in with a chance" of a race victory, and felt a good deal of luck contributed to his best-ever BTCC weekend.
"We've worked at the car all day and all weekend really, we worked at it and yesterday it was the best it's been. But the lap to do P3 and only seven hundredths off pole was a good effort, especially with the 30 kilos," said Cammish.
"Race one the car was really a handful – I know I was carrying more weight than Sam [Tordoff] and that plays a part – but I felt like the balance was just not what I needed.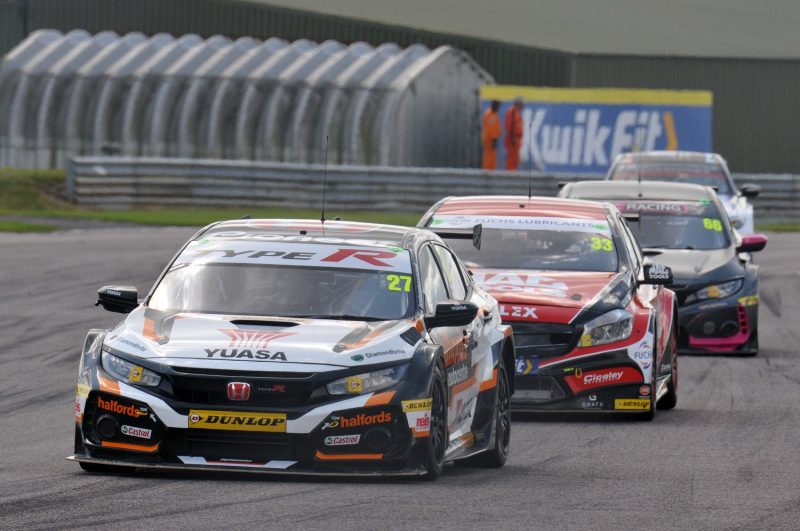 "Race two was better, but we made a terrible start. I can't tell you how close I was to stalling. A bit of luck is needed in racing, it's needed in life and it's needed in touring cars for sure.
"What a different day I would have had if that car had stalled. I'd have been at the back and I wouldn't have liked to have come any closer to stalling, the way it died on me.
"I dropped to about seventh, got back to fifth and the car was better that was the key. Even with the weight in I thought this could be better.
"Some good bump drafting with Matt and him on the podium was great. The luck changed again when I got drawn onto the front row, and I don't think that's ever happened.
"I thought you know what, the car is better, I'm lighter again, I've got half a chance here."
Victorious final race
At the start of the final race, Team BMW's Tom Oliphant leapfrogged Cammish, but the latter was able to fight back and pass into the Club chicane on the third lap before setting about pressurising polesitter Rob Collard for the lead.
"We got a good start, but I was never going to beat Oliphant away, I'd already factored that in," he said.
"The first few laps, I used what I'd learnt in the first one about keeping the tyres a little bit better and not stressing the car too much – less steering angle, all that sort of stuff.
"I knew because of all that that there was a little bit of pace to come when I needed it. It went well in the middle phase and then managed to pass Tom with the same move that Matt [Neal] did only a couple of races earlier. 
"The BMW is a very strong car but one thing I've noticed all year is that it's not quite as strong on the brakes. A front-wheel drive car probably does stop better than a rear-wheel drive car.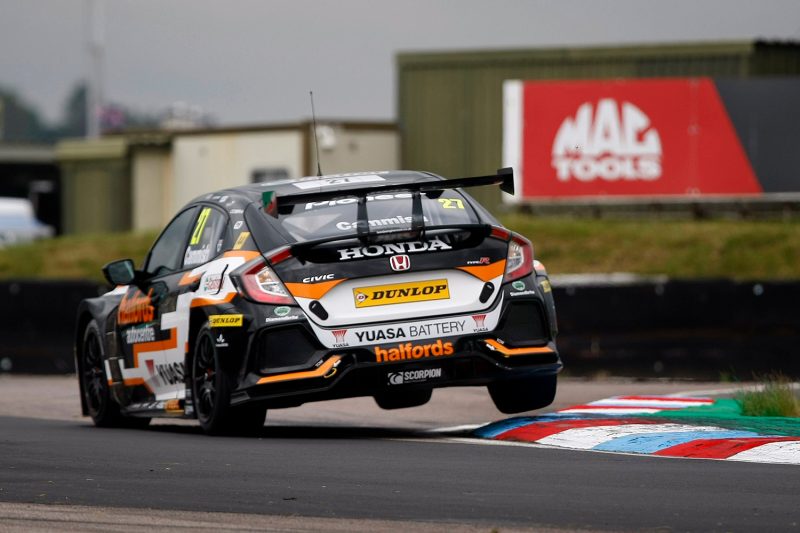 "I then set about Collard, he was driving a great race, doing a great job. He was much quicker than I was at Goodwood especially, where I've struggled all day.
"I don't know if that's been a crosswind or what that's been, but I knew if I could get close there then I might have half a chance, a couple of times I was close down the straight.
"But I was only ever alongside, and now I met a car that's as good on the brakes as we are. Rob was doing a great job, I knew that if I got close at Goodwood with the tow by the time I got to Church then I could get ahead and maybe I could hang onto it."
Costly Collard mistake
On the tenth tour of the final race, Collard ran wide at the high-speed right hander at Church and Cammish completed the move under braking for the following corner at the Club chicane.
"He just got it slightly sideways at Church one lap, put a wheel on the grass and that feeling of the tow doing it's thing," he said.
"I just watching the mirror so intently and I could just see that I'd overlapped him just before we pressed the brake.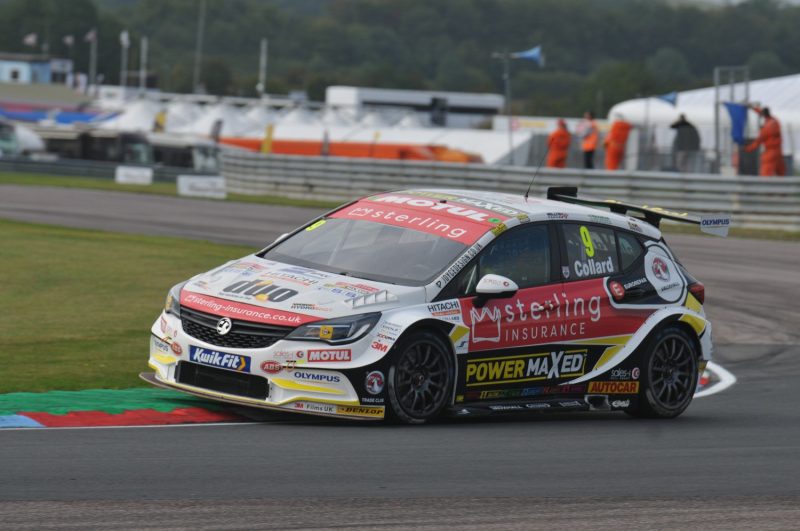 "Then amazingly once I got through turn one where Rob had been stronger, once I got the clear air and the aero could breathe and work properly we shot through there and we were gone.
"I knew at that point that we could win this race. And then it rained!"
Rain falls in closing stages
After spots of rain appeared on windscreens and trackside cameras, it then began to fall heavily in the final few laps, affecting the track surface and making it treacherous for the whole field who were all on slicks.
Cammish admitted to disagreeing with his engineers about the severity of the rain, and was later relieved to bring the car home to take the victory given the conditions.
"I was thinking don't rain, please don't rain. But I could see it was getting heavier, and on the windscreen even a little bit looks like a lot," said Cammish.
"It wasn't affecting the track to begin with, but I said, 'Right guys, get in the pit lane. How much is coming down? Is it affecting the track?
"And they said, 'Dan, get on with it.' At which point I slid through turn one and thought 'Hmm!'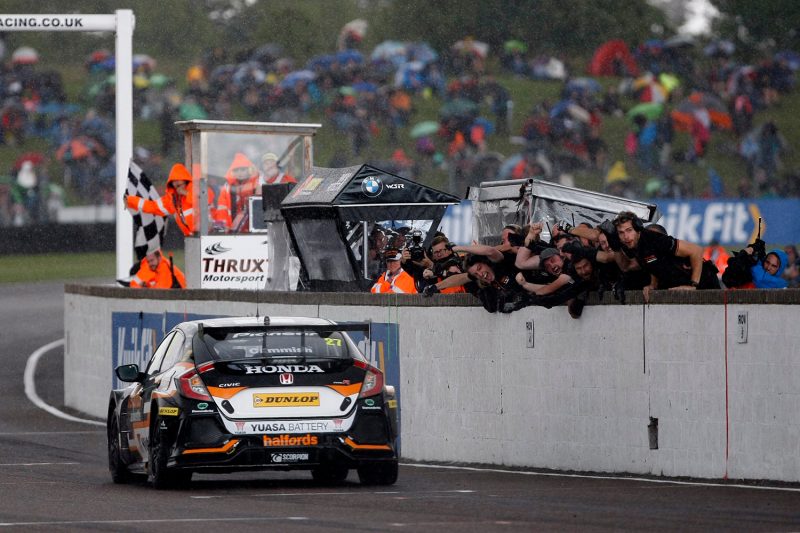 "Over the next couple of laps it deteriorated to a point where we were going a good chunk slower. It was just a matter of consolidating what I had.
"I was always going to be the first guy on the scene if we had a downpour at one point and I knew that.
"So I was trying to concentrate and keep the car pointing in the right direction, I had a big moment at Noble on one lap but managed to gather it up.
"Thankfully Collard I think was consolidating P2 and he was happy with that, and that helped."
Climbing to third in the championship standings
Now third in the Drivers' standings – four points off Andrew Jordan and 34 adrift of leader Colin Turkington – Cammish admitted he can't believe the position he's in after a disappointing start to his 2019 campaign.
He continues to rue the start of the season, but feels he has a good chance of success at Knockhill, where he secured pole last season.
"I can't believe it, if you'd have told me that a few races ago – I was sixty-something off Colin a few races ago! 
"I've had nine podiums and I think that's the most of anyone. We've been consistently punching and doing a great job.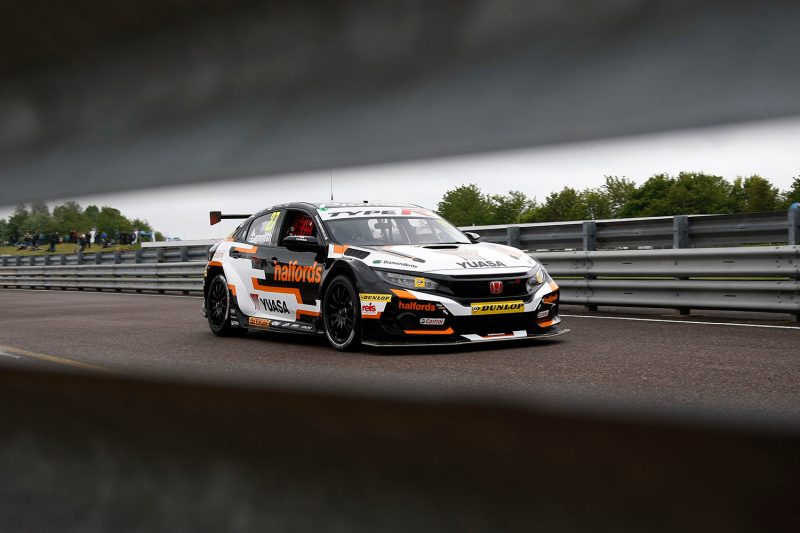 "Of course I wish the first rounds had gone better, I wish I hadn't jumped the start at Donington Park. 
"That probably cost me 15 points that day because for sure I'd have had a good race two as Matt did. But you live and learn and what's done is done so all I can do is go forward.
"That's what we'll do, we'll focus on the future and see what comes. We're going to Knockhill which is a strong track for the BMWs, it always is.
"But I was on pole there last year, everyone said it would be a rear-wheel drive but it wasn't, it was me.
"So the cars better than ever, OK I'm heavier than ever, but I'll just have to drive faster than won't I?"