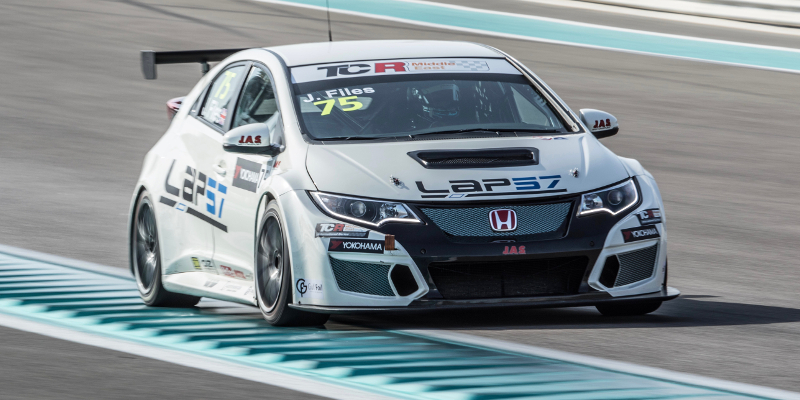 Lap57's Josh Files took pole position for the second meeting of the TCR Middle East Series in Abu Dhabi, with the Honda Civic racer going over a second faster than second-placed Davit Kajaia.
Files, who had earlier set the pace in practice, dominated the 35-minute session by going to the top of the times early on and then improving later on to set the best time.
"It went pretty well," said Files. "We had a couple of tyre runs because I wasn't completely happy with things on the first run and we made a slight adjustment and it worked well.
"The car from JAS has been fantastic and the team from Lap57 is making sure everything is working and reliable.
"It's great being on a F1 track because you know which parts of the track you can use and which bits you can't and finding the correct lines so that everything flows from one corner to the next really excites me – I really think about technical circuits and this is definitely a technical circuit. Hopefully we can have a very nice race today and tomorrow will be a fun race!"
Georgian racer Kajaia, who is racing the car that Michela Cerruti piloted in Dubai, was second, 1.766 seconds adrift. That came despite him clipping a bollard in his Alfa Romeo in the first half of the session.
Top Run Motorsport's young rookie Giacomo Altoè was third fastest, putting the Subaru just over two seconds off the pace in his first competitive outing in the car.
Championship leader Luca Engstler was fourth, with the Liqui Moly Team Engstler driver having to carry 20 kg of success ballast this weekend after his performances in the season opener last month.
Just seven cars are taking part in the event, and all were covered by just under four seconds, with the third Engstler Volkswagen of Stefan Goede completing the grid for the first race.
The second race will see the entire grid reversed, leaving Goede to start from pole position.
Qualifying times
| | | | | | | | | |
| --- | --- | --- | --- | --- | --- | --- | --- | --- |
| POS | NO | DRIVER | NAT | ENTRANT | CAR | LAPS | TIME | GAP |
| 1 | 75 | Josh FILES | | Lap57 | Honda Civic TCR | 7 | 2:21.138 | |
| 2 | 16 | Davit KAJAIA | | Mulsanne Racing | Alfa Romeo Giulietta TCR | 10 | 2:22.904 | 1.766 |
| 3 | 10 | Giacomo ALTOÉ | | Top Run Motorsport | Subaru WRX STi TCR | 12 | 2:23.392 | 2.254 |
| 4 | 8 | Luca ENGSTLER | | Liqui Moly Team Engstler | Volkswagen Golf GTi TCR | 12 | 2:24.031 | 2.893 |
| 5 | 57 | Mohamed AL OWAIS | | Lap57 | Honda Civic TCR | 13 | 2:24.082 | 2.944 |
| 6 | 46 | Brandon GDOVIC | | Liqui Moly Team Engstler | Volkswagen Golf GTi TCR | 11 | 2:24.220 | 3.082 |
| 7 | 7 | Stefan GOEDE | | Liqui Moly Team Engstler | Volkswagen Golf GTi TCR | 9 | 2:25.068 | 3.930 |