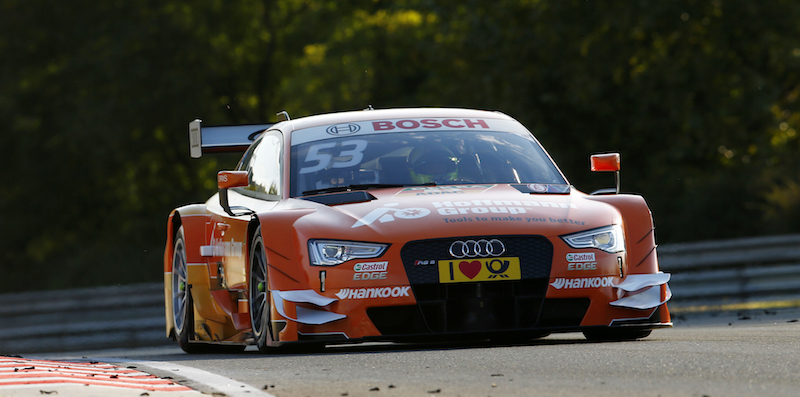 Audi Sport's Jamie Green was fastest in the second free practice session at the Hungaroring for the penultimate round of the Deutsche Tourenwagen Masters season, setting his best flying lap in the dying seconds of the 30-minute session.
The Team Rosberg driver posted a 1:35.586 around the 4.381-km circuit in the dying seconds, leading a top eight clean sweep by Audi, ahead of championship protagonist Edoardo Mortara and teammate Adrien Tambay, who were separated by 0.178 seconds.
Nico Müller, Mattias Ekström, Mike Rockenfeller, Timo Scheider and Miguel Molina were all showing great pace at the Hungaroring, with the Spaniard being the only driver to not dip below the 1m36s bracket.
With the heaviest car in the field, Team ART's Gary Paffett would be the only driver from Mercedes to make it into the top ten in ninth, 0.559 seconds off the pace, even with strong showings by Daniel Juncadella until the half way point, who was running fastest.
Marco Wittmann was the only BMW driver to also get into the top ten, and was 0.116 seconds off Paffett, even with the weight advantage that the Munich brand has had, coming into this weekend.
Müller set the initial benchmark of a 1:38.522 after three minutes, before that time was bettered by just over a second by Green shortly after.
Blomqvist would be the first driver to really up the pace ahead of the first qualifying session with a 1:36.666 after eight minutes,  Juncadella went fastest in his HWA Mercedes at the halfway mark, a full 0.362 seconds quicker.
Timo Scheider was the first driver to go into the 1m35s with ten minutes remaining, posting a 1:35.980, with fellow two-time champion Mattias Ekström making it an Audi 1-2 two minutes later, before he went top with a 1:35.874.
With the track getting busier as the drivers made their final runs ahead of qualifying for the sprint race, Edoardo Mortara, Adrien Tambay and Müller would make it an Ingolstadt 1-2-3-4-5 with just over 60 seconds remaining.
Christian Vietoris and Paul di Resta would also enter the top ten in the latter stages, before being knocked down the order to 18th and 13th respectively.
Juncadella ended up 12th fastest, ahead of Robert Wickens, whose title hopes are slipping away quickly. The departing António Félix da Costa led three other BMWs in 14th place, ahead of Maxime Martin, Blomqvist and Bruno Spengler.
Augusto Farfus, Martin Tomczyk and Timo Glock were down the bottom end of the times, occupying 19th, 20th and 21st, ahead of a trio of Mercedes driver in the form of Lucas Auer, Maximilian Götz and Felix Rosenqvist.
Qualifying for the sprint race this afternoon starts at 1235 CEST (BST + 1), lasting for 20 minutes.
Session results
| | | | | | | | | |
| --- | --- | --- | --- | --- | --- | --- | --- | --- |
| POS | NO | DRIVER | NAT | ENTRANT | CAR | LAPS | TIME | GAP |
| 1 | 53 | Jamie GREEN | | Audi Sport Team Rosberg | Audi RS5 DTM | 13 | 1:35.586 | 0.000 |
| 2 | 48 | Edoardo MORTARA | | Audi Sport Team Abt Sportsline | Audi RS5 DTM | 14 | 1:35.685 | 0.099 |
| 3 | 27 | Adrien TAMBAY | | Audi Sport Team Rosberg | Audi RS5 DTM | 13 | 1:35.764 | 0.178 |
| 4 | 51 | Nico MÜLLER | | Audi Sport Team Abt | Audi RS5 DTM | 13 | 1:35.777 | 0.191 |
| 5 | 5 | Mattias EKSTRÖM | | Audi Sport Team Abt Sportsline | Audi RS5 DTM | 11 | 1:35.874 | 0.288 |
| 6 | 99 | Mike ROCKENFELLER | | Audi Sport Team Phoenix | Audi RS5 DTM | 14 | 1:35.944 | 0.358 |
| 7 | 10 | Timo SCHEIDER | | Audi Sport Team Phoenix | Audi RS5 DTM | 13 | 1:35.980 | 0.394 |
| 8 | 17 | Miguel MOLINA | | Audi Sport Team Abt | Audi RS5 DTM | 12 | 1:36.103 | 0.517 |
| 9 | 2 | Gary PAFFETT | | EURONICS/FREE MEN'S WORLD Mercedes-AMG | Mercedes-AMG C63 DTM | 14 | 1:36.145 | 0.559 |
| 10 | 11 | Marco WITTMANN | | BMW Team RMG | BMW M4 DTM | 13 | 1:36.261 | 0.675 |
| 11 | 12 | Daniel JUNCADELLA | | SILBERPFEIL Energy/UBFS Invest Mercedes-AMG | Mercedes-AMG C63 DTM | 13 | 1:36.306 | 0.720 |
| 12 | 6 | Robert WICKENS | | SILBERPFEIL Energy/UBFS Invest Mercedes-AMG | Mercedes-AMG C63 DTM | 14 | 1:36.350 | 0.764 |
| 13 | 3 | Paul di RESTA | | Mercedes-AMG | Mercedes-AMG C63 DTM | 14 | 1:36.401 | 0.815 |
| 14 | 13 | António Félix da COSTA | | BMW Team Schnitzer | BMW M4 DTM | 14 | 1:36.412 | 0.826 |
| 15 | 36 | Maxime MARTIN | | BMW Team RBM | BMW M4 DTM | 11 | 1:36.461 | 0.875 |
| 16 | 31 | Tom BLOMQVIST | | BMW Team RBM | BMW M4 DTM | 12 | 1:36.483 | 0.897 |
| 17 | 7 | Bruno SPENGLER | | BMW Team MTEK | BMW M4 DTM | 12 | 1:36.507 | 0.921 |
| 18 | 8 | Christian VIETORIS | | BWT Mercedes-AMG | Mercedes-AMG C63 DTM | 13 | 1:36.516 | 0.930 |
| 19 | 18 | Augusto FARFUS | | BMW Team MTEK | BMW M4 DTM | 12 | 1:36.543 | 0.957 |
| 20 | 100 | Martin TOMCZYK | | BMW Team Schnitzer | BMW M4 DTM | 15 | 1:36.569 | 0.983 |
| 21 | 16 | Timo GLOCK | | BMW Team RMG | BMW M4 DTM | 13 | 1:36.660 | 1.074 |
| 22 | 22 | Lucas AUER | | BWT Mercedes-AMG | Mercedes-AMG C63 DTM | 15 | 1:36.685 | 1.099 |
| 23 | 84 | Maximilian GÖTZ | | Mercedes-AMG | Mercedes-AMG C63 DTM | 14 | 1:36.739 | 1.153 |
| 24 | 88 | Felix ROSENQVIST | | EURONICS/FREE MEN'S WORLD Mercedes-AMG | Mercedes-AMG C63 DTM | 16 | 1:36.821 | 1.235 |