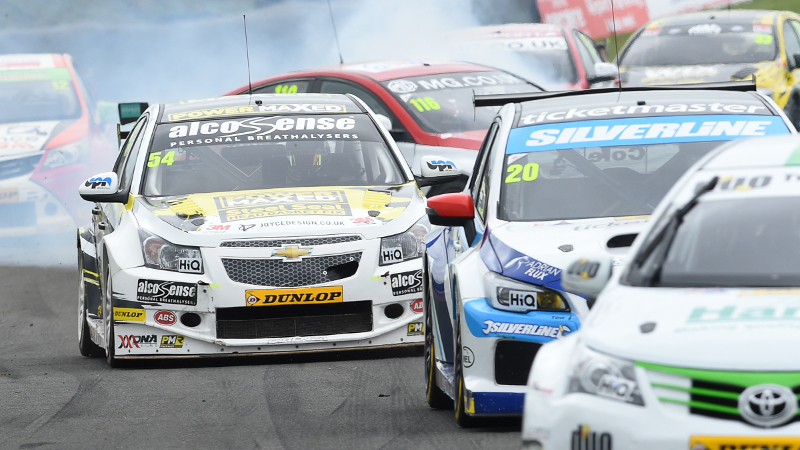 Following a spate of shunts in the British Touring Car Championship at Snetterton, one of the talking points in Scotland was driving standards in the championship. TouringCars.Net probed some of the leading figures for their views on the issue.
Whilst Knockhill managed to impressively feature a 31-car grid, thanks to the build of a new Proton Persona by the Welch Motorsport team and a rebuild from the Power Maxed Racing and AmD Tuning teams, the hot topic was driving standards.
Championship organisers TOCA also addressed the issue head-on in the week prior to the event, introducing the possibility of driving bans for the worst offenders.
Whilst a driving ban in the BTCC is not unheard of – Phil Bennett was infamously banned back in 2001 – it has not been something which has been doled out in recent times.
For some of the race-winning leading drivers, the subject of driving standards is not one that they've had to address as much, but many of them recognise what they describe as a 'poor' standard of driving at the back.
Race three winner Mat Jackson believes that the poor driving has been clear to see for some time, despite only have been outside the bottom twenty on a couple of occasions in the past two years.
"There's certain drivers where the standard is poor," said Jackson. "It's there to see on TV and in my view they should be dealt with. I wouldn't say that I've come across any who are deserving of a ban, but driving standards in general need sorting and there's some guys out there who are very clean and over enthusiastic and they need to calm down.
"When you're down in the middle what you see is quite amazing – you see some interesting driving."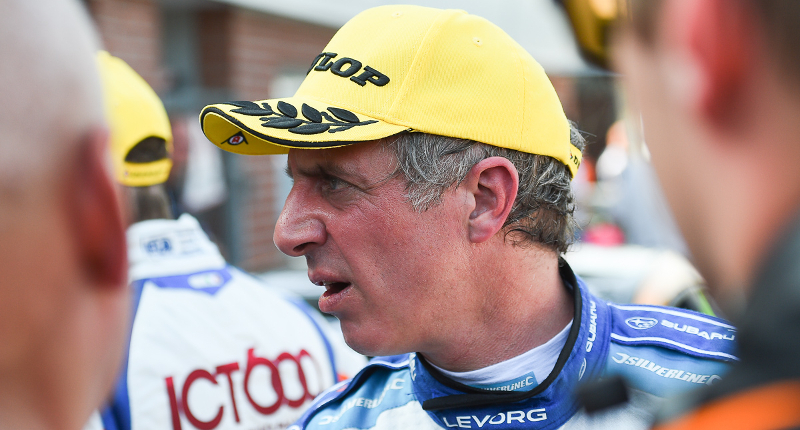 Some drivers expressed stronger views on the issue, with Jason Plato being particularly critical of the lower half of the grid, although the former champion stopped short of saying that they shouldn't be in the championship.
"You just can't get a lap," explained Plato. "All the good boys do, but it's just all the dossers at the back, they don't look in their mirrors! The quality at the back of the grid is poor.
"I don't begrudge anybody coming and having a go, but there needs to be a certain standard and the standard at the back is appalling. It would be unfair of me to name names, but it is appalling.
"There's got to be a certain standard – they just get in our way and they don't bring anything to the championship. They need to sort themselves out – go away, learn, look in their mirrors – all the basic stuff, not throw cars at walls and cause accidents and cost everyone money."
Along with Plato, Rob Collard was particularly critical of the driving in the championship, going as far as to suggest that there is currently a 'lack of respect' amongst rivals further down the order.
Collard, who was hit with his first retirement of the year at Knockhill due to contact from a rival, was particularly concerned about the safety implications of the frequent contact.
"There's a general lack of respect on the grid, especially at the tail end of the grid," said Collard. "I've spoken to Ian Watson [Clerk of the Course] about the general lack of regard for people's safety.
"Cars getting turned around at 100 miles per hour on the straight is a real fear, and that doesn't matter if it's at the back of the pack or if it's one of the front drivers coming through. You shouldn't have that – people should not be turned around at that sort of speed because it's very, very dangerous, so there's a lot of things that need to be looked.
"Maybe a safety council or something could be put together where drivers get harsher punishments for pretty stupid mistakes like that, because you can't have cars getting turned around at high speed."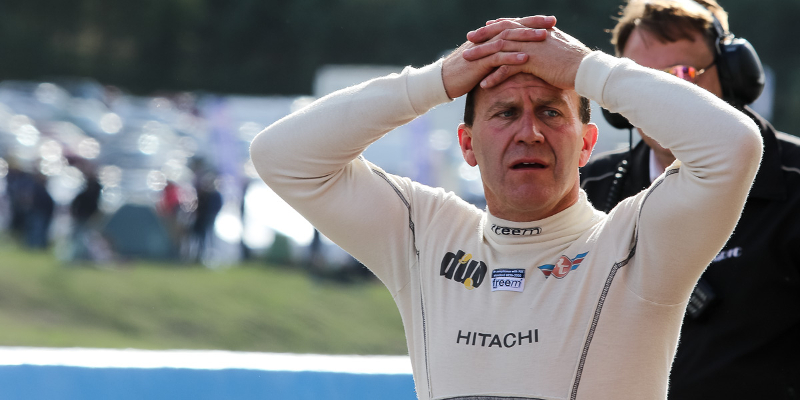 Collard also believes that the problem has been exacerbated by the large grid sizes and single-class nature of the NGTC era. In previous regulations and seasons, drivers with lower budgets often had to make do with older, and therefore, slower machinery which was cheaper as a result, keeping them more separated from the rest of the field.
"Touring cars is having an absolute purple patch at the moment where there's a lot of cars on the grid – you've got 31 or 32 cars maximum. With the turbo engines and the new suspension, it's bringing all of the lap times closer together, whereas before some of the lesser drivers would be further back and it wouldn't be so close.
"Now everybody is a lot closer, and everybody is on the grid at the same time and that's what's creating a lot of the problems.
"It would be fantastic if you could get 32 real top-quality drivers on the grid in top-quality cars, that would be a fantastic championship, but I don't think that's ever going to happen. You have to have different calibres of drivers because that's the backbone of the championship that brings everybody here, and some of the guys bring big budgets, but they have to be a bit more disciplined."
Whilst some drivers expressed doubt about whether or not the rule would actually be implemented, Tom Ingram called on TOCA to start exercising their power as soon as possible.
"[It is] 100% necessary," said the Speedworks Motorsport driver. "It needs to be put into action because there's certainly five people that could warrant it already. They need to use it, and hopefully they will use it because it's the same people every weekend."
Championship leader Sam Tordoff echoed the views of Ingram, but hesitated when pressed as to whether the rule would be enacted.
"I think it's a good move," said the WSR driver. "I think it's a deterrent rather than an actual penalty; I don't think it'll ever be applied.
"It's merely a deterrent to try and improve the standard of driving. And if it works, then it's a good thing."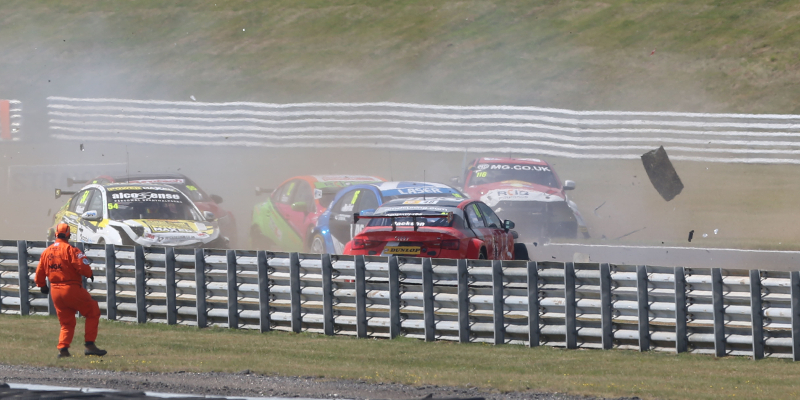 Árón Smith voiced a slightly different perspective, expressing doubt that a 'big name' driver would ever be on the receiving end of one of the bans, even if it was potentially warranted.
"I think it's a really good idea, but how are they going to implement it for someone whose going for the championship," questioned Smith. "For the TV or for the sponsors, when it's one of the big names that has done this championship for ten or twenty years, how do they actually ban them without making it look bad for the championship?
"It's very difficult to give someone like the newcomers who are at the very bottom the same penalties as the big names that have been here for so long. You can't kick out the people that make this championship what it is."
The Irishman also pointed out that the issue of banning drivers could have bigger implications when it came to sponsorship and commercial deals agreed between different parties.
"Maybe more fines would be good – World Touring Cars gives out like €10,000 worth of driving fines on a weekend," added Smith. "If someone was hit with a five grand fine they'd probably think about doing it again.
"That's probably where, to me, it's something that could be looked at because then you don't have to get into the implications of banning people, sponsorship, and everything like that."
Despite the calls for driving standards to be addressed, one fact remains about touring car racing – the fans love close competition. And one of the risks which comes with close competition is contact between competitors.
With the grid currently being at 31 cars, the grid is a third larger than it was for much of the 2000s, which comes with it an increased risk of collisions.
The view from the back of the grid was measured. Stewart Lines, who is often one of those finding himself off the circuit, also believes that the abilities of his rivals leave something to be desired.
"It's the same drivers doing it," said Lines. "I've had a couple of offs on my own, but to be fair I think I'm better at racing two inches from the bumper than they are. When it comes to a race, I think they can string one lap together, but they're not very good at 20 laps.
"You've got to learn how to race without touching people. You can't control what anyone else is going to do to you, but if you race for twenty minutes without touching someone else, then nine times out of ten you're going to have a good race. They can't do that.
"There's always going to be contact, but certain contact is acceptable. In this sport that's what people like and they want to watch it because they want to see stuff [happen]."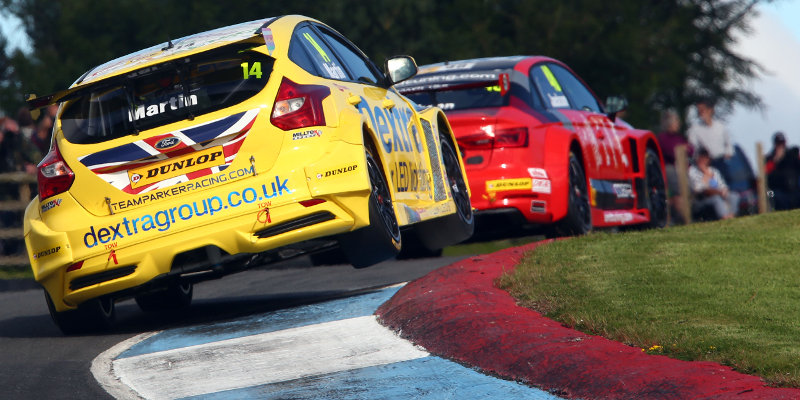 Perhaps one of the drivers on the receiving end of the most criticism was Alex Martin, who was involved in the race three shunt at Snetterton when contact was made with Mark Howard and Hunter Abbott, pitching the latter into a scary barrel-roll.
Martin put his differences with his competitors aside to address the issue head-on when asked by TouringCars.Net what he thought about the current quality of driving.
"It's an expensive series, everyone puts a lot into it, it's very high-profile so there's a lot of pressure," said Martin. "I don't like all the drivers there, I'm happy for you to put that on record, but I think that everybody is a good driver. I think that there is not a bad driver on the grid.
"If you look at the races they've won, it might not be on record because it might be a lot of amateur races, but the level is high and people are scrabbling like hell for the last point. The upgraded chassis components give you a lot more confidence. The times are so close.
"As for the driving standards ban, you'd have to do something pretty severe. You basically have to weaponise your car, you have to do something that is dangerous."
Following the Knockhill weekend it was clear that some of the drivers had taken on board the threat of driving bans, with fewer non-finishes than at the previous two meetings.
Contact in touring cars will remain an issue as long as the field is large and the championship promoters seek to keep competitors close together. With success ballast and boost regulations designed to keep the cars close to each other, in order to avoid contact drivers have to learn how to race hard but fair, perhaps more so than in other championships where they, or their rivals, are given more chances to 'escape' up the road.
It remains to be seen, however, if the introduction of driving bans is the way to deal with the problem, or if it is simply a short-term threat whilst a longer-term solution is worked out.
One thing is clear though – there has been almost unanimous approval for the rule amongst some of the leading drivers.