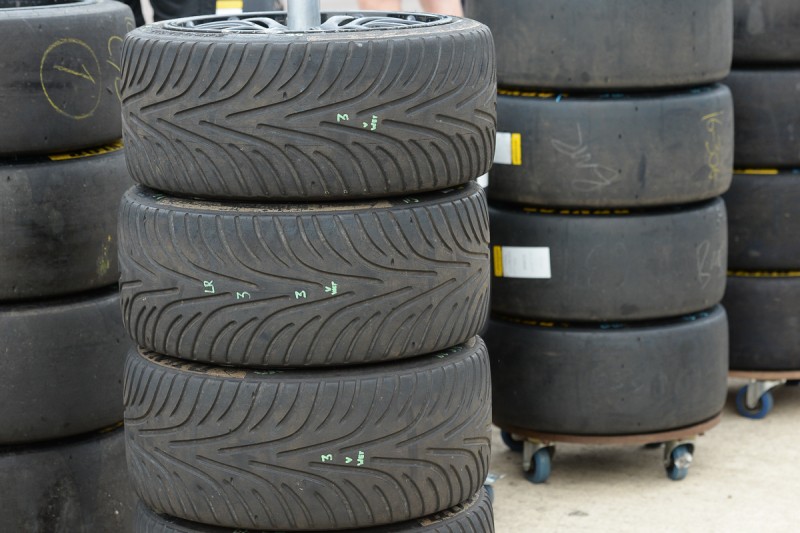 Dunlop have published the harder compound tyre choices, as selected by the teams prior to qualifying, ahead of today's triple-header of British Touring Car Championship races at Rockingham.
Today sees the first use of the hard tyre as the 'optional' compound, with it's usage being widened from Thruxton this season to also include Croft and today's contests.
Adam Morgan is the only front-runner to elect to use the compound during the opening race, which could throw up interesting comparisons with his normal compound-shod rivals alongside. Further back, Rob Collard will hope to use it to his advantage as he seeks to scythe through the field, trademark style, to a strong finish after a difficult qualifying.
Race two sees the majority of the field switch to the option tyre, including defending champion and race one polesitter Gordon Shedden and experienced two-time champion Colin Turkington.
In race three, the championship contenders, minus Shedden and Turkington, will make the exodus, but with all but Jason Plato and Mat Jackson scattered among the rest of the field, the results in races one and two could prove pivotal to the tyre choices giving them any advantage.
The full list of tyre choices are below:
| | | | |
| --- | --- | --- | --- |
| Drivers | Race 1 | Race 2 | Race 3 |
| Colin TURKINGTON | Medium | Hard | Medium |
| Mat JACKSON | Medium | Medium | Hard |
| Rob AUSTIN | Hard | Medium | Medium |
| Mike EPPS | Hard | Medium | Medium |
| Alex MARTIN | Medium | Hard | Medium |
| Aiden MOFFAT | Hard | Medium | Medium |
| Dan WELCH | Medium | Medium | Hard |
| James COLE | Medium | Hard | Medium |
| Jake HILL | Medium | Hard | Medium |
| Matt NEAL | Medium | Medium | Hard |
| Martin DEPPER | Medium | Medium | Hard |
| Jack GOFF | Medium | Hard | Medium |
| Adam MORGAN | Hard | Medium | Medium |
| Tony GILHAM | Medium | Hard | Medium |
| Mark HOWARD | Medium | Hard | Medium |
| Warren SCOTT | Medium | Hard | Medium |
| Aron SMITH | Hard | Medium | Medium |
| Ollie JACKSON | Hard | Medium | Medium |
| Gordon SHEDDEN | Medium | Hard | Medium |
| Hunter ABBOTT | Medium | Hard | Medium |
| Jeff SMITH | Medium | Hard | Medium |
| Josh COOK | Medium | Hard | Medium |
| Dave NEWSHAM | Medium | Hard | Medium |
| Andrew JORDAN | Medium | Medium | Hard |
| Tom INGRAM | Hard | Medium | Medium |
| Stewart LINES | Medium | Medium | Hard |
| Jason PLATO | Medium | Medium | Hard |
| Rob COLLARD | Hard | Medium | Medium |
| Ashley SUTTON | Medium | Medium | Hard |
| Matt SIMPSON | Medium | Hard | Medium |
| Sam TORDOFF | Medium | Medium | Hard |