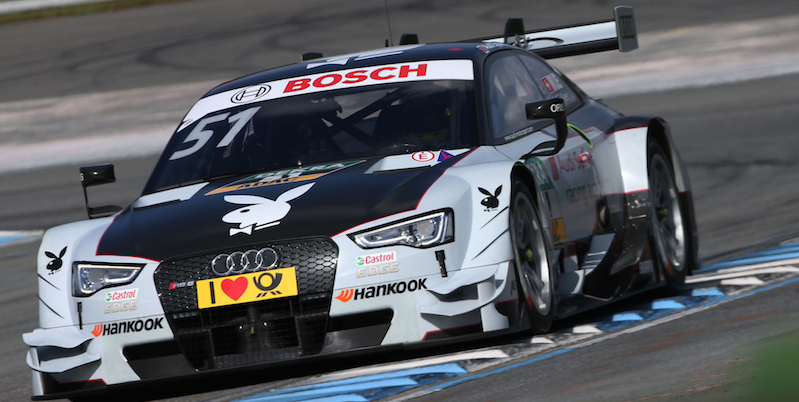 At a very sunny Hockenheim, the second practice session of the 2016 Deutsche Tourenwagen Masters (DTM) season opener saw Switzerland's Nico Müller post the fastest time with a 1:33.861. The Team ABT driver was 0.075 seconds faster than 2013 champion Mike Rockenfeller and Mattias Ekström, with the top three separated by 0.229 seconds.
It also saw a top six lockout by the Ingolstadt marque, with Timo Scheider, 2015 runner-up Jamie Green and Edoardo Mortara completing an impressive showing ahead of the first qualifying session of the season.
With the times starting to drop within the first three minutes of the session, it saw the Mercedes duo of Daniel Juncadella and Robert Wickens setting the initial pace. Wickens ended up the best of the Mercedes drivers in seventh place, whereas Juncadella was 0.561 seconds off the pace in 15th.
Gary Paffett and Bruno Spengler made it five former champions in the top ten, with all three marques represented, even with BMW being outnumbered.
This was before the Audi RS5s of first practice pace setter Mortara and Miguel Molina were running lap times in the 1m35s bracket, just before the four-minute mark.
Augusto Farfus would then up the ante, as the Brazilian went faster with a 1:34.581 with 9 minutes completed, before Timo Glock made it a BMW 1-2 shortly after. The pair would also swap positions, as the track evolved.
Maxine Martin went off track during proceedings, before Mercedes would hit back with both Lucas Auer and Robert Wickens going to. This was before Team Rosberg newcomer, Adrien Tambay, showed his hand, just 0.084 seconds off from the Canadian in second.
Esteban Ocon would set his first lap time before the halfway point, posting the ninth fastest time, before going up to fifth, just 0.229 seconds behind new pace setter Jamie Green. Ocon remained in the top ten until the later stages, but would post the 11th fastest time.
2013 Champion Mike Rockenfeller was the first driver to break the 1m33s barrier with just under 13 minutes to go, posting a 1:33.861, with Nico Müller and Green in the top three.
Scheider moved up into third place with ten minutes to go, with Audi Sport whitewashing the top five, with fellow two-time champion Ekström going just 0.015 seconds quicker three minutes later.
Lucas Auer beached his Mercedes in the gravel with just over 2 minutes remaining, which would see Race Control deploy another Slow Zone for the second time this weekend. Auer, nevertheless, completed the top ten in his BWT-liveried C63 AMG DTM, 0.468 seconds behind Müller.
Marco Wittmann, Martin Tomczyk and Paul Di Resta found themselves down at the bottom part of the order, posting the 19th, 21st and slowest times of the session, with the entire field split by 1.475 seconds.
The first qualifying session of 2016 starts at 13:55 local time (12:55 British Summer Time)
Session results
| | | | | | | | | |
| --- | --- | --- | --- | --- | --- | --- | --- | --- |
| POS | NO | DRIVER | NAT | ENTRANT | CAR | LAPS | TIME | GAP |
| 1 | 51 | Nico MÜLLER | | Audi Sport Team Rosberg | Audi RS5 DTM | 11 | 1:33.861 | 0.000 |
| 2 | 99 | Mike ROCKENFELLER | | Audi Sport Team Phoenix | Audi RS5 DTM | 12 | 1:33.936 | 0.075 |
| 3 | 5 | Mattias EKSTRÖM | | Audi Sport Team Abt Sportsline | Audi RS5 DTM | 10 | 1:34.090 | 0.229 |
| 4 | 10 | Timo SCHEIDER | | Audi Sport Team Phoenix | Audi RS5 DTM | 12 | 1:34.115 | 0.254 |
| 5 | 53 | Jamie GREEN | | Audi Sport Team Rosberg | Audi RS5 DTM | 12 | 1:34.121 | 0.260 |
| 6 | 48 | Edoardo MORTARA | | Audi Sport Team Abt | Audi RS5 DTM | 10 | 1:34.145 | 0.284 |
| 7 | 6 | Robert WICKENS | | SILBERPFEIL Energy Mercedes-AMG | Mercedes-AMG C63 DTM | 13 | 1:34.157 | 0.296 |
| 8 | 2 | Gary PAFFETT | | EURONICS / BWT Mercedes-AMG | Mercedes-AMG C63 DTM | 11 | 1:34.223 | 0.362 |
| 9 | 7 | Bruno SPENGLER | | BMW Team MTEK | BMW M4 DTM | 10 | 1:34.238 | 0.377 |
| 10 | 22 | Lucas AUER | | EURONICS / BWT Mercedes-AMG | Mercedes-AMG C63 DTM | 9 | 1:34.329 | 0.468 |
| 11 | 34 | Esteban OCON | | PETRONAS Mercedes-AMG | Mercedes-AMG C63 DTM | 11 | 1:34.350 | 0.489 |
| 12 | 31 | Tom BLOMQVIST | | BMW Team RBM | BMW M4 DTM | 13 | 1:34.370 | 0.509 |
| 13 | 8 | Christian VIETORIS | | gooix / Original-Teile Mercedes-AMG | Mercedes-AMG C63 DTM | 12 | 1:34.388 | 0.527 |
| 14 | 27 | Adrien TAMBAY | | Audi Sport Team Abt | Audi RS5 DTM | 12 | 1:34.400 | 0.539 |
| 15 | 12 | Daniel JUNCADELLA | | PETRONAS Mercedes-AMG | Mercedes-AMG C63 DTM | 12 | 1:34.422 | 0.561 |
| 16 | 18 | Augusto FARFUS | | BMW Team RBM | BMW M4 DTM | 12 | 1:34.430 | 0.569 |
| 17 | 84 | Maximilian GÖTZ | | PETRONAS Mercedes-AMG | Mercedes-AMG C63 DTM | 13 | 1:34.458 | 0.597 |
| 18 | 16 | Timo GLOCK | | BMW Team MTEK | BMW M4 DTM | 11 | 1:34.501 | 0.640 |
| 19 | 1 | Marco WITTMANN | | BMW Team RMG | BMW M4 DTM | 10 | 1:34.516 | 0.655 |
| 20 | 13 | António Félix da COSTA | | BMW Team Schnitzer | BMW M4 DTM | 12 | 1:34.554 | 0.693 |
| 21 | 77 | Martin TOMCZYK | | BMW Team Schnitzer | BMW M4 DTM | 13 | 1:34.625 | 0.764 |
| 22 | 36 | Maxime MARTIN | | BMW Team RMG | BMW M4 DTM | 13 | 1:34.628 | 0.767 |
| 23 | 17 | Miguel MOLINA | | Audi Sport Team Abt Sportsline | Audi RS5 DTM | 12 | 1:34.697 | 0.836 |
| 24 | 3 | Paul di RESTA | | SILBERPFEIL Energy Mercedes-AMG | Mercedes-AMG C63 DTM | 12 | 1:35.336 | 1.475 |