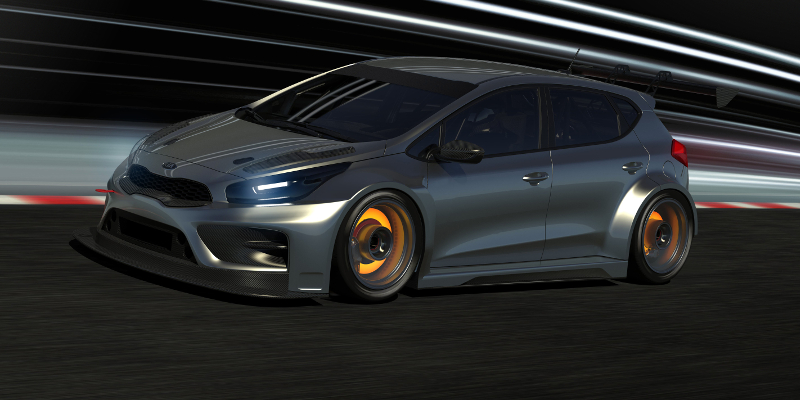 Austria-based rally experts STARD have announced that they are developing a brand new KIA Cee'd TCR car which will make its first appearance later on in the 2016 season.
The car is being developed by rally driver Manfred Stohl's experienced outfit, with STARD (Stohl Advanced Research and Development) taking on the design and development of the new car.
A limited, but as yet unspecified run, of vehicles will be produced, which the team planning to sell them to customers in the various TCR championships, European Touring Car Championship (ETCC), Nürburgring 245 Hours and more.
"The project is based on a very intensive and detailed preparation phase," said Manfred Stohl, President of STARD. "We can´t wait to see the Kia cee´d TCR hitting the worldwide racetracks and watching it fighting for victory in the hands of our customers. The brand slogan –the power to surprise- will be beefed up a bit by -the power to win.
"The combination made up of TCR International Series and the Kia Cee´d appeared absolutely perfect from the very beginning. The huge demand among interested customers even before the official project release equally demonstrates how anticipated the appearance of KIA-cars was in the motorsport world and how right the choice was with the TCR international series.
"Customers can´t await the release of the racecar, it seems even more than ourselves! We even have requests from Australia."
Stohl added that the company was already in discussion with several teams about running the forthcoming car in the future, and that they are planning a close relationship with customer teams in a similar way to that of Opel, who are testing their new Astra with Target Competition.
"We are already in discussions with some race teams which are primarily interested in international activity with our KIA Cee´d TCRs. To satisfy the needs of our customers in the best possible way already during the development stage, we plan to cooperate very closely with at least one race-team.
"In this way we want to assure and perfect an especially customer friendly car already from the first delivered example. That concept has proven successful in past projects."
Michael Sakowicz, CEO of STARD, added that the company plan to soon start the testing and refinement of the new hot hatch.
"The development status is very satisfying and perfectly matches the plan," added Sakowicz. "We will soon start with the testing programme which, due to the focus on customer motorsport naturally will be pretty extensive and will be carried out on various race tracks.
"The target is a perfectly solid and highly competitive while still economic racecar. This requires reliability and smart revolutionary solutions at the same time.
"Despite the pressure from customers, of course we don´t to start to rush. The testing schedule is fixed and without exception will be completed strictly as planned.
"Reliability and a perfectly functioning car are the most important factors for a successful TCR project. We are aware of this situation and will not lose the focus, which is why the motorsport world has to have a bit more patience."