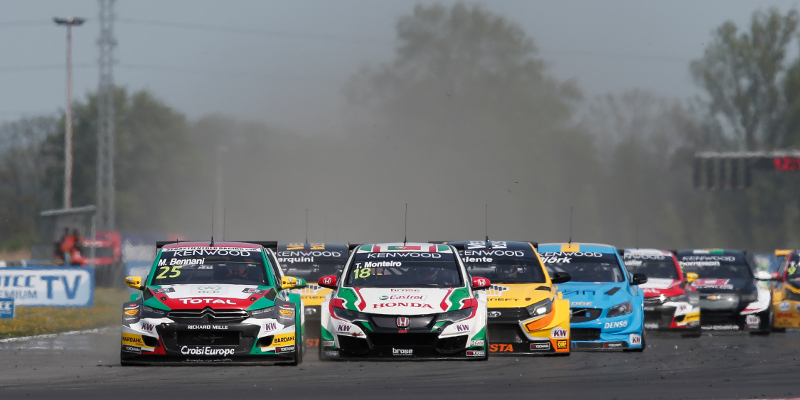 Eurosport Events' Head François Ribeiro has hailed the start of the 2016 World Touring Car Championship season as 'the best season start we have had for ten years'.
A number of tweaks to the rules were introduced for the 2016 season, in order to spice up the show for spectators.
Amongst them are a change to the race nomenclature and order. Gone are race one and race two, with the terms 'Opening Race' and 'Main Race' being substituted for the former names.
But the changes run deeper than that, with the maximum compensation weight which can be applied increased from 60 kg to 80 kg – mainly to try to attempt to reel in dominant champions Citroën and create a more exciting show.
The changes seem to have worked, with both Honda and Citroën, with the ever-present José María López taking two wins apiece from the first two meetings.
Furthermore, Honda's Tiago Monteiro has emerged as the early championship leader from four exciting races, breaking a run of López dominance at the top of the tables which stretches back to his full-time appearance at Citroën.
"It's the best season start we have had for 10 years I must say," said Ribeiro. "When you see the quality of the races we had in Le Castellet and Slovakia and for the viewers and spectators it's the best we have had and I hope it continues like this.
"The WTCC MAC3 format is good but we have been very lucky with a gap of 0.030s in Le Castellet and 0.000 – no gap – in Slovakia; not a centimetre of difference between the Honda and Citroen.
Changes to the order of the races have been brought in to try to make the fastest driver from qualifying think more carefully about how he races in the Opening Race, knowing that he will have to preserve is car for the Main Race.
"Many people thought reversing the grid on the Opening Race would make the race boring and kill the show but it's not true. Ask Yvan Muller, ask López, ask Norbi [Michelisz] – if they want to be world champion they have to take risks also in the Opening Race.
"We've had two quality races and I've no doubt Hungaroring will be the same."