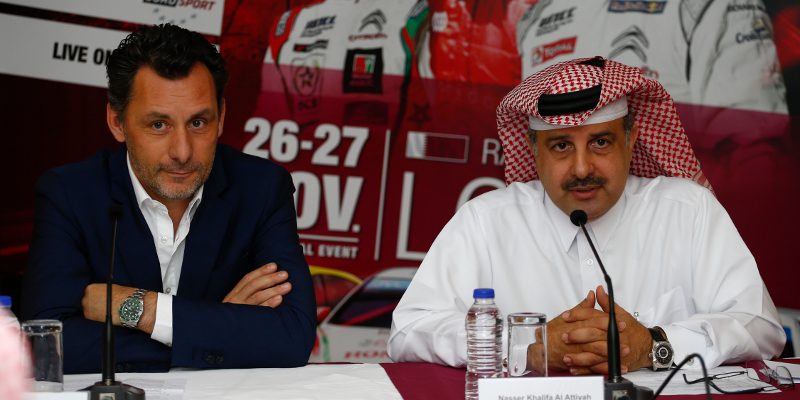 World Touring Car Championship promoter François Ribeiro says that hosting the season finale in Qatar this weekend was a decision made due to timezones and achieving the highest audience figures.
In an unconventional change of format, the WTCC season finale will be held on Friday in Losail, ensuring a prime time slot for audiences in Europe.
"It was a natural choice to go to Qatar to do the first race for WTCC," explained Ribeiro. "We have been finishing WTCC for ten years in Macau. Macau is great, Macau is an amazing city, Macau is an amazing tradition for motorsport and touring cars in particular. But in Macau we were racing at lunchtime on Sunday, which meant a very, very difficult broadcast.
"To finish a championship you want the maximum number of people in front of the television and to finish the championship at lunchtime in Macau on Sunday meant that European viewers had to get up at five or six o'clock the WTCC final round. I don't know if you watch TV at home with your family at five o'clock on Sunday morning – personally I don't.
"The idea was to finish the championship in a better zone with the conditions to have as many spectators as possible watching on TV. This is what we are going to do Friday. We are going to race Friday evening here in Losail when it will be between seven and nine o'clock Central European Time.
"This is a great time for television and to give you an idea on Eurosport before us there will be one of the biggest audiences of the year with a ski jumping event from Finland and straight after WTCC Eurosport will go live with alpine skiing from Apsen in the USA and the WTCC will be in an amazing environment on television.
"We will put Qatar on the map and I estimate over 60 million viewers in the world. This would have been difficult to do in Macau, whatever the respect that I have for what Macau has done for us for the last 10 years."
Recent and unusual rainfall in Qatar means that the race track is likely to be low on grip for Thursday and Friday's action, something which Ribeiro thinks will add to the excitement of the show.
"Maybe we have been lucky with the rain. I know it's very unusual in Qatar, very unusual. I was surprised this morning when I landed to have that amount of water on the Corniche. But it reminded me exactly the conditions we had in Motegi in Japan where we had huge storms and huge rain before the race, which completely washed out the track.
"There was no grip and the races at Motegi were probably some of the best touring car races of the season. I think the same conditions will happen in Losail. The level of grip will be very low, the racing won't be easy but it will be very spectacular.
"I expect for Qatari people the WTCC is new. It's the first time we come here and we never came to the Middle East for ten years so WTCC is new and they will see a lot of similarities between [WTCC and] MotoGP.
"They are sprint races, there is no pit stop, there is no strategy, it's bumper-to-bumper with a lot of action, incidents, overtaking – it's very exciting. You don't have time to fall asleep, the race is not played on pit stops or tyre change, it's purely the determination of the drivers to win a race and I think Qatari people will draw a parallel very quickly between WTCC and Moto GP."