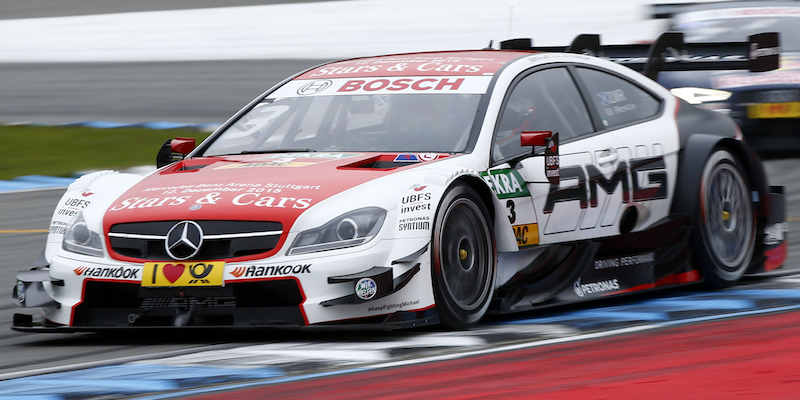 Mercedes-AMG DTM's Paul Di Resta was fastest during the final free practice session of the 2015 Deutsche Tourenwagen Masters (DTM) season, as he posted the best time of a 1:32.974 around the 4.574-km track.
In a session that saw Audi Sport have six of their RS5 DTMs in the top ten, two-time champion Timo Scheider led the Ingolstadt ranks, just 0.024 seconds behind the Scot, with first practice pace setter Jamie Green and title contender Edoardo Mortara rounding out the top four.
The only major off-track excursion was that of Team RBM's Tom Blomqvist, who went straight on into the gravel at Sachskurve with 90 seconds remaining. The Brit would be last at the end of a session, where all 24 drivers were separated by just 0.800 seconds.
Nico Müller showed good pace, as the Swiss driver placed fifth ahead of Miguel Molina. ART Grand Prix rookie Lucas Auer was seventh, 0.091 seconds off the pace.
Norisring race winner Robert Wickens was eighth, ahead of Team Abt Sportsline's Mattias Ekström and 2013 champion Mike Rockenfeller, where the top ten was separated by 0.129 seconds overall.
Current points leader Pascal Wehrlein was 0.291 seconds off the pace in 12th, having the heaviest car on the grid.
The returning Daniel Juncadella would be in the top ten for the majority of the session, but the Spaniard would eventually end up 19th.
Outgoing champion Marco Wittmann's difficult weekend continued, as the Team RMG driver was 0.588 seconds off the pace set by Di Resta in 17th.
BMW Motorsport endured a tough time during the 50-minute session, with their fastest driver being Augusto Farfus, with the Brazilian being 0.105 seconds outside the top ten.
Qualifying for the penultimate DTM race of the season starts at 1110 CEST (1010 BST), lasting for 20 minutes.
Session results
| | | | | | | | | |
| --- | --- | --- | --- | --- | --- | --- | --- | --- |
| POS | NO | DRIVER | NAT | ENTRANT | CAR | LAPS | TIME | GAP |
| 1 | 3 | Paul di RESTA | | SILBERPFEIL Energy Mercedes-AMG | Mercedes-AMG C63 DTM | 19 | 1:32.974 | 0.000 |
| 2 | 10 | Timo SCHEIDER | | Audi Sport Team Phoenix | Audi RS5 DTM | 19 | 1:32.998 | 0.024 |
| 3 | 53 | Jamie GREEN | | Audi Sport Team Rosberg | Audi RS5 DTM | 20 | 1:33.000 | 0.026 |
| 4 | 48 | Edoardo MORTARA | | Audi Sport Team Abt | Audi RS5 DTM | 19 | 1:33.044 | 0.070 |
| 5 | 51 | Nico MÜLLER | | Audi Sport Team Rosberg | Audi RS5 DTM | 20 | 1:33.055 | 0.081 |
| 6 | 17 | Miguel MOLINA | | Audi Sport Team Abt Sportsline | Audi RS5 DTM | 16 | 1:33.056 | 0.082 |
| 7 | 22 | Lucas AUER | | EURONICS / BWT Mercedes-AMG | Mercedes-AMG C63 DTM | 21 | 1:33.065 | 0.091 |
| 8 | 6 | Robert WICKENS | | SILBERPFEIL Energy Mercedes-AMG | Mercedes-AMG C63 DTM | 21 | 1:33.084 | 0.110 |
| 9 | 5 | Mattias EKSTRÖM | | Audi Sport Team Abt Sportsline | Audi RS5 DTM | 16 | 1:33.099 | 0.125 |
| 10 | 99 | Mike ROCKENFELLER | | Audi Sport Team Phoenix | Audi RS5 DTM | 20 | 1:33.103 | 0.129 |
| 11 | 18 | Augusto FARFUS | | BMW Team RBM | BMW M4 DTM | 19 | 1:33.208 | 0.234 |
| 12 | 94 | Pascal WEHRLEIN | | gooix / Original-Teile Mercedes-AMG | Mercedes-AMG C63 DTM | 18 | 1:33.265 | 0.291 |
| 13 | 27 | Adrien TAMBAY | | Audi Sport Team Abt | Audi RS5 DTM | 20 | 1:33.303 | 0.329 |
| 14 | 7 | Bruno SPENGLER | | BMW Team MTEK | BMW M4 DTM | 18 | 1:33.446 | 0.472 |
| 15 | 2 | Gary PAFFETT | | EURONICS / BWT Mercedes-AMG | Mercedes-AMG C63 DTM | 20 | 1:33.510 | 0.536 |
| 16 | 36 | Maxime MARTIN | | BMW Team RMG | BMW M4 DTM | 19 | 1:33.512 | 0.538 |
| 17 | 1 | Marco WITTMANN | | BMW Team RMG | BMW M4 DTM | 15 | 1:33.562 | 0.588 |
| 18 | 84 | Maximilian GÖTZ | | PETRONAS Mercedes-AMG | Mercedes-AMG C63 DTM | 21 | 1:33.568 | 0.594 |
| 19 | 12 | Daniel JUNCADELLA | | PETRONAS Mercedes-AMG | Mercedes-AMG C63 DTM | 19 | 1:33.659 | 0.685 |
| 20 | 13 | António Félix da COSTA | | BMW Team Schnitzer | BMW M4 DTM | 17 | 1:33.670 | 0.696 |
| 21 | 16 | Timo GLOCK | | BMW Team MTEK | BMW M4 DTM | 16 | 1:33.676 | 0.702 |
| 22 | 77 | Martin TOMCZYK | | BMW Team Schnitzer | BMW M4 DTM | 18 | 1:33.676 | 0.702 |
| 23 | 8 | Christian VIETORIS | | gooix / Original-Teile Mercedes-AMG | Mercedes-AMG C63 DTM | 20 | 1:33.754 | 0.780 |
| 24 | 31 | Tom BLOMQVIST | | BMW Team RBM | BMW M4 DTM | 13 | 1:33.774 | 0.800 |