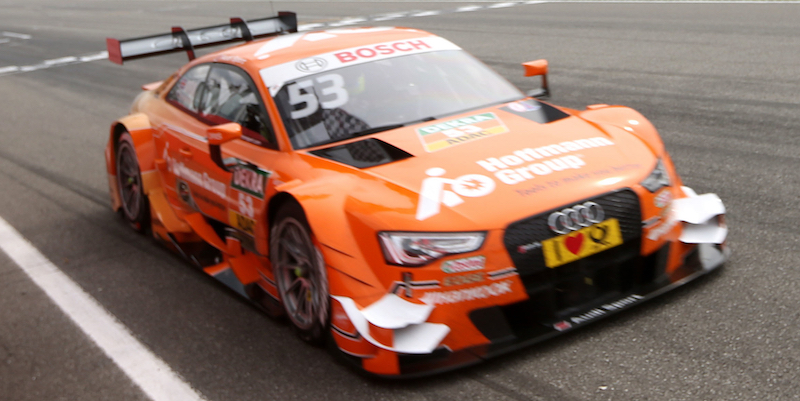 Team Rosberg's Jamie Green posted the fastest time during the first Deutsche Tourenwagen Masters (DTM) practice session around the Hockenheimring, as the final weekend of the season got underway in earnest.
With cold track temperatures of around eight degrees Celsuis at the 4.574-km track, it was Gary Paffett was the first to set a benchmark time in the 1 minute 33 second bracket early on, along with Team Phoenix's Timo Scheider and Team Schnitzer's Martin Tomczyk.
Paffett would lead the way for the majority of the session, until Green took the top spot with just less than 30 seconds to spare, setting the best time of a 1:32.849.
Paffett ended up second, 0.423 seconds behind Green, who put together two flying laps in rapid succession. Tom Blomqvist made it a British top three, as the 21-year-old was just 0.005 seconds behind the 2005 champion.
Title contenders Edoardo Mortara and Mattias Ekström would end up fourth and sixth fastest, with Pascal Wehrlein ending up 19th after the 50-minute session.
Audi would end up with four of their cars in the top ten, as Nico Müller jumped to fifth with approximately 10 minutes of the session to spare.
Maxime Martin and Augusto Farfus were in the top ten for BMW, eighth and tenth fastest respectively. Maximillian Götz and Paul Di Resta also finished in the top ten, posting the seventh and ninth fastest times, with the Scot featuring in the top ten early in the session.
Esteban Ocon, who is taking Daniel Juncadella's place at Mücke Motorsport this weekend, would end up 1.559 seconds off the pace in last place, but was just 0.054 seconds off Nürburgring race two winner, Miguel Molina.
The 19-year-old improved his times throughout the session, after initially being nearly four seconds off the pace.
Outgoing champion Marco Wittmann would end up behind Wehrlein in 20th place, 1.374 seconds off the pace set by Green.
Free practice two starts at 0900 CEST (0800 BST) on Saturday morning.
Session results
| | | | | | | | | |
| --- | --- | --- | --- | --- | --- | --- | --- | --- |
| POS | NO | DRIVER | NAT | ENTRANT | CAR | LAPS | TIME | GAP |
| 1 | 53 | Jamie GREEN | | Audi Sport Team Rosberg | Audi RS5 DTM | 22 | 1:32.849 | 0.000 |
| 2 | 2 | Gary PAFFETT | | EURONICS / BWT Mercedes-AMG | Mercedes-AMG C63 DTM | 23 | 1:33.272 | 0.423 |
| 3 | 31 | Tom BLOMQVIST | | BMW Team RBM | BMW M4 DTM | 19 | 1:33.277 | 0.428 |
| 4 | 48 | Edoardo MORTARA | | Audi Sport Team Abt | Audi RS5 DTM | 24 | 1:33.281 | 0.432 |
| 5 | 51 | Nico MÜLLER | | Audi Sport Team Rosberg | Audi RS5 DTM | 18 | 1:33.372 | 0.523 |
| 6 | 5 | Mattias EKSTRÖM | | Audi Sport Team Abt Sportsline | Audi RS5 DTM | 20 | 1:33.434 | 0.585 |
| 7 | 84 | Maximilian GÖTZ | | PETRONAS Mercedes-AMG | Mercedes-AMG C63 DTM | 25 | 1:33.469 | 0.620 |
| 8 | 36 | Maxime MARTIN | | BMW Team RMG | BMW M4 DTM | 18 | 1:33.539 | 0.690 |
| 9 | 3 | Paul di RESTA | | SILBERPFEIL Energy Mercedes-AMG | Mercedes-AMG C63 DTM | 17 | 1:33.616 | 0.767 |
| 10 | 18 | Augusto FARFUS | | BMW Team RBM | BMW M4 DTM | 18 | 1:33.626 | 0.777 |
| 11 | 16 | Timo GLOCK | | BMW Team MTEK | BMW M4 DTM | 18 | 1:33.750 | 0.901 |
| 12 | 10 | Timo SCHEIDER | | Audi Sport Team Phoenix | Audi RS5 DTM | 24 | 1:33.773 | 0.924 |
| 13 | 22 | Lucas AUER | | EURONICS / BWT Mercedes-AMG | Mercedes-AMG C63 DTM | 21 | 1:33.794 | 0.945 |
| 14 | 99 | Mike ROCKENFELLER | | Audi Sport Team Phoenix | Audi RS5 DTM | 24 | 1:33.814 | 0.965 |
| 15 | 6 | Robert WICKENS | | SILBERPFEIL Energy Mercedes-AMG | Mercedes-AMG C63 DTM | 17 | 1:33.866 | 1.017 |
| 16 | 77 | Martin TOMCZYK | | BMW Team Schnitzer | BMW M4 DTM | 18 | 1:33.886 | 1.037 |
| 17 | 27 | Adrien TAMBAY | | Audi Sport Team Abt | Audi RS5 DTM | 22 | 1:33.949 | 1.100 |
| 18 | 13 | António Félix da COSTA | | BMW Team Schnitzer | BMW M4 DTM | 21 | 1:34.052 | 1.203 |
| 19 | 94 | Pascal WEHRLEIN | | gooix / Original-Teile Mercedes-AMG | Mercedes-AMG C63 DTM | 20 | 1:34.199 | 1.350 |
| 20 | 1 | Marco WITTMANN | | BMW Team RMG | BMW M4 DTM | 17 | 1:34.223 | 1.374 |
| 21 | 8 | Christian VIETORIS | | gooix / Original-Teile Mercedes-AMG | Mercedes-AMG C63 DTM | 18 | 1:34.227 | 1.378 |
| 22 | 7 | Bruno SPENGLER | | BMW Team MTEK | BMW M4 DTM | 22 | 1:34.308 | 1.459 |
| 23 | 17 | Miguel MOLINA | | Audi Sport Team Abt Sportsline | Audi RS5 DTM | 20 | 1:34.354 | 1.505 |
| 24 | 34 | Esteban OCON | | PETRONAS Mercedes-AMG | Mercedes-AMG C63 DTM | 21 | 1:34.408 | 1.559 |