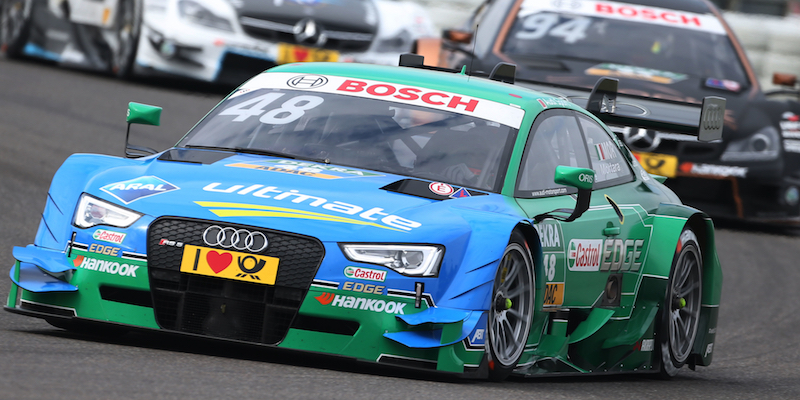 Despite initially showing that they were a force to be reckoned with at the start of the 2015 Deutsche Tourenwagen Masters (DTM) season, Audi Sport will be looking to make a strong impact in the manufacturers' standings at the Hockenheim finale this coming weekend.
Ingolstadt's ranks have always fared well at the 4.574-km track, having won there the past three times, which also included a clean sweep of the podium at the finale last year.
There is a slim chance of Audi defending the title that it clearly swept from BMW last year, as well as having Edoardo Mortara and Mattias Ekström still in the running for the drivers' title, with Mercedes' Pascal Wehrlein set to make his mark in the DTM history books.
Head of DTM, Dieter Gass, is looking forward to the challenge that lies ahead: "We're going to mobilize all our forces once more and battle for the championships despite the chances are minimal. We've always been strong at Hockenheim – come rain or shine."
The RS5 DTM has taken the most wins of the season, with eight so far to its credit. But the brand with the four rings will need an exemplary race weekend for title glory to be achievable.
"There are good overtaking opportunities at Hockenheim," explained Gass, as Audi currently sits 82 points behind BMW Motorsport, with Mercedes in shooting distance of the Munich marque.
"The performance among the three manufacturers has been very balanced in the most recent races, even when deducting the weight difference. That's why the fans can look forward to two interesting races in which we'd like to sell ourselves as best we can."
Both Mortara and Ekström have been in the running for the drivers' title, with stable mate Jamie Green no longer in contention after a disastrous middle part of the season.
Esktröm, who is in the running to potentially secure a third DTM title, is aware that it may not be in his favour this weekend.
"Realistically, we have no chance of clinching the title," explained the two-time champion, who is 38 points behind current leader Pascal Wehrlein.
"But we've seen a lot happening in the DTM this year. It's great for the fans that four drivers from all three brands still have chances of clinching the title. If our rivals should be faltering, we'll be there to grab whatever there's up for grabs."
Mortara himself is a single point ahead of Ekström in the standings, but has also been in the running for the drivers' title before, back in 2013.
"Obviously, my chances of taking the title shrunk at the Nürburgring. But for me, it's great to still be in the title race for the first time in my DTM career before the last weekend," said the Italian ahead of the final two races of the year.
"It shows me that I've been making progress compared with the previous years. Hockenheim has always been a track I've felt comfortable on. I'm hoping for a positive ending of the season and am going to battle hard."