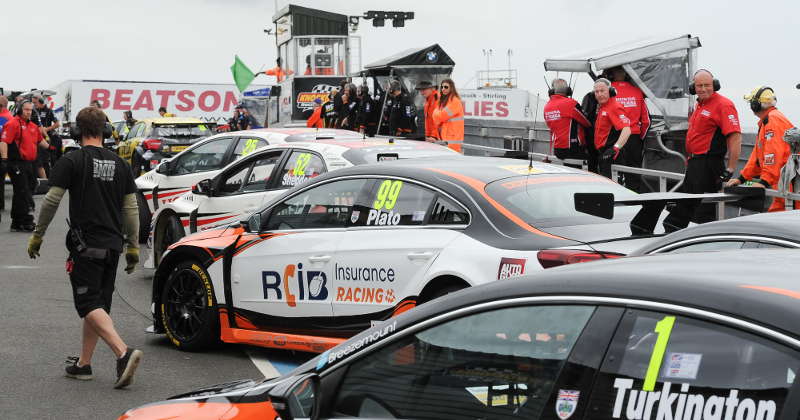 Dunlop has announced the tyre choices for today's three British Touring Car Championship races at Knockhill, with half of the field opting to use the soft tyres in Race 1.
With the threat of rain playing its part at some point this afternoon, 14 drivers have opted to run the soft in the opening encounter, including polesitter Andy Priaulx in his West Surrey Racing BMW.
Team-mate Sam Tordoff is the only man in the top five of the Race 1 grid not to plump for the soft compound in that encounter, instead saving his for race two – as does the MG of Jack Goff.
Just five drivers will use the compound in Race 3; Hunter Abbott was due to use his softs in the third race, but is on his way back to London after his wife went into Labour.
Championship leader Jason Plato, who announced he would start from the pitlane, will use his softs in Race 1.
Full Knockhill tyre choices:
| | | | |
| --- | --- | --- | --- |
| Drivers | Race 1 | Race 2 | Race 3 |
| Colin TURKINGTON | Soft | Medium | Medium |
| Rob COLLARD | Soft | Medium | Medium |
| Sam TORDOFF | Medium | Soft | Medium |
| Robb HOLLAND | Medium | Soft | Medium |
| Dan WELCH | Soft | Medium | Medium |
| Alex MARTIN | Soft | Medium | Medium |
| Aiden MOFFAT | Medium | Soft | Medium |
| Dave NEWSHAM | Medium | Medium | Soft |
| Mike BUSHELL | Medium | Medium | Soft |
| Derek PALMER Jr | Medium | Soft | Medium |
| Kieran GALLAGHER | Medium | Soft | Medium |
| Matt NEAL | Soft | Medium | Medium |
| Martin DEPPER | Medium | Medium | Soft |
| Jack GOFF | Medium | Soft | Medium |
| Adam MORGAN | Medium | Soft | Medium |
| Warren SCOTT | Medium | Soft | Medium |
| Aron SMITH | Soft | Medium | Medium |
| Gordon SHEDDEN | Soft | Medium | Medium |
| Hunter ABBOTT | Medium | Medium | Soft |
| Jeff SMITH | Medium | Soft | Medium |
| Josh COOK | Medium | Medium | Soft |
| Andrew JORDAN | Soft | Medium | Medium |
| Tom INGRAM | Medium | Medium | Soft |
| Stewart LINES | Soft | Medium | Medium |
| Jason PLATO | Soft | Medium | Medium |
| Rob AUSTIN | Soft | Medium | Medium |
| Andy PRIAULX | Soft | Medium | Medium |
| Mat JACKSON | Soft | Medium | Medium |
| James COLE | Soft | Medium | Medium |