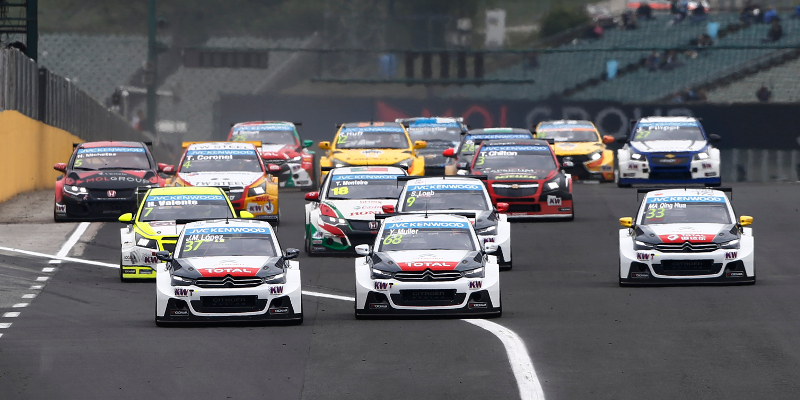 Eurosport Events COO François Ribeiro says he is "certain" that there will be a new manufacturer represented on the World Touring Car Championship (WTCC) grid in 2016, although he would not be drawn on who that may be.
Ribeiro says he is not concerned for the future of the WTCC, explaining that he expects a new brand in 2016 and possibly another one for the following season in 2017.
"I have a certainty to see a new manufacturer next year, and probably another one in 2017," said Ribeiro. "I'm not worried."
Ribeiro also rebuffed any claims about how the series could be negatively impacted if one of the existing marques was to pull out, given how the dominance of Citroën could be negative for their competitors.
"There is always a danger of manufacturers to pull the plug. At any time, in any category and whatever the amount of money they are spending, there is always a danger.
"I cannot ask Citroën to change the way they are working and the level of professionalism they have, because they are doing an outstanding job. They are raising the level of the championship. They are forcing any other manufacturer who wants to compete with them to raise their game."
With the addition of new manufacturer entries, Ribeiro has already made his own calculations as to how many full-time factory drives will be available to top-level drivers in the future.
"If we are lucky, in the next 12 to 18 months, I see ten professional factory seats to be allocated. Some of them will be awarded, I hope, for drivers like [Hugo] Valente.
"I hope we will get drivers with a single-seater or LMP1 background, or expert touring car drivers like [Nestor] Griolami. It will refresh the championship."
With regard to the current season, Ribeiro expects to be back up to a 19-car grid for the race in Moscow, with both Rickard Rydell and the third LADA car re-joining the championship. Then, for the Slovakia race in mid-June, it is anticipated that the second full-season entry of Münnich Motorsport will be filled. Ribeiro also shed some light on the situation at Proteam Racing, who have not been seen since Marrakech.
"René Münnich will soon announce a second car for the rest of the season, and I think Rydell will be back in Moscow because his Thyroiditis inflammation is going down. By Moscow we'll go back to 19 cars, and by Slovakia 20 cars.
"In normal circumstances we should have had 19 or 20 cars here, and that's enough. Proteam Racing will not be back for the full season, but I think they will be back for five events."