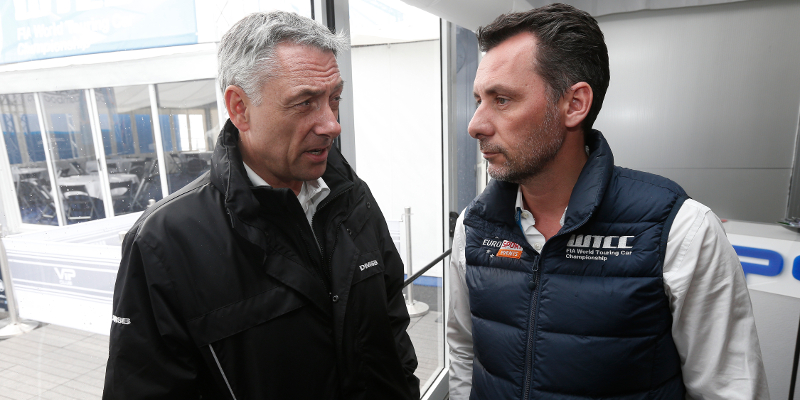 World Touring Car Championship (WTCC) promoter François Ribeiro says he is delighted with the first event for the series on the Nürburgring Nordschleife, with the Race of Germany staying at the circuit for a further two years.
It was announced in 2014 that the event would be held at the circuit for at least three years, and Ribeiro is delighted with the organisation, approach and reaction to the first event the series has held on the famous circuit.
"Tonight I am very happy," said Eurosport Events' COO François Ribeiro to TouringCars.Net. "I never doubted about the very strong common will we had between ADAC Nordrhein, Eurosport Events, FIA and DMSB to make it work, so I never doubted it. I also never doubted about our capacity to deliver a strong TV programme. I think the core production that we have done with wige_ is very good.
"What makes me really happy is the quality of the racing – this is the best thing of the weekend. This makes me very, very confident about the future of the WTCC here on the Nordschleife, because you can spend millions on TV production, but if the racing is boring your show is boring. The level of TV production was exceptional, but the racing was also very good, so in the end the combination of those two elements made the WTCC hype, and made the WTCC something on TV and I hope it was good for the spectators also."
Ribeiro also explained that he does not plan to make any changes to the format for next year, believing that the championship's maiden event on the circuit could not have gone any better from an organisational point of view.
"I think we don't need to [make changes],"added Ribeiro. "Frankly speaking, I think that 2 x three laps is good for WTCC. My first idea, to make only one race with double points and a pit stop in between was a wrong idea. I'm glad that some of the drivers told me that I was wrong. Two races of three laps is very good, it's very entertaining and it respects the identity of what WTCC is about, and WTCC is and has to remain a sprint race championship – it is the tie-break of motorsport.
"It's been an outstanding show here on that circuit."