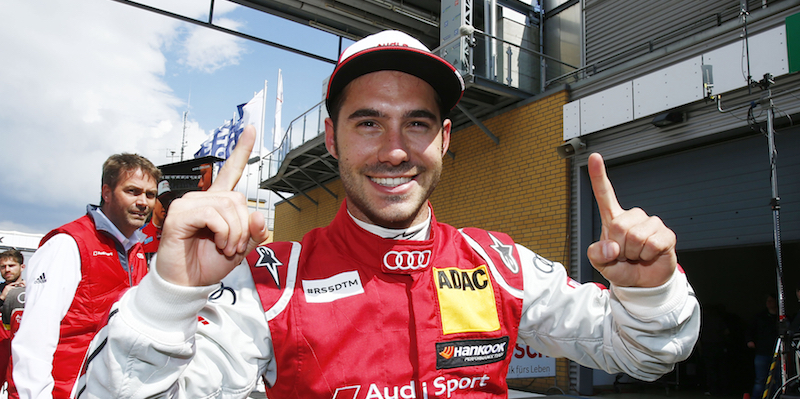 After a tense and closely fought qualifying for the third race in this year's Deutsche Tourenwagen Masters (DTM) season at the Eurospeedway Lauitz, it saw Audi Sport secure the front two rows, ahead of this afternoon's action.
Spain's Miguel Molina set the best lap time of all with a 1:17.438, securing another impressive pole position, beating Jamie Green to his second of the season by just 0.121 seconds.
Edoardo Mortara took third ahead of a charging Mattias Ekström, whose efforts were in vain after a spin on his last attempt. Pascal Wehrlein, who took pole here last season, was the highest place Mercedes driver in fifth, just under two tenths away from Molina.
Defending champion Marco Wittmann, who took the drivers' title at Lausitz last year, took top honours as BMW's fastest around the Brandenburg-based track in sixth, ahead of Canada's Robert Wickens.
Maxime Martin was the second of three BMW drivers in the top ten in eighth, with free practice one pace setter Tom Blomqvist 0.012 seconds ahead of Paul Di Resta, who completed the top ten.
Two-time champion Timo Scheider narrowly missed out, as did Team Schnitzer's António Félix da Costa. Daniel Juncadella was placed as high as eighth early on in the twenty-minute session, but took thirteenth.
Previous champions Mike Rockenfeller and Bruno Spengler will line up 14th and 15th respectively, with Nürburgring 24 Hours winner Nico Müller fractionally behind the pair in 16th.
Martin Tomczyk will start from 17th, leading a duo of BMW drivers in the form of Timo Glock and Augusto Farfus. It was a disappointing showing for Mercedes this afternoon on a track which normally favours them, based on recent success over the past decade.
Christian Vietoris placed 20th, ahead of Lucas Auer, Maximillian Götz and Gary Paffett, with Adrien Tambay not setting a timed lap during the session. The Frenchman has nevertheless been relegated to last on the grid for this afternoon, due to Audi Sport repairing two damaged engines after the season opener at Hockenheim.
Race one starts this afternoon at 1808 CEST (1708 BST).
Session results
| | | | | | | | | |
| --- | --- | --- | --- | --- | --- | --- | --- | --- |
| POS | NO | DRIVER | NAT | ENTRANT | CAR | LAPS | TIME | GAP |
| 1 | 17 | Miguel MOLINA | | Audi Sport Team Abt Sportsline | Audi RS5 DTM | 11 | 1:17.438 | 0.000 |
| 2 | 53 | Jamie GREEN | | Audi Sport Team Rosberg | Audi RS5 DTM | 10 | 1:17.559 | 0.121 |
| 3 | 48 | Edoardo MORTARA | | Audi Sport Team Abt | Audi RS5 DTM | 10 | 1:17.564 | 0.126 |
| 4 | 5 | Mattias EKSTRÖM | | Audi Sport Team Abt Sportsline | Audi RS5 DTM | 10 | 1:17.607 | 0.169 |
| 5 | 94 | Pascal WEHRLEIN | | gooix / Original-Teile Mercedes-AMG | Mercedes-AMG C63 DTM | 9 | 1:17.621 | 0.183 |
| 6 | 1 | Marco WITTMANN | | BMW Team RMG | BMW M4 DTM | 12 | 1:17.635 | 0.197 |
| 7 | 6 | Robert WICKENS | | SILBERPFEIL Energy Mercedes-AMG | Mercedes-AMG C63 DTM | 8 | 1:17.648 | 0.210 |
| 8 | 36 | Maxime MARTIN | | BMW Team RMG | BMW M4 DTM | 11 | 1:17.729 | 0.291 |
| 9 | 31 | Tom BLOMQVIST | | BMW Team RBM | BMW M4 DTM | 9 | 1:17.890 | 0.452 |
| 10 | 3 | Paul di RESTA | | SILBERPFEIL Energy Mercedes-AMG | Mercedes-AMG C63 DTM | 8 | 1:17.902 | 0.464 |
| 11 | 10 | Timo SCHEIDER | | Audi Sport Team Phoenix | Audi RS5 DTM | 9 | 1:17.935 | 0.497 |
| 12 | 13 | António Félix da COSTA | | BMW Team Schnitzer | BMW M4 DTM | 9 | 1:17.956 | 0.518 |
| 13 | 12 | Daniel JUNCADELLA | | PETRONAS Mercedes-AMG | Mercedes-AMG C63 DTM | 8 | 1:17.964 | 0.526 |
| 14 | 99 | Mike ROCKENFELLER | | Audi Sport Team Phoenix | Audi RS5 DTM | 11 | 1:17.981 | 0.543 |
| 15 | 7 | Bruno SPENGLER | | BMW Team MTEK | BMW M4 DTM | 9 | 1:18.014 | 0.576 |
| 16 | 51 | Nico MÜLLER | | Audi Sport Team Rosberg | Audi RS5 DTM | 10 | 1:18.030 | 0.592 |
| 17 | 77 | Martin TOMCZYK | | BMW Team Schnitzer | BMW M4 DTM | 9 | 1:18.078 | 0.640 |
| 18 | 16 | Timo GLOCK | | BMW Team MTEK | BMW M4 DTM | 9 | 1:18.115 | 0.677 |
| 19 | 18 | Augusto FARFUS | | BMW Team RBM | BMW M4 DTM | 9 | 1:18.132 | 0.694 |
| 20 | 8 | Christian VIETORIS | | gooix / Original-Teile Mercedes-AMG | Mercedes-AMG C63 DTM | 9 | 1:18.220 | 0.782 |
| 21 | 22 | Lucas AUER | | EURONICS / BWT Mercedes-AMG | Mercedes-AMG C63 DTM | 10 | 1:18.260 | 0.822 |
| 22 | 84 | Maximilian GÖTZ | | PETRONAS Mercedes-AMG | Mercedes-AMG C63 DTM | 9 | 1:18.321 | 0.883 |
| 23 | 2 | Gary PAFFETT | | EURONICS / BWT Mercedes-AMG | Mercedes-AMG C63 DTM | 10 | 1:18.457 | 1.019 |
| 24 | 27 | Adrien TAMBAY | | Audi Sport Team Abt | Audi RS5 DTM | 0 | No time | N/A |