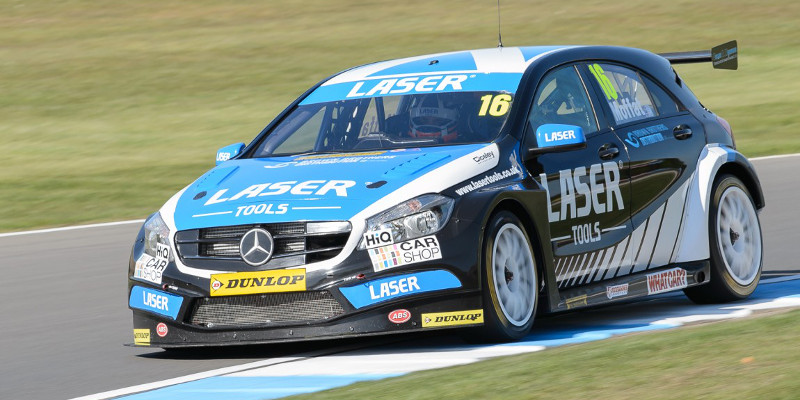 Aiden Moffat was happy to have scored a maiden top-ten British Touring Car Championship qualifying position with ninth place at Donington Park, despite feeling that he could have gone faster.
The 18 year-old finished all three of Saturday's sessions in the top ten, having also impressed during the series' pre-season test session at the circuit, where he finished the afternoon third quickest.
That performance had raised ambitions within the team heading to the Leicestershire circuit, and Moffat insisted that given the breakthrough nature of the result he was pleased with a spot on the fifth row.
"Coming into the weekend we had quite high expectations," he told TouringCars.Net. "[But] the race weekend is the first time where everybody is going for it so to get our first ever top ten is massive for us; as a driver it's great and for the team also, the guys were delighted after all the hard work that they'd done.
"It's great to finally break into the top ten – it's a milestone for us."
The Laser Tools Racing driver nevertheless felt slightly aggrieved not to have dragged more from the car, given his performance at the circuit less than a month ago.
"I think I was very slightly [disappointed], but the team were over the moon. Personally, knowing what I was capable of this weekend and that things could have gone differently, I think that plays at the back of your mind so in that respect you're always going to be slightly disappointed.
"There were a few things that didn't feel quite spot on – they were close enough but there were final tweaks that could have been slightly different and possibly worked a bit better but we can't really complain.
"To still end up in the top ten is brilliant at this stage, it's where we're really aiming to be so to achieve that so early on is great for us."
Moffat admitted that he and the team had taken something of a gamble with their tyre choices ahead of raceday, but remained optimistic of a second landmark result in as many days given the performance of his Mercedes during practice.
"To finish in the top ten," he stated, when asked if he had any goals for Sunday's races. "We opted to choose the soft tyre for race one so we're a bit unsure of how that's going to work – we'll have to find out.
"When we were quick in the practice sessions [earlier today] the tyre was a bit older so for us to have that pace on those tyres is a good confidence boost, and hopefully it indicates that as the tyres start to drop off, we should still have a good base layer so I think we can be fairly confident."