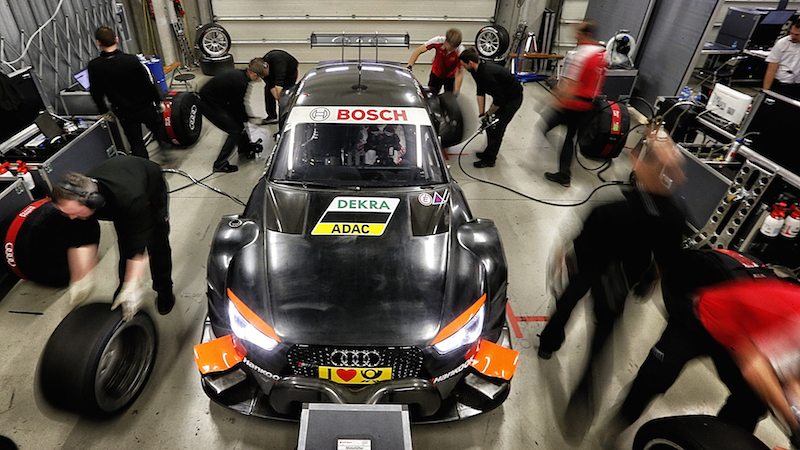 With the testing phase now finally underway for the Deutsche Tourenwagen Masters (DTM), three days of hard work for Audi Sport at the Algarve International Circuit in Portimão was completed for the two RS5 DTM test cars and three drivers on site, whose task it was give as much feedback as possible over the 3,600 kilometers that were covered.
Audi had Team Abt Sportsline's Mattias Ekström, Team Phoenix's Mike Rockenfeller and Team Rosberg's Nico Müller were on hand to test out the updated 2015-specification car, which carried out its first shakedown on the Sunday before the test began.
The Ingolstadt manufacturer will be looking for more glory that just defending the constructor's title this season, as the three drivers helped to put the laps in on the car, ready for more work to be carried out for the forthcoming two tests at Estoril and Oschersleben.
"This test was primarily focused on further optimizing the RS 5 DTM and to work out a basic set-up for the 2015 season," explained Audi's Head of DTM, Dieter Gass.
Müller was grateful for the chance to drive the new car ahead of his second year in the DTM, especially with testing being rather limited: "The laps at Portimão were all the more valuable for me. In addition, I can always learn something else while listening in on the radio communications of the other drivers."
Rockenfeller said that even though "the devil is in the detail," any time to get on the track is beneficial towards a new campaign, irrespective of a driver's experience: "Even though the technology of the cars has been frozen by the regulations the work on details never stops. Plus, it never hurts to do some kilometers in the race car. Even after so many years in the DTM it helps to train your ability to drive by the seat of your pants and to stay in practice."
Ekström, who won the title in 2004 and 2007, felt that testing is always more demanding on drivers, especially with the compressed time frame to get the very best out of the car: "You try out a lot of different things and develop a good feel for what works well and what doesn't work so well. This knowledge is very important with a view towards the coming season."
2015 could be the chance for Audi Sport to end a three year spell of having done a clean sweep of all three titles, as Martin Tomczyk and Team Abt Sportsline secured the drivers' and team championships that season.
In many respects, the data gathered by both former champions will help them in their respective campaigns, as well as the raft of talent that Audi has on its roster, so they could be strong from the very start at Hockenheim.