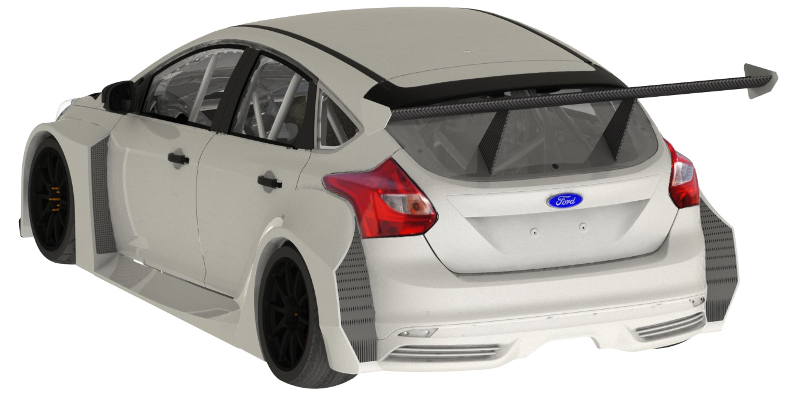 Organisers of the TC3 International Series have revealed further information about the forthcoming series, which will feature cars such as the SEAT León and Ford Focus' to be built by Mike Earle's Onyx outfit.
No specific calendar has yet been released, but the series has confirmed its intention to run three events in the Americas, five events in Europe and four events in Asia.
Series organisers have also revealed a number of potential cars which would be eligible for entry, including:
Mercedes-Benz CLA 45 AMG;
SEAT León Cup Racer;
Volkswagen Golf R GTi;
Ford Focus ST;
Honda Civic Type-R;
Opel Astra OPC;
Alfa Romeo Giulietta QV;
Hyundai Veloster;
Nissan Pulsar GTI-R;
Renault Mégane R;
Audi S3; etc.
Mike Earle's Onyx Race Engineering outfit, who formerly ran cars in the British and World Touring Car Championships under the Arena Motorsport moniker, has announced plans to build a number of Ford Focus ST cars for the series.
"I think that when I first heard about TC3, I was a little sceptical," said Earle. "It's like my mother used to say, 'if it sounds too good to be true, it probably is.' But as we've worked along with it over the months, it's clear that TC3 can deliver exactly what it set out to deliver.
"It's sparked a lot of interest from some major motor manufacturers, which is great because they all produce performance–enhanced vehicles that can be used for the series. They need a lot of modification to turn them into racing cars, but it's a good starting point."
Moreover, SEAT Sport have confirmed their support for the series with one of their pre-existing race cars, the SEAT León Cup racer. SEAT Sport Director Jaime Puig has praised the concept of the touring car period being promoted by the series.
"The TC3 concept is very interesting," said Puig. "It's very appealing for us as one of our cars – the SEAT León Cup Racer – is available for the series and we will support customers who wish to use our car as much as possible. The 'pyramid' idea is very attractive for us and I can see some exciting opportunities and good marketing possibilities, so I am very positive about TC3."
Also confirmed for the new series is Target Competition, who have been running cars in the SEAT León Eurocup.
"When I first heard about TC3, I thought it was a good opportunity to compete in international motorsport at a high level, with good cars and at not a very high budget," explained Team Manager Markus Gummerer. "We will take part with the SEAT León Eurocup cars and we will enter two or three cars in the TC3 International Series.
"We already have five cars in the SEAT Eurocup, so we know the machine and it is very competitive. We have to look for some good drivers to be at the front – we already have one that is arranged and we have some others that want to drive and only need to find the budget."
The series will feature a qualifying format split into two parts. Q1 will be 20 minutes (or 30 on street circuits) open to all competitors, whilst Q2 will be 10 minutes (or 15 on street circuits) where the top twelve from Q1 are allowed to compete.
Each event will consist of two races of 60 km in length, both of which will feature a standing start. The grid for race one is based on the combined Q1 and Q2 results, whilst the grid for race two is to be determined based on the reverse order of the top ten in Q2, as the current WTCC race two grid is determined.
Summary of technical regulations:
Eligible cars: WSC list for 4/5 door saloons;
Body shell: Reinforced production shell with wheel arch modifications allowed to accommodate tyres;
Minimum length: 4200 mm;
Maximum width: 1950 mm;
Engine: Turbocharged petrol or diesel engine up to 2.0 litres. Only one engine is allowed for an entire season and use of more than one engine will result in grid penalties;
Torque: Circa 410 Nm;
Power: Circa 320 bhp;
Traction: Two-wheel drive only;
Gearbox: Production or TC3 International Series sequential, production paddle shift also accepted;
Front suspension: Production lay-out, parts free design;
Rear suspension: Original design of production car with reinforced components;
Brakes: Front: Maximum of six-piston calipers with a maximum diameter of 380 mm. Rear: Maximum of two-piston calipers;
Aerodynamics: Front splitter: 2014 SEAT León Eurocup. Rear wing: FIA Appendix J Article 263 2014;
Ground clearance: Minimum 80 mm;
Power-to-weight ratio: Subject to the WSC Balance of Performance.
Success ballast will be apportioned to the top three drivers from the previous meeting in the order of 30 kg, 20 kg and 10 kg respectively.
Championship points will be awarded to the top ten drivers in each race in the following format:
1st (25 pts), 2nd (18), 3rd (15), 4th (12), 5th (10), 6th (8), 7th (6), 8th (4), 9th (2), 10th (1).
Points will also be given to the top five drivers after qualifying.
No further information regarding teams, or confirmed cars, are available at present.