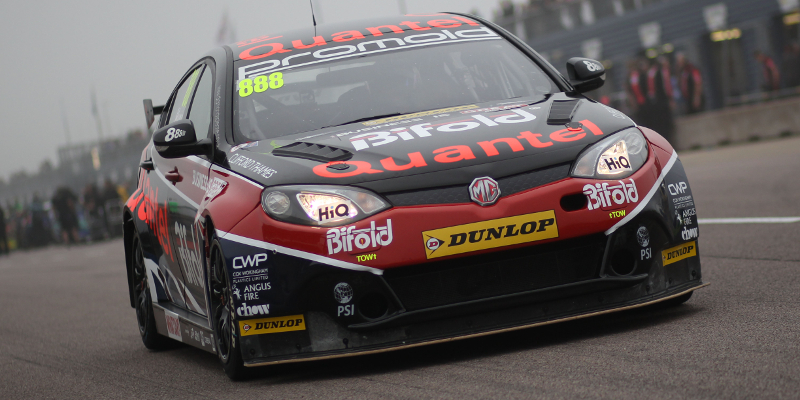 Quantel BiFold Racing's Marc Hynes admits that he still hasn't 'got the balance right yet', despite qualifying in a season-best seventh for the first British Touring Car Championship race at Rockingham on Sunday.
Hynes has only twice previously cracked the top ten in the BTCC but on Saturday at Rockingham the former single-seater ace secured a season-best result of seventh on the grid. The MG driver admits that he has been surprised by how difficult it has been to adapt to front-wheel drive, claiming that his fastest time came on a lap where he didn't feel he was pushing as hard.
"I think I'm getting the hang of it a bit more," said Hynes to TouringCars.Net. "It's really odd to go into a qualifying session where you're trying not to push – in everything that I've experienced [in previous series'] you're trying as hard as you can and the more you push the faster you go. It doesn't quite translate here so I was really keen to not overdrive.
"I went out on the last run and tried not to push and I did a better time than pushing. It's not an easy balance to get right and I clearly haven't got it right yet but slowly and surely I'm understanding it. I think the track does suit the car a bit. Tyre degradation is high so we'll see how we go tomorrow."
On the subject of tyre degradation the 36-year-old has selected to run the soft tyre in the first race of the day – a move that he is now not sure about. In previous meetings the majority of the field have elected to run the soft tyre in the final race due to uncertainties about how it will respond over a race distance.
"It's a 16 laps but suddenly 16 laps feels like a grand prix distance," admitted Hynes. "I think we'll be struggling big time with six laps left. I've opted for softs for the first race, which I'm starting to wonder whether it was a good idea or not. I guess we'll just be trying to protect the fronts as long as possible.
"It's just understeer – to be honest I don't know. It doesn't feel great – it just feels like you've got shed loads of understeer. We're going to have a look overnight at quite a big balance change to try and help the front tyres a bit."
Hynes also added that he feels the rear-wheel drive BMWs have a significant advantage over the rest of the field, echoing the comments of several other drivers and team members in the paddock.
"They [RWD cars] do seem to have an advantage as far as I can see," claimed Hynes. "Just looking at timesheets alone, forgetting personal opinion, it says quite a lot actually. The car is at a track it's not supposed to be great at, with maximum ballast, and it's still on the pace. As we saw at Knockhill when they take the ballast out suddenly it's seven or eight tenths faster than the field and that isn't equal."
Hynes added that the transition from rear-wheel drive racer to front-wheel drive touring car driver has been much harder than he had anticipated it would be.
"It's remarkable how different the front-wheel drive is – all the engineering jargon is different," explained Hynes. "I really struggled in the first five or six meetings just to know what I wanted. I'm starting to get the hang of that a little bit now. It's quite a frustrating car to drive because the harder you push you don't necessarily go faster. You've got to get the balance with understeer right as a lot goes through that front axle ultimately.
"I would hope the championship do something over the winter to maybe give the front-wheel drive a little easier time compared with the rear-wheel drive. At the moment it's quite clear for everyone to see."