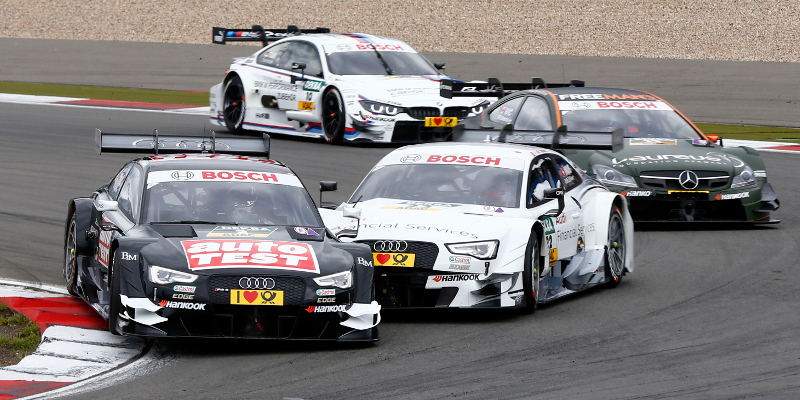 Audi endured a 'painful' Deutsche Tourenwagen Masters race at the Nürburgring on Sunday, as four of its cars retired from the race and its winless streak in the series extended to eleven races.
Things looked promising for the Ingolstadt-based manufacturer after qualifying on Saturday, with five cars inside the top six. There were problems for their lead driver Mattias Ekström, however, who exited qualifying in Q1 and ended up 22nd on the grid. Nevertheless the marque proved that its cars again have the pace to challenge at the sharp end of the grid.
Sunday's race results do not accurately reflect Audi's performance in the 2014 DTM. With Mike Rockenfeller finishing in second and Edoardo Mortara third, the marque confirmed that it has the pace to score podiums and wins. However four retirements and two Audis outside the top ten meant that it turned out to be a difficult weekend for the brand.
"When you've got five cars in the top six on the grid, positions two and three are not enough," insisted Head of Audi Motorsport Dr. Wolfgang Ullrich. "We clearly fell short of our potential today."
Championship leader Marco Wittmann is now 64 points clear of Audi's Mortara in the championship, with the BMW driver's maiden title almost inevitable. Ullrich says the marque is therefore aiming for the manufacturer's title, where they are second, just 18 points behind BMW.
"We're going to use the break between now and the Lausitzring to look better in the last three races of the season," said Ullrich. "In the drivers' classification, a preliminary decision was made. But in the manufacturers' classification, everything is still possible."
Head of DTM Dieter Gass labelled the race as 'painful' given the high attrition rate for its drivers and the lack of a win, despite a strong qualifying.
"Having two drivers on podium in the DTM is basically a good result," admitted Gass. "Obviously, it's not satisfactory that only these two [Rockenfeller and Mortara] managed to make use of their good grid positions. We did not achieve our aim of winning the race. What's more, we lost a lot of cars – especially at the race start. Losing four out of eight cars due to collisions is painful."
One of those to exit the race early was Timo Scheider, who was hit from behind by Mercedes' Robert Wickens into the path of Nico Müller. "I was defending myself against Robert Wickens, he missed the braking point and hit me with locked wheels," explained Scheider. "I flew off and hit Nico, which ended the race for both of us.
"It was a shame because we had chances of scoring points. It was a foolish and unnecessary action on Robert's part."
Adrien Tambay and Jamie Green finished outside the points in 11th and 14th respectively, with the Brit citing a 'lack of motivation' due to damage from contact with BMW's Augusto Farfus. "I had a rough duel with Farfus and afterwards, my car was even more heavily damaged," said Green. "From that point on, it was difficult to stay motivated."
There were retirements for Ekström, Miguel Molina, Scheider and Müller all from accident damage within the opening ten laps.