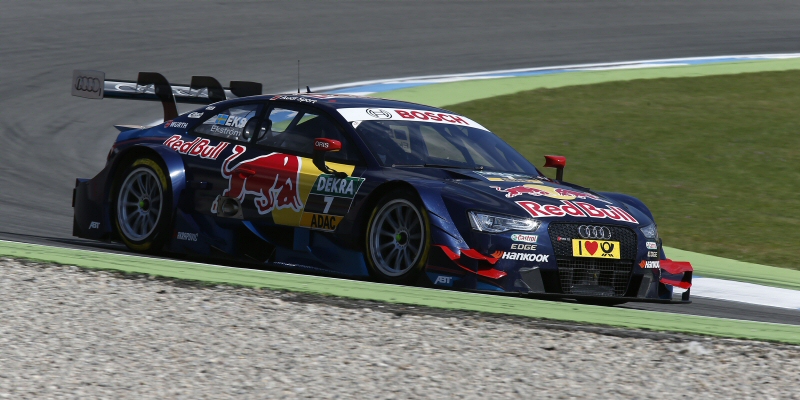 Audi's drivers in the Deutsche Tourenwagen Masters are expecting this weekend's qualifying session at the Hungaroring to be crucial, with Mattias Ekström calling it "the most important qualifying session of the year".
The DTM returns to the Hungaroring in 2014 for the first time since 1988 and for Audi the event is particularly important, since the manufacturer has plant located just half an hour away at Győr.
The Hungaroring circuit, situated just 20 minutes north-east of Budapest, is known for being a difficult circuit to pass at – and Abt Sportsline's Ekström is therefore gearing up for an important qualifying session on Saturday.
"A great circuit in a beautiful city," said Ekström of the venue for the third round of the season. "The way I see it, we're going to drive the most important qualifying session of the year on Saturday because overtaking on this track is anything but easy."
The Swede's Audi stablemate Jamie Green agrees, and also expects passing to be a challenge on a circuit he has never before raced on.
"Our Audi RS 5 DTM will be strong again at Budapest," said a confident Green. "That's why I'm looking forward to the weekend and to the next chance of scoring a good result.
"I've never driven a race on this track. The circuit isn't easy and overtaking will arguably be possible only with DRS at the end of the start-finish straight."
Abt Sportsline's Miguel Molina says that the twisty 4.381 km circuit will suit the RS5 DTM, with the Spaniard having also topped the times during the opening day of pre-season testing at the circuit.
molina will be looking to bounce back from a missed opportunity last time out at Oschersleben, where he lost pole position due to a technical infringement and fought his way from the back of the grid to finish sixth.
"The track suits the Audi RS 5 DTM, which the pre-season track tests showed," said Molina. "Even though we're still lacking a podium result I've able to gain a lot of self-confidence on the first two race weekends. I'm taking this positive energy with me to Budapest."
Auid Sport Team Phoenix's Ernst Moser believes that the fact that all of the DTM manufacturers have already tested at the circuit in 2014 will make for closer racing than usual.
"Everybody will arrive at Budapest with the experience from four joint test days packed in their bags," explained Moser. "That's why I believe that the battle there will even be closer than on most of the other tracks on the calendar. We'd like to get on a bit of a roll based on the good performance in the first two races and up the ante at Budapest."
Free practice at the Hungaroring gets underway at 12:10 CEST on Saturday (11:10 BST).