Robb Holland admits that he doesn't know if he will be out at the next British Touring Car Championship round at Thruxton, after his heavy race two shunt with James Cole at Donington Park.
Holland and Cole made contact on the exit of Redgate corner in avoidance of an incident between Rob Austin and Chris Stockton. However with Holland unaware of the incident ahead, the Rotek Racing driver made little room for Cole, with whom he had been battling for position.
"I didn't see from the car," said Holland to TouringCars.Net. "James and I were getting a good battle going and I was on his outside coming into Hollywood. I hadn't realised but Rob Austin had gone off and was coming back on. So James and I were side-by-side – he had to avoid Rob but I couldn't see that so I didn't move at all and we basically both went off track.
"Rob [Austin] came back a bit abruptly and we were at full-on pace. I couldn't see because of the spray and also where my angle of vision was – I had no idea that he [Cole] had been taking avoiding action for something. It's just a racing incident."
Holland admits that whilst the accident was not the biggest he has ever had, the damage to his five-race old Audi S3 Saloon is considerable.
"We went straight on – I hit the concrete, so we did pretty substantial damage to the car," added Holland. "The Nürburgring crash was definitely bigger – but this was still a pretty big hit. Anytime you hit concrete you're going to feel it in the morning."
The American added that the bigfest problem he and the team face now is rebuilding the car before the Thruxton event in two weeks time. Whilst Holland did not rule out racing at the high-speed circuit, he adds that a lack of spare parts for the new car is the biggest issue.
"I don't know if it's a write-off," added Holland. "Fortunately we went straight in and then back around. I think the back end's repairable. It's just a matter of getting parts and making sure everything's available and just seeing [where we are].
"Obviously with the build, trying to get the car developed and so on we haven't had a chance to get a spares package together so we've got bits and pieces and corners and stuff like that but not the full package. If the parts are available we'll have the car out and we'll cross our fingers."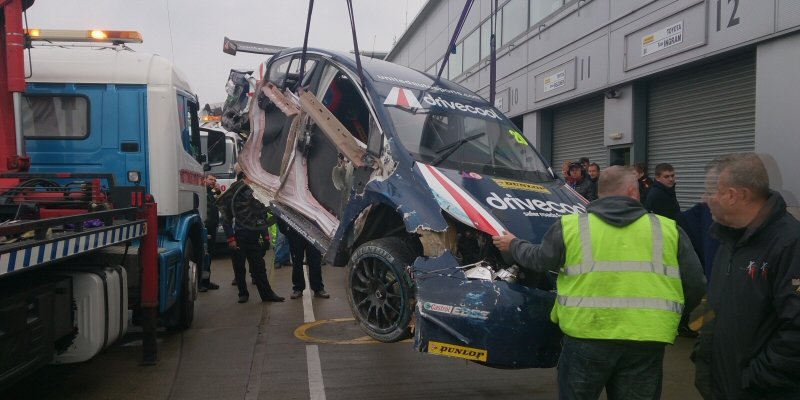 Cole explained the incident to TouringCars.Net and ruled out racing at Thruxton in two weeks time, with extensive damage to the side of his United Autosports Toyota.
"Rob Austin was on the grass on the right hand side and he was coming back on the track," said Cole. "I'd just overtaken Robb and I went left to avoid Austin and Robb didn't move with me. That was it. That car won't be out at Thruxton."