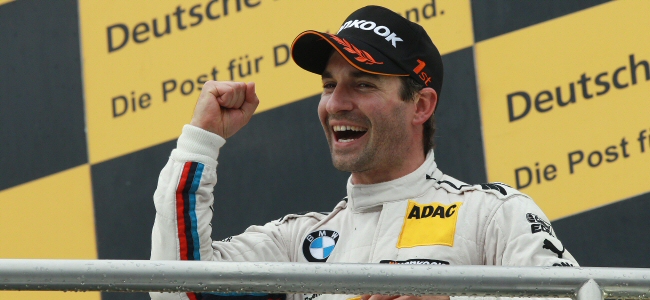 BMW's Timo Glock has dedicated his first win in the Deutsche Tourenwagen Masters to former colleagues María de Villota and Sean Edwards, who both died earlier this month.
Glock scored his maiden win in his first season in the DTM at the Hockenheimring finale, mastering the wet and slippery conditions to beat Mercedes' Roberto Merhi to the victory.
After the race the German dedicated his victory to the former racers, who died earlier this month. De Villota succumbed to injuries she sustained testing a Formula 1 car in 2012, whilst Edwards was killed whilst travelling as a passenger in a car at Queensland Raceway in Australia.
"What a day!" said Glock after the race. "I would like to dedicate this win to my former colleagues María de Villota and Sean Edwards. I knew both of them well and really regret their tragic deaths."
Regarding his race, Glock admitted that changes made since Zandvoort had lifted his performances, allowing him to take just his second points finish in the DTM with a win.
"We have set the car up differently since Zandvoort," added Glock. "That lifted us to a completely new level. Thank you to my guys for the great job they have done – particularly during the pit stops. Thanks also to BMW for giving me this chance in the DTM as a former Formula One driver. I am pleased I was able to repay that faith today."
Glock also apologised to Farfus, who he spun out at the second corner on the opening lap of the race whilst battling for fifth position.
"Finally, I would like to apologise to Augusto," said Glock. "I was squeezed out while braking into the first hairpin and ended up on the slippery white line. That meant I was not able to brake hard enough and unfortunately hit his car. It was a very unfortunate situation. That sort of thing should not happen between drivers racing for the same manufacturer."
Ernest Knoors, Team Principal of BMW Team MTEK, added that he was delighted for the team to be able to end its first season in the DTM with a victory, after the team's other driver Marco Wittmann had earlier in the season scored a podium and a pole position.
"This victory feels incredible," admitted Knoors. "It is fantastic for us, as a fledgling team, to win the final race of the season in Hockenheim in our rookie year. Eleven months ago our team did not even exist. Over the past ten races we have worked together to achieve a position we can be proud of. We never doubted ourselves, even when there were difficult phases this year.
"It was clear to us it would not be easy to be successful in this closely fought series. However, we embraced the challenge. Timo Glock did a great job in 2013, gradually coming to terms with the DTM, and produced a performance today in difficult conditions without any sign of nerves. He is simply a superb driver."