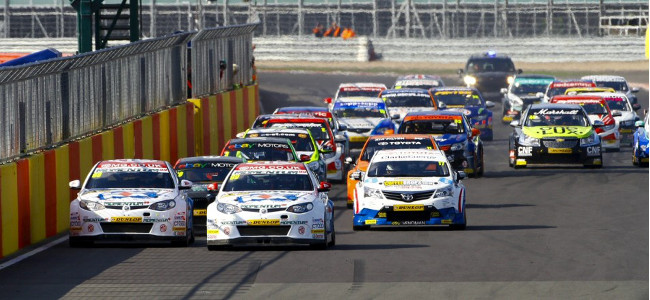 After nine rounds of chaos, crashes and controversy, another scintillating British Touring Car Championship season comes to a close this weekend on the Grand Prix circuit at Brands Hatch in Kent.
So close has the racing been this season that five drivers – Andrew Jordan, Matt Neal, Colin Turkington and Jason Plato – all head into this weekend's action with the chance to win the driver's title. Despite being the only one of the five not to have won the title, Jordan comes to the event with a healthy advantage over nearest challenger Neal, who needs to overturn a 34-point deficit if he is to claim a fourth BTCC crown.
The scene of the opening and closing rounds of the season, Brands Hatch is one of Britain's – and indeed the world's – most prestigious race tracks, with the venue always providing something to savour for the tens of thousands of fans who turn up. After the teams tackled the 'Indy' circuit back in March, they now face the 2.3-mile 'Grand Prix' circuit, where Colin Turkington and more recently Gordon Shedden clinched their first BTCC titles in 2009 and 2012 respectively. And with the weather set to play its part once again, the man who ends the day as series champion will be nothing less than deserving of the title.
But what of the championship contenders? As we look forward to the tenth and final meeting of the 2013 season, in this preview we'll reveal each of their paths to this weekend and discuss their title credentials.
2013 has in many ways been a coming of age year for current leader Andrew Jordan. From the moment he qualified on pole at Brands back in March in trying conditions, it was clear that we'd see a different driver this campaign. Jordan's raw pace has never been in doubt since he joined the series, but his level headed approach this year has allowed the Pirtek driver to consistently score strong points where previously he might have lost out. Notable examples of this include a wonderful one-handed save at Thruxton, as well as a masterclass in the wet at Rockingham to steal into the lead at a crucial point.
That weekend at Rockingham showed just how well Jordan has matured as a driver, optimising the struggles of Neal to full effect to forge a strong buffer of points which he then defended well at Silverstone where his car had struggled to perform across the weekend. If 2013 does prove to be Jordan's maiden BTCC title, it will be richly deserved after proving that he can compete with and defeat the factory machines week in week out.
The resilience shown in recent weeks by Matt Neal, however, shows that there is a long way to go before Jordan seals the title. After a nightmare weekend at Rockingham was followed by an accident which broke Neal's finger, the Honda driver fought back magnificently at Silverstone to move back into second place in the championship.
Neal's participation this weekend was only confirmed yesterday after being cleared to race once more, but the determination shown by the three-times series champion goes a long way to proving just why he is one of the most decorated drivers in recent years. After a tough start to the season, a strong mid-season run looked to have propelled Neal towards a fourth BTCC crown, but a spin and a retirement at Rockingham put a huge dent in his dreams of winning the 2013 championship. There is sufficient reason why he is Jordan's closest challenger, however, and if anyone is to stop him from winning then Neal looks most likely to do so.
Gordon Shedden also retains a strong chance of claiming the BTCC title, after taking his maiden championship last year. Shedden has endured a far bumpier road to this point than last season, however, and after a miserable start to the season at Brands Hatch has backed up the performances he displayed in his championship year to take the fight to the final day at Brands Hatch once more.
The team look unlikely to play any team orders to begin with as Neal and Shedden lie just one point apart in the championship standings, but a strong race one is required from the Scotsman to ensure he can maximise any problems that Jordan endures.
Despite remaining in the championship battle, the final race of the day at Silverstone dealt Colin Turkington's title ambitions a severe blow. Turkington had been involved in a battle with rivals Jordan and Neal before retiring after contact with Mat Jackson, the result leaving the Northern Irishman 48 points behind in the race for the prize. While Turkington cut a frustrated figure after the incident, not even he could have predicted such a strong return to the series, particularly after a trying opening three races of the season.
Turkington dragged the under-performing WSR BMW to its maiden victory at Donington in April, and since then has battled his way fairly to the head of the championship. Indeed, had it not been for incidents while in the lead at Snetterton and an exclusion at Knockhill, Turkington may well have been Jordan's closest challenger coming into the season finale. To have scored more than one-and-a-half times the points total that teammates Rob Collard and Nick Foster – who themselves are no slouches – underlines just how fantastic Turkington's performance has been in 2013.
While it looks unlikely that he will walk away as champion, Turkington has proved that he is a fantastic Touring Car racer and should be nothing but proud of the achievements he and the WSR team have recorded this season.
In contrast to that, 2013 has been something of a disappointment for Jason Plato and the MG KX Momentum Racing team. Starting the season with two wins, Plato and MG's dominance at times has been quite incredible – in fact, Plato sits alongside Jordan as the most victorious driver this season, with six wins to his name.
However, a combination of reliability issues as well as bad timing and strategy calls have hampered Plato's chances of scooping a third crown, although a double win at Silverstone kept his challenge alive into the final weekend.
Plato can also expect to go well at Brands, having become only the second driver to win three races in a day on the Grand Prix circuit in 2009, although his MG has proved a much more difficult car to drive in the wet conditions forecast for the weekend.
Although the identity of the 2013 champion is yet to  be decided, the we should be in for a cracking weekend of racing to determine which driver walks away with the honours.