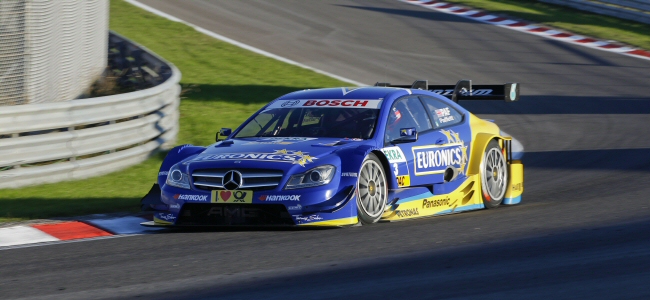 Mercedes-Benz's Gary Paffett admits that he has struggled with his car throughout the day, after qualifying in just 12th position for the DTM at Zandvoort as no Mercedes drivers made it past Q2.
Brit Paffett equalled his worst qualifying session of the season so far with 12th position, meaning that he has now missed out on entry into Q3 for two consecutive events. The former DTM champion missed out on entry into Q3 by just 0.034 seconds.
Paffett explained that after free practice, in which he was just 18th fastest and struggling like his fellow Mercedes competitors, the team team made changes which were hard to adapt to during qualifying.
"It is difficult," admitted Paffett. "This morning we really struggled with the car but we made some changes [before qualifying]. To be honest in Q1 I was really happy because I think we were P5 and just two tenths off the quickest, but if you look at the sectors then I think we were a few more tenths away.
"In Q2 the first set [of tyres] was OK but on the second set I just really struggled for grip and I couldn't get a good lap time at all. We ended up four tenths slower than the quickest which is too much really – it means the difference between being in the top ten and being P12."
Despite struggling for single-lap pace, Paffett added that he felt comfortable with his car and put some of his problems down to the lack of testing which now takes place on a DTM weekend, with a single one and a half hour practice session on Saturday morning before qualifying.
"The car felt pretty good again and we didn't have any big issues with the car and certainly it was a big step forward from this morning," added Paffett. "But the problem is we changed the car quite a lot for qualifying and it's hard to get used to a car that quickly. When you're talking about a few hundreds or a few tenths of a second you have to have driven the car and when you have a new set-up for qualifying it's quite late.
"That's the way it is this year with the really limited testing – if you don't arrive with a good set-up straight away you're on the back-foot for the whole weekend, so it makes it difficult."