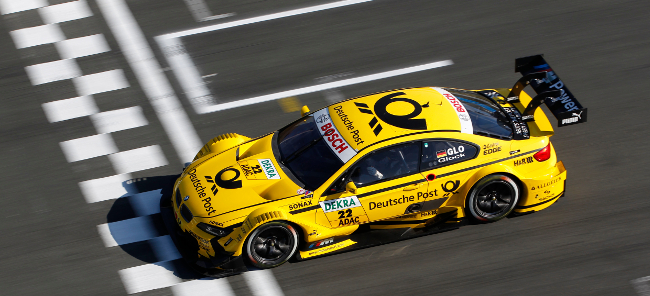 The BMW Team MTEK squad will see their drivers, Marco Wittmann and Timo Glock line up on row 8 for the 8th round of the 2013 DTM.
The mixed weather conditions caught the team out in the second part of qualifying and meant that their drivers finished the session 15th and16th fastest.
Wittmann headed into the second part of qualifying having shown his pace during the opening stage of qualifying before being caught up in the mixed weather which denied him a chance to show his full potential.
"Unfortunately our timing was poor in Q2," explains Wittmann, who is currently 7th in the Championship. "But it's easy to be wise after the event. I did manage to clock the fastest time in the first qualifying session, so the pace was there.
"I am definitely a bit disappointed with 15th on the grid. It could certainly have been better today."
Team-mate Glock also missed out on a chance to move up the order in qualifying and rued the weather and a lack of luck as he struggled to get the right temperatures into the tyres on the #22 BMW M3 DTM.
"Things didn't quite go our way in qualifying today," explains Glock, who arrives at Oschersleben 14th in the Championship. "We did not have the necessary luck on our side. In these conditions, you cannot plan 100 per cent. I came out relatively early on in Q2, but then had problems getting my tyres up to the right temperature.
"For this reason, I decided to do a second warm-up lap. Then it started to rain, and that was the end of any chance to clock a good time," he concluded.