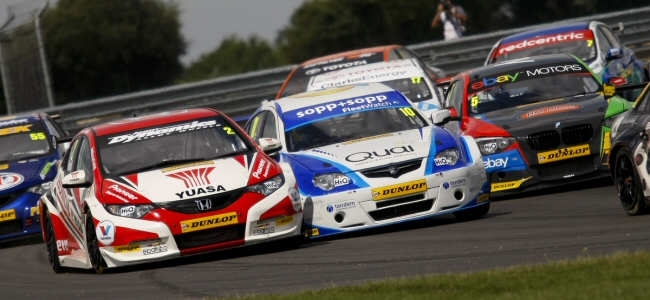 With 18 of 30 rounds completed, it's that time of the year again as the British Touring Car Championship heads north of the border and pays a visit to Knockhill, Fife, the seventh of ten circuits on the 2013 calendar.
With Snetterton proving that there is plenty of fight from MG left in this season's championship, this weekend's action will be just as fierce as the previous six this year through the undulating curves of Knockhill.
Developed in 1974, the 1.3 mile track is renowned for providing tight and dramatic racing year after year, with the turns in the middle of the lap matched by two straight sections that allow for spectacular overtaking. Last year's racing saw no wins for Honda or MG, as Rob Collard and Tom Onslow-Cole took one win apiece for West Surrey Racing and Dave Newsham securing a victory on home soil.
The circuit looks set to miss both the torrents of rain forecast for much of the British Isles on Saturday, as well as the clear skies predicted in many areas on race day, but with temperatures in the mid to late teens it should still be a pleasant weekend for fans.
MG's superiority on a circuit had never been quite so apparent in 2013 as it was at Snetterton, so for the team to come away from Norfolk with a solitary win and one further second place would no doubt have been of some disappointemnt to the team. Jason Plato will hope that his bad luck – both from Snetterton last time out and Knockhill last year – has deserted him in time to challenge for a title that is starting to look like it has slipped from his grasp once again. Despite an 11th place-finish and two DNFs here last season, Plato qualified his MG on pole and will be hoping for a repeat of that pace as he bids to claw back his deficit on championship leader Matt Neal.
As for Neal and his Honda counterparts Gordon Shedden and Andrew Jordan, Snetterton was a successful weekend of damage limitation. Despite having an obvious deficit in pace compared to the MG, the trio were able to grind out top ten finishes in every race, and all pulled clear of Plato in the standings. Neal's patient and calculated approach to racing is just as prevalent as it was in his three previous championship winning years, and although he sits just nine points ahead of Jordan in the standings, he is without doubt the favourite to add a fourth title to his collection come October.
Snetterton proved to be a somewhat mixed weekend for the final championship contender, Colin Turkington. A fourth place finish in race one promised a big haul of points from the remainder of the day, but the Northern Irishman was hit while leading in both the second and third races of the day, leaving him bereft of a podium for the first weekend since Thruxton. Nonetheless, he also chalked up three top ten finishes to leap frog Plato into fourth place in the standings, and despite having a different car from last year, the record of the rear-wheel drive BMW at Knockhill in 2012 bodes well for the 2009 champion's chances this weekend.
Although it might have come too late for a championship push, there was finally real cause for celebration at Motorbase as both of the Airwaves Focus' ran at the sharp end of the grid, with Aron Smith claiming a second and third place finish, and Mat Jackson hounding Gordon Shedden in the final race of the day to claim his first podium of the season. The return to form of the Airwaves drivers is another ingredient to add to the mix this weekend, which could make the battle at the front of the field all the more intense for the remainder of the season.
After a disappointing start to the campaign, Lea Wood became the first driver to claim all three Jack Sears Trophies in one day at Snetterton, and now has 9 victories from 18 races this season. Liam Griffin remains his closest challenger in the class, and while it seemed briefly as though the fight s2000 championship might have died down in intensity, the return of the s2000 Chevrolet Cruze this weekend will add a further element of excitement to the battle, particularly as Finesse Motorsport and 16-year-old Aiden Moffat will be making their debuts in the series.
In making his debut, Moffat will become the youngest driver ever to have competed in the series, beating Tom Chilton's previous record. There will also be debuts this weekend for Mike Bushell in the IP Tech Race Engineering Chevrolet Cruze and Kieran Gallagher in a Team HARD. Vauxhall Insignia, who will be partnered by Paul O'Neill, who makes his much anticipated return to the series after last racing in the series at Knockhill in 2012.