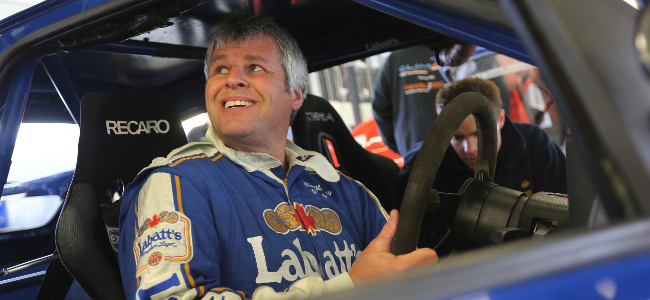 Tim Harvey and Patrick Watts are preparing to be reunited with two of their former British Touring Car Championship cars at the Silverstone Classic over the 26-28th July.
Harvey, the 1992 BTCC Champion and current ITV4 commentator is set to race the same Ford Sierra Cosworth he raced in the 1989 and 1990 seasons, with the Labitts's livery.
"It's my actual Labatt's sponsored car from the 1989 and 1990 seasons, so to be reunited is just fantastic," said Harvey. "That brilliant RS500 is probably my favourite touring car of all time and I certainly never thought I'd be racing it again."
The 51 year old was reunited with the car during the official Media Day in May and then had the chance to test the car at Silverstone. Harvey will be competing in the Super Touring Car Trophy race on the Saturday while the car's owner, Paul Smith, returns to the hot seat for the race on Sunday.
"It's absolutely as it was after my final race," he reported. "It must be the most original Cosworth Sierra still out there right down to the switches and stickers. I'm now really looking forward to Silverstone Classic. It's going to be very special."
Joining Harvey on the grid for the Super Touring Car Trophy grid at Silverstone is former team-mate Patrick Watts in his 1997 Peugeot 406.
"Basically it's a bit of sentimentality," said Watts. "The nineties were an iconic era, probably never to be repeated. The cars were great bits of kit and the racing was so competitive. I'm now really excited to be getting back into the car and putting on a show."
The two Super Touring Car Trophy races will see a variety of cars which raced between 1970 and 2000 in the British, World and European Championships and cover the Group 2, Group A and Super Touring Regulations.