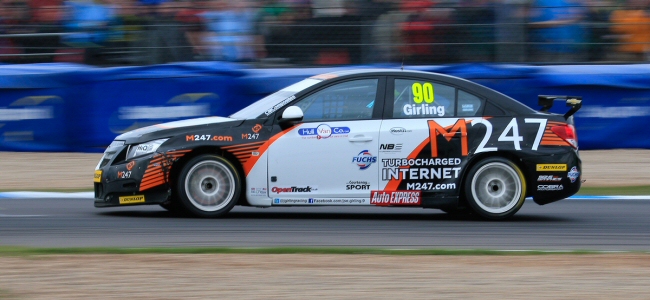 Joe Girling was pleased with his team's performance in qualifying at Thruxton, after he secured 21st on the grid in his Chevrolet Cruze, making him the top driver in the S2000 Jack Sears Trophy.
Whilst all eyes were on the front on the field where Andrew Jordan took pole, Girling's lap meant he was the fastest S2000 car, qualifying ahead of the more established names of Lea Wood, James Kaye and Liam Griffin.
And Girling said the result was all the more impressive given the situation his team found themselves in on Saturday morning.
"It's fantastic – we didn't get much running in free practice one because we had a gearbox problem, free practice two we were late starting and had to finish early because we had another small problem," said Girling.
"To go out and to manage to get in front of people who've been doing it for a few years, it's a good result for us."
The 22-year-old, who is competing in his first season in the British Touring Car Championship, was cautious however about predicting any grand results on race day.
"We'll certainly give it a try, qualifying we just do one good lap whereas in the race we've got to try and keep people behind you and do good laps.
"The other guys out there have got more experience than me, they've raced against each other, but we'll certainly try and stay in front of them." said the M247 racer.
Girling also insisted that whilst recent performances have been encouraging, that he is not thinking about winning the Jack Sears Trophy.
"I'm trying to avoid [thinking about] it really. there's a long way between now and the end of the season, there's a lot of experience out there.
"It would be fantastic to get some more wins and if in a few rounds time it looks like we can fight for it then we'll give it a go."