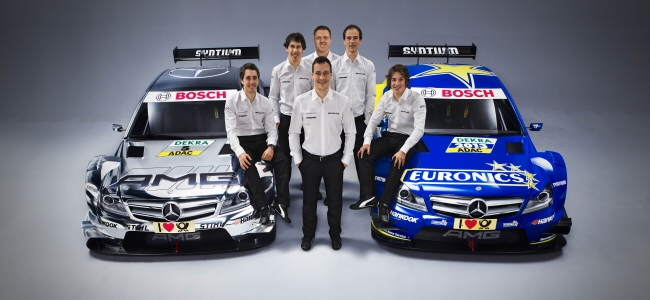 Sapniard Daniel Juncadella has been announced as the final Mercedes-Benz entry for the 2013 Deutsche Tourenwagen Masters, as part of a reduced six-car entry for the marque.
Juncadella, 21, is the reigning Formula 3 Euro Series champion and will be the youngest driver on the DTM grid when he makes his debut at the Hockenheimring on the 5th May.
"My DTM debut is like a dream come true," said Juncadella of the announcement. "I cannot wait for the season opener at Hockenheim, where I'll be lining up for my first DTM race in a Mercedes AMG C-Coupé. I would like to offer my thanks especially to Mercedes-Benz, since my success in recent years – and consequently this move up into the DTM – would not have been possible if it had not been for their junior programme and their support. I will now do my level best to maintain the confidence placed in me."
Mercedes are reducing from eight cars fielded in 2012 to six for 2013, a move which has been anticipated for some time. HWA and Mücke Motorsport will continue to field C-Class Coupé's, with Persson Motorsport leaving the DTM after having participated since its resurrection in 2000. The move is suspected to be also due to an increased focus on the manufacturer's Formula 1 team.
"With the aim of making the best possible use of resources in mind, we have decided to race six DTM Mercedes AMG C-Coupés this year," said Toto Wolff, boss of Mercedes-Benz Motorsport. "We hope to gain more flexibility in the development of our vehicles by focusing on six cars and using resources more efficiently."
Continuing with the team are Gary Paffett, Ralf Schumacher, Christian Vietoris, Roberto Merhi and Robert Wickens, whilst F1 star Nico Rosberg will take up a mentoring position for the junior drivers.
Paffett, who narrowly missed out on the title last season to Bruno Spengler, enters his tenth season in the German touring car championship and is hoping for a greater deal of luck in 2013.
"The new DTM season marks an anniversary for me. This will be my tenth season in the world's most popular touring car series as a Mercedes-Benz driver. Last year, I led the standings from the opening race right through to the season finale at Hockenheim. Unfortunately, we didn't have that bit of luck that would have seen us win the championship. Anyway, I'll be pushing even harder this time and going all out for my second DTM title."
Mercedes-Benz will also welcome a new sponsor in 2013, with German electronics brand Euronics sponsoring one of the team's cars.