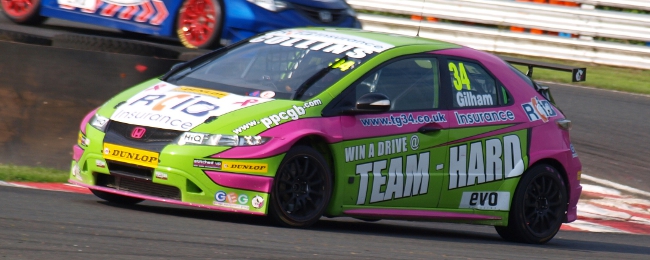 Tony Gilham has confirmed that the S2000 Honda Civic which he bought for the 2012 campaign has been sold, as Team HARD go all NGTC for 2013.
The car, which took 2012 Champion Gordon Shedden to runner up in 2011, took Gilham to his first podium finish at Donington Park as well as a number of top ten finishes.
With the switch to the NGTC Volkswagen Passat CC and the NGTC Vauxhall Insignia for 2013, Gilham feels that running the car in the newly formed Jack Sears Trophy would stretch the teams' resources too far.
"I got my maiden Touring car podium in this car so it will always be close to my heart, but it was a business decision, it just didn't make financial and logistical sense to run it," explains Gilham.
The former cage fighter stepped out of the car for Snetterton and the second half of the campaign and he ran debutants Robb Holland, Howard Fuller and Aaron Williamson in the car during the course of the second half of the season.
"I am very sad to see the Civic go, it was the launch pad for my team and was a little warrior on the track, even when I stepped out of the seat it proved it was a great car in the hands of Robb (Holland), Howard (Fuller) and Arron (Williamson)," concluded Gilham, who finished the 2012 campaign 17th overall and 14th in the Independent trophy.