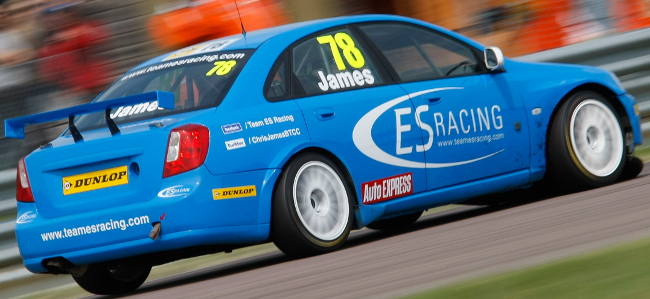 Chris James made his debut in the Dunlop MSA British Touring Car Championship in 2011, driving a Chevrolet Lacetti secured from Sweden.
In an honest and open interview with Touring-Cars.net, the former Mini racer looks back over his maiden season, as well as looks ahead to the future, both for himself and for the BTCC as a whole.
Having made the step up from Mini's to the Lacetti for his maiden season, how did the two cars compare for James?
"Totally & utterly different world," said James. "I am lucky enough to have a BMW M3 as a road car, and that Lacetti makes my M3 feel like a diesel nova van!
"All Touring Cars handle so well and you just cannot describe the acceleration from them."
One of the main talking points from the season was the promised parity between the turbocharged cars and the normally aspirated cars, like the Lacetti of James. In total, there were eight normally aspirated cars on the grid – of which five were Chevrolet cars.
James was able to see it from both sides of the argument: "Depends. I can see it from both sides. From my side being normally aspirated, it was a joke. When someone "beats" you by having no balls, being scared through the corners, braking ridiculously early (hey we are know about slow in to be fast out) but driving past you in a straight line that is sole destroying."
He had sympathy for teams like Honda Racing over the issue as well: "However for teams like Honda I sympathise with them. What is the point in them spending hundreds of thousands, if not millions, developing a top class race winning car that kills everyone else, if they are going to be penalised for it."
"Trouble is it's not about having the fastest car, it's about TOCA making sure it goes down to the last round………" summed up James on the issue of parity.
Out of all the drivers who competed in the 2011 season, was there any one driver who James thought was the surprise of the season?
"I think someone like James Nash really. It wasn't until we did our stats at the end of the season I noticed that he & 888 finished all 30 rounds. To do that, win races & score podiums in the BTCC is a hell of an achievement," said James.
2011 saw James running as both the Team Principal of his team, ES Racing, as well as the team's driver. Did this provide any additional challenges to him?
"Honestly – It wasn't," explains James.  "Too many people "big" themselves up to justify getting paid £300 – £500 a day to do nothing. Why would I need my hand held going to sign on at 8.30am on a Saturday & the drivers briefing on a Saturday afternoon?? I have done this for 12 years in club racing, and done a lot more there too, don't need to step a level then start being treated like a baby & have my hand held."
Being both the Team Principal and Driver didn't cause James any issues – and if it did, he'd like TOCA to show him when: "Unless TOCA can tell me any different we never filled in a piece of paper incorrectly, missed a deadline or weren't turned out looking A1. It didn't cause me any issues whatsoever."
Looking back over the 2011 campaign, James had some high points and low points – despite failing to secure an outright top ten finish, he showed on a number of occasions that he could have secured a Championship point.
One of those occasions was at Donington Park, the venue for the second weekend of the 2011 campaign – and one of the carnage fuelled weekends.
"High points were probably 12th place at Donington in only our second ever round. Although a little issue in qualifying, we did well to miss the pure carnage across the whole weekend," said James – who in the third race had been running inside the top ten before the Safety Car was deployed.
Another high point for James came in the penultimate weekend of the season on the Brands Hatch Grand Prix circuit, as he explains: "Also I loved Brands Hatch GP, and keeping the likes of Alex MacDowell & Chris Swanwick, in much quicker cars behind me."
With the highs comes the low point and for James, these came during the first half of the season, as he explains: "Low points were probably hitting the wall in the wet at 85mph at Oulton Park, and first two races of Croft event, as we had 5 out of our season 6 DNF's in a row."
And how would he sum up his maiden season in the BTCC – he considered himself to be the true British underdog in the 2011 season.
"Overall it has to be amazing.
"I am just an average everyday bloke who has raced in THE premier racing championship in the UK.
"If you cannot enjoy the fans, the media, the circus & spectacle, along with being part of amazing racing – you must be dead."
Looking to the future of the BTCC, the new Next Generation Touring Car regulations are coming to the fore with more and more teams committing to building cars which go with the regulations.
Looking ahead, James has a critical view of how he sees the series going: "TOCA are supposed to be bringing NGTC in, in part, to make the series more affordable for the likes of Team ES Racing. Total & utter rubbish. The price of the cars, the inflated price of parts is just stupid."
He hopes that he is proved wrong though but he fears that the regulations will have a detrimental effect on grid numbers: "I pray it doesn't, but I can see it back firing with the grids getting smaller. That would be such a shame after such a successful year.
"But with the pricing I can see the rich getting richer & the poor – not being on the grid.
On a personal level, how does the 2012 season look for James and ES Racing?
"There are still so many balls in the air. In these economic times I think people are leaving it later & later to make decisions.
"We will be in BTCC 2012, but whether it is with 1, 2, 3 or even 4 cars are unknown yet. Every one of those numbers is as genuinely possible as the other. Just depends on who 100% commits & pays their money (not just talks about it) & when."
He has to thank a number of people for all of their hard work in 2011 and hopes for more of the same come 2012: "Finally I have to say a massive thank you to my amazing Team for 2011. My fiancée Joanne, Daughter Daisy, friends Derek & Carla & the rest of the team. Without you I couldn't have done it. We all did it together & I can't wait to work with such an amazing team again in 2012."
The 2012 Dunlop MSA British Touring Car Championship gets underway on April 1st at Brands Hatch Indy Circuit and runs for 10 weekends, finishing on the 21st October at the Brands Hatch Grand Prix Circuit.