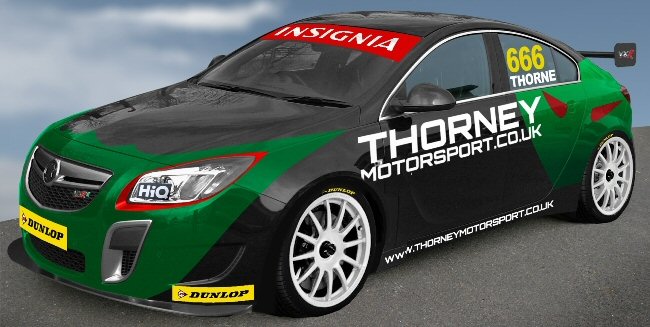 With just three and a half weeks until the team make their debut at the Silverstone round of the British Touring Car Championship, Touring-Cars.Net spoke to Thorney Motorsport about their plans to enter the series.
Back in April this year Thorney Motorsport announced their intention to build and race a pair of NGTC-specification Vauxhall Insignia's towards the end of the year. It will be the team's first attempt in the BTCC and the team will race in the final meeting at Silverstone with a view to completing a full season in 2012.
Thorney Motorsport have a proud history dating back over 20 years and Team Principal John Thorne is also a passionate racer, having competed recently in the team's CSL Cup and Dunlop Sportmaxx Championships.
Thorne admits that he expects the build of the car to be difficult at first, although he has taken positives from the recent strong performances put in by the other NGTC drivers Frank Wrathall and Rob Austin. Commenting on the build and parts assembly progress, Thorne is confident that the team will be ready on time to make their debut.
"It's all progressing well, to be honest," said Thorne. "We knew it was a fairly tight timeframe to get it all done but there's been a lot of people involved with the project and we're on schedule. It's a different project for us in as much that obviously we've been building race cars for [20 years] and the NGTC regulations are very different to a normal race car build.
"A lot of the parts are supplied by a third party and you simply have to ring them up and give them a load of money and then they sort out the parts for you. So a lot of the time we're simply chasing to make sure where things are and paying people to get the bits done. Obviously the hard part is then building it and the main things is the shell preparation which does take a long time."
In contrast to some of the other teams embarking on an NGTC project this season, Thorne has admitted that he wanted to take time to have the car ready for racing and to avoid doing development work in the particularly public-facing arena of a BTCC race weekend.
"In the past have used racing as a development for some of the M3 races that we've done and even some of the Vx220 races a long time ago and I made the decision, following years of doing that, not to do it with this project. The main issue is that you are very visible. We went through a period of time when we were racing VX220's, we were the only people in the world to race them, and the car broke down every race. Every race we learnt something and at the same time we were very visible and it was a reasonably expensive way of doing it. The caveat of that is that if you are looking to obtain sponsors and you are looking to obtain a following being there even for a lap is better than not being there at all in that regard.
"The plan is that from our perspective we will be launching the car and we will be at Silverstone regardless," added Thorne. "I'm hoping that the car runs at Silverstone and we're fairly confident it will be. But the intention is obviously to show it off for potential new sponsors next year. We're going to come up with a new livery and we have a new sponsor involved with us."
When asked about what he thought of the performance of the NGTC teams this year, Thorne was full of praise for Wrathall and Austin.
"Rob Austin and obviously Frank Wrathall have done a really good job. I think they've made a fantastic effort because I know how hard it is to build a car from scratch, especially when the regulations have been subject to change. That's not to suggest the regulations have been poorly written, far from it. But we have an agreement that says we have to have anti-roll bars of a certain thickness or that the positioning of a suspension rod should be x, y, z. Then during the course of a race one if one breaks or shows that it needs to be moved then that's not our fault, it's no-one's fault, it's just part of the learning process. So I think if you consider that they've done a brilliant job."
Thorney have in the past also built race cars for other teams – and this is something that Thorne admits the team are looking to continue in the BTCC in the future. Thorney Motorsport have always been involved in developing their own cars and Thorne believes that this could give them a slight advantage in preparing an NGTC car for the BTCC.
"We've always built our cars – we've never bought a race car ever," added Thorne. "Every car we've had has been built from scratch. So for us this is generally speaking far more straightforward, or at least far more of a process we are used to doing. We developed our own suspension, our setups, our sub-frame – they've been done in-house."
"The business model for us is not simply to build two Vauxhall Insignia's to race for ourselves but to build 3, 4 or 5 and have other people run them. In much the same way as we would the rest of our business model. These cars for us are car number 24 and 25 that we've built for other people. So there's not an insignificant amount of experience in that. So what we want do to is offer a car to other teams as basically a turn-key solution."
However Thorne has, like Austin, expressed some frustration at the limitations of the NGTC regulations. "In many regards the NGTC regulations are giving us some frustration because we think there are better ways of doing it but if you ask any race engineer to look at some work from another race engineer I can guarantee you he'll pick a fault with it!"
Despite the limitations, the introduction of the NGTC rules has opened up the possiblity for Thorney to enter the BTCC in the first place, something Thorne is particularly appreciative of.
"If someone said to me 'build me a new S2000 British Touring Car from scratch' it would be roughly double the budget that I'm spending at the moment. So on that basis alone you have to take your hat off to the regulations and say that this is the way forward. I've been on the record a few times saying that if NGTC did not exist we would not be in touring cars.
"Some people have questioned our timing as to why we are building the Insignia's now. It's very much that we are building them and are confident that things we are doing to the cars will not be subject to change and the things that will be subject to change are things that we can change and are not financially difficult for us to change."
Unlike some of the teams running NGTC chassis this season, Thorney have decided to develop their own engine. Taking the engine directly from the Vauxhall Insignia model, the team will make their debut using the 2 litre turbo engine that comes with the Insignia SRi model. The reason, states Thorne, is linked to the business model of seeling to other teams. "It means that we can offer a car to customer teams next year – we can offer it as a package with the TOCA engine or they can have the package with our engine," added Thorne.
When questioned as to why the team did not race with the tried-and-tested TOCA engine, Thorne explained that his links with Vauxhall as a Vauxhall retailer played a part. "The guys at Vauxhall want to see an Insignia racing with an Insignia engine. Their ability and capacity to be friendly towards me in terms of support if I suddenly run it with someone else's engine evaporates very quickly. So if you combine that with the business model that we have – yes, it was important for us to do an Insignia with an Insignia engine."
Thorne and the team will make their BTCC debut at Silverstone with one car to be driven by Thorne himself. "It will be a baptism of fire for me because my entire racing career has based on rear-wheel drive cars," concluded Thorne, "so I shall look forward to learning front-wheel drive!"
Fans wishing to see the new Insignia BTCC racer car are invited to the launch at Thorney Motorsport's headquarters. The launch will take place on the 8th October in Milton Keynes. Fans wishing to attend should email [email protected] in advance.