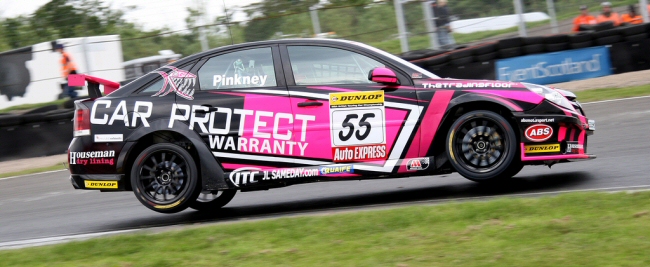 David Pinkney was left disappointed after his qualifying efforts this afternoon meant that he could only qualify in 18th position – his worst of the 2010 season. After just six laps during qualifying Pinkney suffered an off at Redgate corner that meant he could not complete the session.
After spinning the car on the exit of the corner, Pinkney's Vectra then hit a bump which damaged the front splitter and radiator on his car.
"Going into Redgate, the back end of the car came round and I went across onto the grass," said Pinkney. "I was simply making my way back to the circuit at low speed and there was a bump on the grass which I hit and that was it; damaged splitter and radiator and game over. We just had a lot more grip at the front end of the car than we did at the rear, and that's the first time I've had the back end of the car come round on me like that.
"If the session had been dry, then I think things would have gone a lot better, so we need to see what tomorrow brings. With a mixed weather forecast, it's a tough one to call."
Following the morning's first practice session Pinkney had improved his times by three tenths of a second in second practice. The lack of running in qualifying will hurt his set-up options for race day, but team manager Andrew Dean is optimistic of progress tomorrow.
"We expected a good qualifying session after the progress we made in second practice and thought the top twelve was possible," he said. "The spin at Redgate damaged the front end of the car and it stopped us realising the potential that there was in the car. We're going into race day without the data we would have collected from qualifying but we have to look forwards and aim to progress up the field."