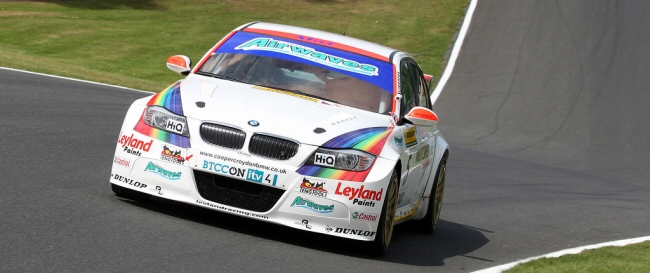 With the BTCC well and truly in the middle of the mid-season break, Joel Newman caught up with Airwaves BMW driver Mat Jackson for a quick interview. Jackson will return to competitive racing in August when the BTCC races take place at Snetterton on August 7/8, and the former championship runner-up is expected to be taking part in the test session at Snetterton tomorrow (Thursday).
So Mat, what have you been up to over the summer break?
Nothing really that exciting – work, work and more work alongside my father at his Ford dealership in Henley-in-Arden; on the fun side a visit to the British GP with my sponsor The Moneyshop.
What's been your highlight of the 2010 BTCC season?
To win at Brands in the rain from 12th on the grid stands out for me, but fighting my way through the field at Croft from 21st on the grid to finish seventh was also a great feeling, but a few more points would have been nice!
What's been the worst moment of your season so far?
All the bad luck that the team and I have suffered so far, through no fault of our own! I was taken out at Rockingham and Croft by silly manoeuvres, costing valuable points! On both occasions I don't think there was much I could have done differently so I guess you look back at moments like that and wish you could have been anywhere else on the track!
How are you and the team coping with the new Dunlop tyres?
It's common knowledge that the new tyre doesn't really favour the rear wheel drive cars, the front wheels drive cars have the benefit of 70% of their weight over the front axle, which means they can generate heat faster and keep it there. With 50:50 weight distribution our Airwaves BMW is a great race car, but during qualifying we can struggle to get the temperatures we need and that means on a hot lap we can lose out. Starting from the middle of the pack obviously makes our job harder, but we have the right guys in the right place to understand the tyres and how to get the best from them.  I honestly believe our car has the potential to win the championship.
Which of the next few races are you most looking forward to?
Hopefully all of the remaining races will be worth looking forward to; with 5 rounds remaining we need to outscore our rivals by 40 points to be in with a real chance of claiming the top spot! 8 points per weekend, easy ehh!
Do you expect to see another classic finish like we had in 2009?
You can rest assured I will be trying my hardest to emulate what I achieved last year and with the car we have I don't see any reason why not. The team is very strong and there is a common goal that we are all fighting for – points. I would love to reward everyone's hard work by winning as many races and scoring as many points as I possibly can.
The BTCC can be a bit of a battle ground come race day with the inevitable bumps, bangs and scrapes. Is it difficult to be friends with the other drivers in the paddock if there's been an incident?
As a driver you have to accept that we are all out to win and sometimes contact will be made but this is racing and you just remember for next time!!! Generally you will never see eye to eye on the situations but it's usually all ok on Monday.
Is there another driver on the grid you really admire or look up to?
No, I don't think I look up to any other driver and I'm not sure it would be helpful to. I respect what they have achieved, and I appreciate there are talented drivers in the field but I treat every other racing driver the same – I just want to get past!
What do you drive when you're not racing?
I drive anything 'Ford', usually a demo of some kind or something that's got fuel in it.  You won't see me tearing about on the road, as I get all that out of my system come race day. Plus I've got to sell them and mirrorless, dented saloons just don't fly out the door like they used too!
Half way through the season, are you where you wanted and expected to be in the Championship standings?
It has been a very tough start to the season and luck has not been on our side. In fairness a couple of the usual front runners have had a tough time also and this is reflected in the championship standings, hence it is reasonably close, so overall I think we're in a relatively strong position with half the races still to come.
In one word, what's the key to your success as a racing driver?
Dedication. You need to work on the areas where you are losing time and push yourself and the car as far as humanely possible if you want to win a championship. You have to be determined and believe and you also need a strong team around you, either that or an incredibly fast LPG engine!
Article content – Jeol Newman