Power Maxed Racing's Árón Taylor-Smith believes he is "only just getting into the stride of things" as he achieved a season-best fourth place finish at Knockhill. 
"A really successful year to date"
Taylor-Smith is currently the highest placed driver in the championship that has not yet secured an outright podium finish. Despite this, the Power Maxed Racing driver has scored more points in the opening 19 rounds of 2023 than in the previous two years combined.
Before securing his first Independents win of 2023 in race two at Knockhill, the Irishman attributed the rise in performances to the 'wealth of knowledge' that the team has that has 'fast-tracked' the #40 car.
"I think it's a credit to what everyone has done at Power Maxed," Taylor-Smith told TouringCars.Net. "I feel like I've connected with the team and car on a significantly higher level. The big difference is just the wealth of experience that the crew and the team have.
"In terms of when you go out in a free practice session you say 'look I've got a small bit of understeer here' or 'it doesn't ride the kerb well there'. They know 'right we're going to do two clicks of this or this on the bar'.
"Having that pre-existing wealth of knowledge has really fast-tracked my performance and the team's performance as a whole. I think it's been it's been a really successful year to date and I think we're only just getting into the stride of things really".
"It's so close to being a perfect weekend"
The Power Maxed Racing team has shown glimpses of pace throughout the season and none more so than in changeable conditions. Taylor-Smith believes that there have been some unlucky series of events that, as a result, have not allowed the team to show their true pace.
"There's 29 odd drivers on this grid that think they can win and I'm definitely one of them. We've been a little bit unfortunate in a few little red flag scenarios and qualifying and we haven't got a reverse grid yet.
"It's so close to being a perfect weekend; it doesn't need a huge amount. The team don't need to do any more on the car and the crews don't need to do any more.
"We just need to continue to execute the way we are and I've no doubt that we will get back to what it was. Again, it's a testament to what this whole crew have done to get us there."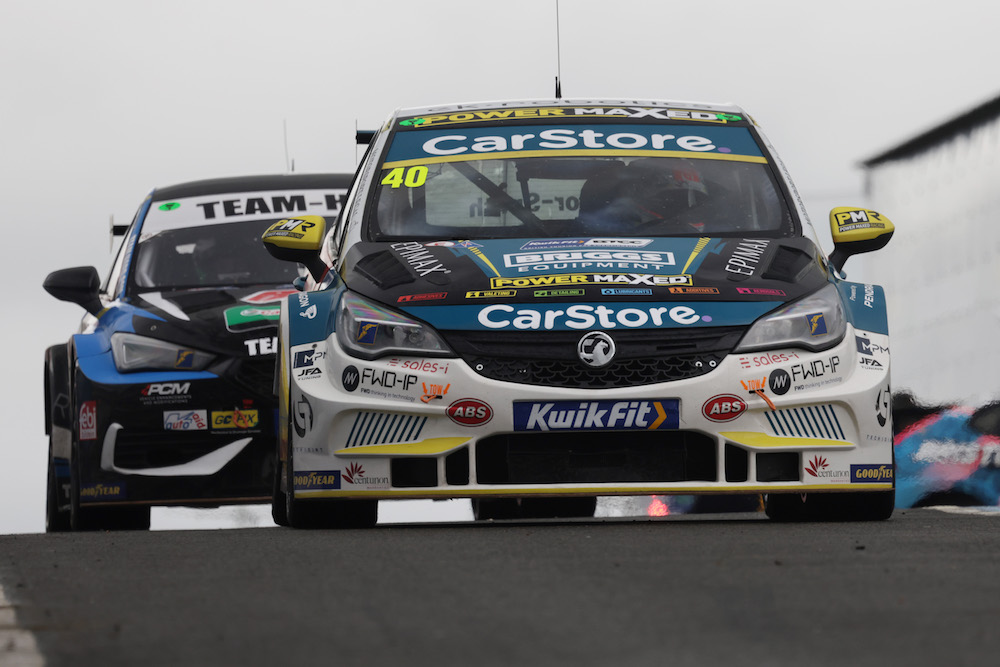 "I would like to remain here"
After having these upward momentum performances, the four-time BTCC race winner is looking to stay with the team beyond 2023.
"We're working on a long-term project at the moment and I would like to remain here. I feel like every team has their stablemate driver. If you look across the most successful teams and drivers in this paddock they're always with the one team for the majority of their career.
"They can kind of build a team around them. I feel like this is a place where I can see that happening. I can see that becoming a home for me. My aspirations are, and I'm hoping that it all starts to come together in the near future, that we will sign up to continue going.
"The talks are very much ongoing at the moment. Which is exciting because it's still so early doors, but we'll be in a really good position staying here".
"The atmosphere is radiating around the team"
Prior to speaking to TouringCars.Net, Taylor-Smith had achieved 11 independent podiums so far in 2023 without a win. All of a sudden that very afternoon that had changed. Even with this being the case the outright podium still eludes him. The 33 year-old believes this will not be the case for long.
"I think it's very, very close. If we catch a reverse grid here today I think we can do it." "Why are you speaking so quietly?" Team Principal Adam Weaver interjects. "Yeah this is unusual for me" Taylor-Smith replies.
"Winning ways are very close. We just need a few little breaks and all of a sudden we'll be straight back there. If that red flag didn't come out in qualifying we would have caught that break. We catch a reverse grid here today we'll be down the road.
"I'm excited. Every morning we wake up to go into race day and I'm excited to see what we can achieve. Not thinking 'oh Jesus, what can we salvage' that's the difference.
"I feel that the atmosphere is radiating around the team in terms of what everyone's optimism is going towards. I think we'll do a great job."