Unitronic JDC-Miller MotorSports has secured its first TCR division pole position of this year's Michelin Pilot Challenge after an unbelievably tight qualifying session at Laguna Seca saw the top three split by just 0.022 seconds.
A flurry of early hot laps around the 2.238-mile circuit saw the benchmark time flit between VGMC Racing (#88), two of the three Bryan Herta Autosport w/ Curb-Agajanian Hyundais (#33 and #98) and Copeland Motorsports until Tyler Maxson stole a march in the #27 Hyundai Veloster N TCR with a 1m 32.689s heading into the final six minutes. Copeland looked on course for its second TCR pole of the season – its first having come at Lime Rock – and by a razor-thin 0.005s over Harry Gottsacker in the #33 Bryan Herta Elantra N.
Moments later though, Chris Miller posted a 1m 32.672s laptime in the #17 Audi RS 3 LMS to leapfrog both Hyundais for provisional pole position. Neither Maxson, now 0.017s shy of pole, nor Gottsacker, a further 0.05s behind, could better their times, and the Unitronic JDC-Miller MotorSports Audi will start this evening's two-hour 'Laguna Seca 120' from the top spot by the narrowest of margins.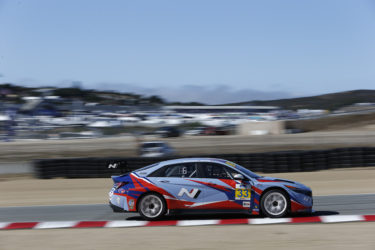 Amidst the drama up ahead, a 1m 32.815s by Karl Wittmer in the #88 FK7 Honda Civic Type-R went almost unnoticed. A pity, as the Quebec native's time was enough to move VGMC Racing ahead of championship contender Parker Chase in the #98 Bryan Herta Autosport Elantra to secure 4th on the grid, barely a tenth off the lead trio.
Atlanta Speedwerks, which incredibly started the year with four consecutive TCR pole positions, will line up 6th just ahead of VAN DER STEUR RACING (#19), runner-up last time out at Road America. Michael Johnson Racing (#54) and KMW Motorsports with TMR Engineering (#5), the latter of which took Alfa Romeo's first win of the season at Road America, will share the fourth row of the TCR grid.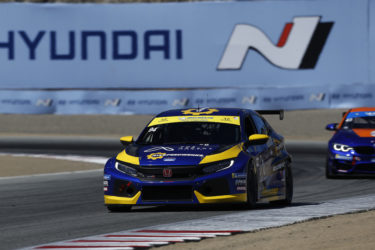 Ahead of (presumably) their now traditional charge from the back of the field, TCR championship leaders Michael Lewis and Taylor Hagler will start 11th behind Road Shagger Racing (#61) after a typically quiet qualifying session for the #77 Hyundai Elantra. Bryan Herta Autosport's third entry has yet to start a Michelin Pilot Challenge event higher than 7th this year, but has managed to finish all but two events on the TCR podium, including the pair's victory at Lime Rock. Going into this evening's event, Hagler and Lewis now lead Parker Chase, Roy Block and Tim Lewis in the standings by 190 points.
The second entries for Copeland Motorsports (#51) and Atlanta Speedwerks (#94) round out the TCR grid, the latter having already suffered a difficult start to its weekend following an off during free practice.