Victor Gonzalez Jr. finally put his winless streak in the 2020 TC America season behind him with a commanding race two victory at the Indianapolis Motor Speedway, despite running off-track at the very beginning of the race.
Gonzalez Jr. made a strong start from the front row and was alongside polesitter CJ Moses heading into turn one, but was forced to take to the run-off area after locking up badly aboard the VGMC Racing Honda Civic Type-R. Speculation quickly mounted as to whether the anti-lock braking system, brand new on the Honda for the first time this weekend, had added to the moment.
Further confusion arose at turn one as both polesitter Moses and DXDT Racing's Olivia Askew had issues of their own. Moses, having also out-braked himself into turn one, only just managed to save an enormous tank slapper aboard his Honda Civic Type-R, though the moment allowed Askew, who started third, to assume the lead. Her advantage didn't last long however, the former ski jump champion taking too much kerb through turn two and looping the Honda in front of the entire pack. It's the second race in a row in which Askew has spun on the opening lap.
The chaos ahead allowed race one winner Tristan Herbert to hit the front with Moses slotting in behind. The New German Performance Audi Sport RS3 LMS didn't hold the advantage for long though, as the recovering Gonzalez Jr. made quick work of Moses and made a decisive move down the inside of turn eight 10 minutes later to take the lead. The VGMC Racing Honda Civic Type-R quickly disappeared into the distance, setting the race's fastest lap – a 1m 33.648s – en-route to an emotional first win of the season.
"It's amazing!" an overjoyed Gonzalez Jr. explained in victory lane. "I was crying on the way here because all the emotion and all the hardwork that we have all put in… we should have won at least four races by now, but it makes me appreciate more what racing is all about. I've learnt to be more patient."
Runner-up Herbert collected his second consecutive podium of the weekend ahead of KMW Motorsports w/ TMR Engineering's Roy Block. The #5 Alfa Romeo Giulietta, which failed to finish race one after suffering a tyre blowout, slipped back to sixth during the opening lap's melee but ran a methodic race thereafter to pick off eventual fourth-placed CJ Moses to collect his sixth podium of the 2020 TC America season. Following her opening lap spin and after a spirited run, Olivia Askew came through to finish fifth.
Newly crowned TCR champion Tyler Maxson meanwhile endured another miserable race at Indianapolis. The Copelands Motorsports driver completed just two laps aboard the #74 Hyundai Veloster N TCR yesterday, with unconfirmed technical gremlins allowing him to make just five tours this afternoon.
It was a similarly anti-climactic end to the weekend for both Scott Smithson and Tony Lewis Jr. The DXDT Racing and KMW Motorsports w/ TMR Engineering pair were unable to make the start having heavily damaged their Honda Civic Type-R and Alfa Romeo Giulietta in their race-ending shunt on Saturday.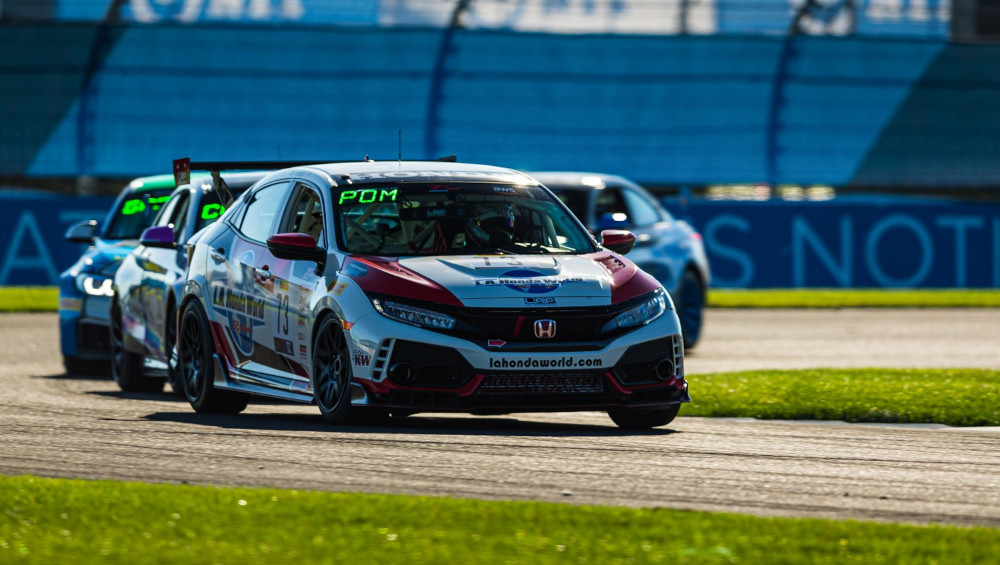 Across in the TC class, series returnee Mathew Pombo secured his second consecutive win aboard the LA Honda World Racing Honda Civic Type R in an action-paced TC race, while champion elect James Clay put the title beyond reach with a fighting drive to fourth.
Having started from the category pole position, Pombo led throughout the 40-minute race and even ran as high as fifth overall during the opening tours to secure only the third non-BMW class victory of 2020 aboard LA Honda World Racing's newly-developed Honda Civic Type-R.
"Two days in a row for us!" a delighted Pombo said in victory lane. "We got this car a month ago straight off the shelf, and we were working really hard to make it go and we're doing this mainly for customers next year, so hopefully everybody sees that [the] Honda is competitive and will jump in the TC class and come run with us!"
Title contender Toby Grahovec drove an equally strong race to finish second in-class, though this was not enough to deny fourth-placed James Clay the 2020 TC class title.
The latter was involved in a knife-edge battle for third from the get-go, with five BMW M240iR Cups welded together around Indy's 3.925km road course for the duration of the race. Third in the early stages was held by LA Honda World Racing's Mike Lamarra, who made repeated attempts to claim Grahovec's second place into turn eight before eventually dropping back. An impressive run for the final podium spot continued until Lamarra's tyres seemed to give up heading into the final 10 minutes, and having been hung up on the outside of turn eight by Clay, the #37 Honda quickly fell back through the field. Lamarra was eventually classified a disappointed eighth.
Clay though was not out of the woods yet. Hard Motorsport's Johan Schwartz, who came alive in the final 15 minutes of the race, made a sensational move around the outside of turn nine to drop Clay to fourth only just ahead of the baying Bryson Lew (Classic BMW) and Chandler Hull (Bimmerworld). Shortly afterwards, Clay sent all heart rates in the Bimmerworld paddock rocketing when he attempted a robust, panel-rubbing move down the inside of Schwartz into turn one, a move the Dane only just managed to fend off.
Schwartz appeared to have the position secured until he was inadvertently hung out to dry by overall leader Victor Gonzalez Jr. on the exit of turn 13 inside the final five minutes. The loss of momentum down Indy's main straight allowed both Lew and Clay through into third and fourth respectively, though Schwartz did manage to hold off Auto Technic Racing's Rob Slonaker and Hull for fifth. Phil Bloom (Classic BMW), Tom Capizzi (Auto Technic Racing), and Ally Raphael (Classic BMW) rounded out the TC top 10.
Eric Powell bounced back in style to secure a dominant TCA win for TechSport Racing ahead of newly-crowned TCA champion Kevin Boehm.
In an attempt to take the TCA lead around the outside of turn one in yesterday's opening race, Powell was knocked into a spin by two of the MINI JCW Team Coopers and eventually had to settle for seventh. In complete contrast, the #22 Subaru BRZ tS today ran unchallenged and had pulled almost five seconds clear come the chequered flag.
"Absolutely awesome!" Powell explained in pitroad. "I got a last-minute opportunity to come back and reprise my role in the TechSport Racing BRZ, and couldn't be prouder of the guys. They gave me an awesome car. Didn't go so well yesterday, and I was like a human pinball, but we kept it clean today and we're in victory lane at Indianapolis. How cool is that?!"
Behind second-placed Boehm, race one runner-up Mark Pombo came out best in a race-long, inter-team battle with MINI JCW teammate Tomas Mejia for third. Mejia meanwhile managed to avoid his two-wheeled antics from race one to finish off a solid season in fourth.
Clay Williams, who was eliminated from race one after a hearty collision with Ruben Iglesias, pipped PJ Groenke (TechSport Racing) for fifth, while Caleb Bacon (CB Motorsports) and Jonathon Newcombe (VGMC Racing) were split by less than half a second at the flag in sixth and seventh.
Former title contender, and four-time race winner in 2020, Tyler Gonzalez rounded off an unusually subdued end-season in ninth, while Damon Surzyshyn (TechSport Racing) completed the TCA top 10 at the TC America season finale.