Scott Smithson has secured his first TC America pole position of 2020 at the Indianapolis Motor Speedway.
Smithson, who took his third win of the TC America season last time out at the Circuit of the Americas, usurped series returnee Tristan Herbert in the closing moments of the 15-minute session aboard his DXDT Racing Honda Civic Type-R (#17). Herbert was the first to set the pace at the TC America season finale with a 1m 34.255s, improving that a few laps later to a 1m 33.863s. The New German Performance Audi Sport RS3 LMS (#44) though was leapfrogged in the closing moments by Smithson's final flying fast lap, a 1m 33.483s.
This marks the first time since round two at Sonoma that a Honda Civic Type-R has beaten Hyundai to the top spot in TC America qualifying.
KMR Motorsports w/ TMR Engineering teammates Tim Lewis Jr (#55) and Roy Block (#5) locked out the second row of the grid with their Alfa Romeo Giuliettas. Lewis Jr repeated his best qualifying position of the 2020 season in the process, while Block is in a good position to secure his fifth TCR podium finish on the bounce.
An impressive flying lap in the closing moments of the session secured CJ Moses (04) 5th place on the TCR grid, the DXDT Racing's best effort since qualifying 4th at both Virgina and Sonoma. Still gunning for her maiden podium of the season, Moses' DXDT teammate Olivia Askew (#29) will start 6th.
In an unusually placid session for Tyler Maxson, the newly crowned 2020 TC America TCR-class champion could only manage 7th on the grid. Maxson has topped three of the previous five qualifying sessions in this year's TC America and goes into this weekend at Indianapolis looking for a sensational 12th win of the year. Despite that, the Copeland Motorsports Hyundai Velosoter N (#74) ended qualifying more than eight-tenths adrift of 7th placed Askew.
Victor Gonzalez Jr endured a similarly difficult qualifying session. The VGMC Racing driver, already a nine-time TCR podium finisher in 2020, completed just one fastest lap aboard his Honda Civic Type-R.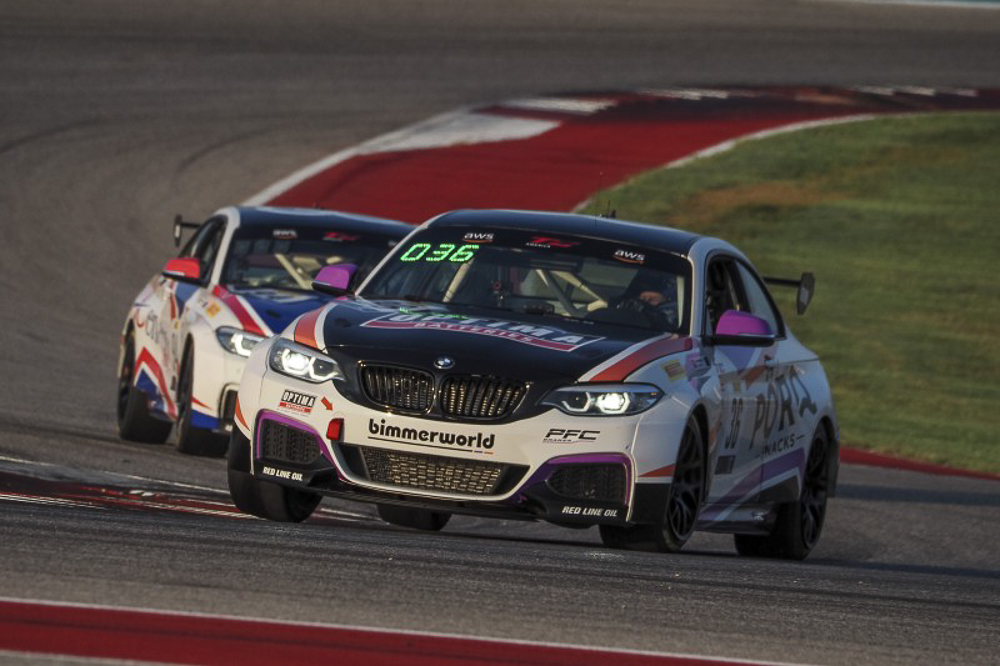 Like Scott Smithson, TC standings leader James Clay secured his first category pole position of the year in the #36 BimmerWorld BMW M240iR Cup, narrowly pipping reigning class champion Johan Schwartz in the process.
Schwartz (#31) secured TC pole at three of the previous five outings in TC, and while the Hard Motorsport driver looked set to extend that run at Indianapolis, a last minute 1m 37.9652s from Clay was enough to nab pole position by just 0.112ss. Ironically, Classic BMW's Toby Grahovec, Clay's nearest championship rival and one of COTA's two TC class winners, will start just behind the pair in 3rd.
Chandler Hull (#94) secured 4th on the grid with mere seconds of the session left to run in the Bimmerworld BMW M240iR Cup, pushing LA Honda World Racing's Mathew Pombo (#73) down to 5th on the grid. The latter makes his first start in the TC class at Indianapolis having competed in the TCA class last time at COTA alongside brother Mark.
Bryson Lew (Classic BMW, #27), Mike LaMarra (LA Honda World Racing, #37), Rob Slonaker (Auto Technic Racing, #20), Phil Bloom (Classic BMW, #11), and Tom Capizzi (Auto Technic Racing, #52) round-out the top 10 in the TC class.
TCA standings leader Kevin Boehm secured a hattrick of pole positions with a commanding run aboard his eponymous Honda Civic Si. Boehm, who could secure the class championship in the opening race at Indianapolis this weekend, pulled more than half a second clear of nearest rival Eric Powell to secure the TCA top spot. Powell (#22) makes his maiden start in 2020 with TechSport Racing at Indianapolis.
Boehm's nearest championship rival, Tomas Mejia (#60), will start 3rd in the first of four MINI JCW Team, with teammates Mark Pombo (#61) and Clayton Williams (#62) locking out the third row. P.J. Groenke (#25) splits the trio and will start 4th aboard the TechSport Racing Subaru BRZ tS.
Tyler Gonzalez (#57) will line up 7th. Brutally, the Copeland Motorsports driver, already a four-time TCA class winner thus far in 2020, missed the third row of the TCA grid by just 0.017s in the Hyundai Veloster Turbo.
Kevin Anderson (TechSport Racing, #28), Max Peichel (MTP Motorsports, #14) and Damon Surzyshyn (TechSport Racing, #24) round out the top 10 qualifiers in TCA.
Ahead of tomorrow's opening race, question marks linger over Jonathan Newcombe (VGMC Racing, #178), Joey Jordan (FTG Racing, #70) and Caleb Bacon (CB Motorsports, #18). None of the three set a hot lap in qualifying, with Bacon, a podium finisher last time out at COTA, only completing his outlap before returning the Hyundai Veloster Turbo to pit road.