René Rast admitted that his victory in the second DTM race at Zolder was like a 'crazy story' after the Audi driver survived a grid fire to clinch his second consecutive win in Belgium.
Before Rast even started the race the dramas had begun. After lining up in this third place grid spot, smoke rose from the engine bay of the German's RS5.
With flames coming from his engine, Rast's mechanics worked to extinguish the fire and fix the issue, allowing him to start the race.
Then, Rast made a superb start, jumping immediately from third to first before the first corner after an electric start.
Whilst in the lead, Rast was untroubled. Making his mandatory pit stop on lap 12, the reinigng champion was in the right place at the right time when title rival Robin Frijns crashed on the pit exit.
The resulting safety car helped Rast, whilst his championship rival Nico Müller suffered and could only claim eighth.
The victory leaves Rast just ten points adrift in the battle for the title, with four races still to go including two more at Zolder next weekend.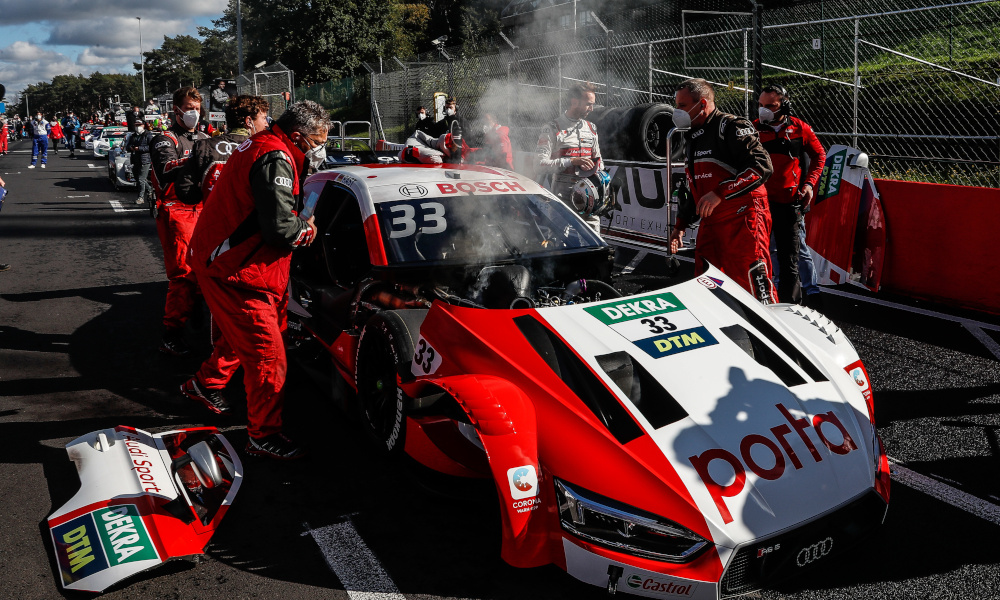 "It was a crazy story," said Rast of his third win of the season. "We parked on the grid and there was smoke coming up so we opened the bonnet and there was fire coming out.
"At that moment we thought the race was going to be over, but somehow my mechanics kept cool and got it under control.
"Then at the start, from P3 to P1 before the first corner was just amazing. Then after that, with the safety car, it wasn't easy to take the right decisions.
"We were lucky to be in the pitlane when Robin crashed the car. But everything again went just perfect, except the fire, obviously.
"We are ten points behind Nico now. Exactly what we always said – one weekend can change the whole story – and now we are back."
Rast, who won six consecutive races in the tail end of the 2018 DTM season, says that anything can happen as the DTM season concludes.
"Anything can happen from now onwards. The good thing is that we still have two races here – the track seems to suit me and suit our car – so that is positive.
"Let's hope we can continue like that."