Target Competition's Mat'o Homola was "very happy" to secure what he described as an "unexpected" TCR Europe podium after the Hyundais struggled with weight at Spa-Francorchamps.
The WTCR and TCR International race-winner qualified eighth for the opening race but would start seventh after Dan Lloyd's demotion, eventually maintaining that position in the first encounter.
Starting fourth for the reverse-grid race, Homola made initial progress on the opening lap, and benefitted from the leaders making contact, with polesitter Dušan Borković getting hit by Jimmy Clairet at Les Combes.
Homola then fended off late pressure from Target Competition stablemate Andreas Bäckman, and told TouringCars.Net he was happy to secure the final spot on the podium after struggling with straight-line speed.
"I'm very, very happy because honestly I didn't expect that," said Homola.
"We really had the highest weight of all the cars and a very big difference between our weight and the others.
"So we knew we would struggle, especially on the straights we were really slow. But I didn't have the pace in free practice anyway, because the car is still new to me.
"Race one was the maximum I could get, and race two was a bit of a destruction derby with what I saw in front of me and behind me, so I tried to be in a safe place each time. 
"Fortunately I was, so I tried to keep my position and it was quite a surprise for me but yeah the points are there so I'm very happy."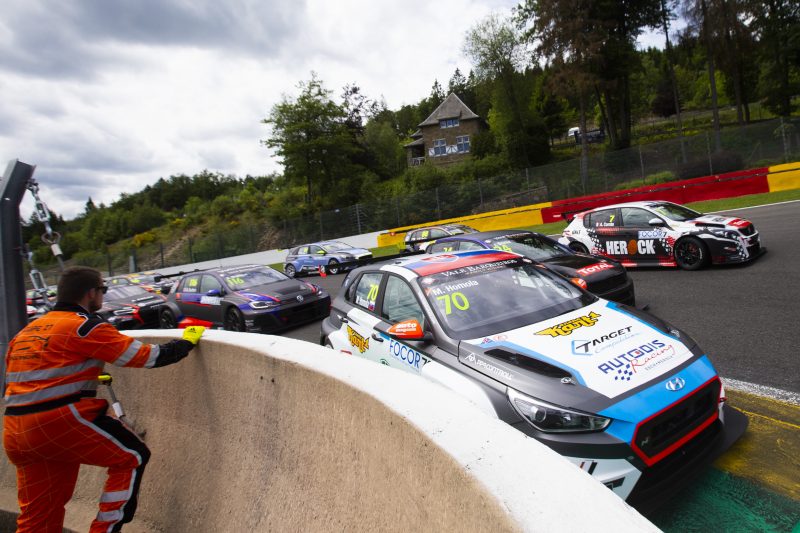 Homola eventually held off team-mate Bäckman by just three tenths at the flag, explaining that he lost time after lifting off when the chequered flag was displayed a lap early.
"Honestly I thought that we would finish the lap before, so because of that I was quite careful on the last sector of what I thought was the last lap," he explained.
"Then when I crossed the chequered flag my engineer told me I had one more lap I said, 'What?!' I had a really bad exit from the last corner.
"I saw Andreas was really fast especially on the straights and on the exit of the corners. So I needed to really fight hard with him.
"He's my team-mate so we shouldn't touch and we didn't touch so it was a really nice, clean fight."
Looking ahead to the next round of TCR Europe at the Red Bull Ring, Homola believes the Hyundai should be well-suited to the Austrian circuit, which he will make his first competitive visit to.
"I think we should carry less weight, compared to the other competitors and brands we should be really close to them," Homola said.

"It's still a fast circuit but we saw in TCR Germany that the Hyundai won so hopefully it will suit us.
"I'll be there for the first time, but I have no problem to adapt to the new tracks, so I will try to be on the podium again."