WSC Technology launched the all-new ETCR – the first global multi-brand electric touring car series – at Circuit de Catalunya-Barcelona today [21st October], with the inaugural season set for 2020.
The launch also played host to the CUPRA e-Racer's first demonstration runs to the public, with former World Touring Car Championship racer Jordi Gene behind the wheel at the 2.8 mile Catalan circuit.
Though the CUPRA project – the first to conform to the ETCR's technical regulations – has taken 18 months to complete, WSC President Marcello Lotti believes that, with a similar timeframe still available until the series debuts, more will be able to follow.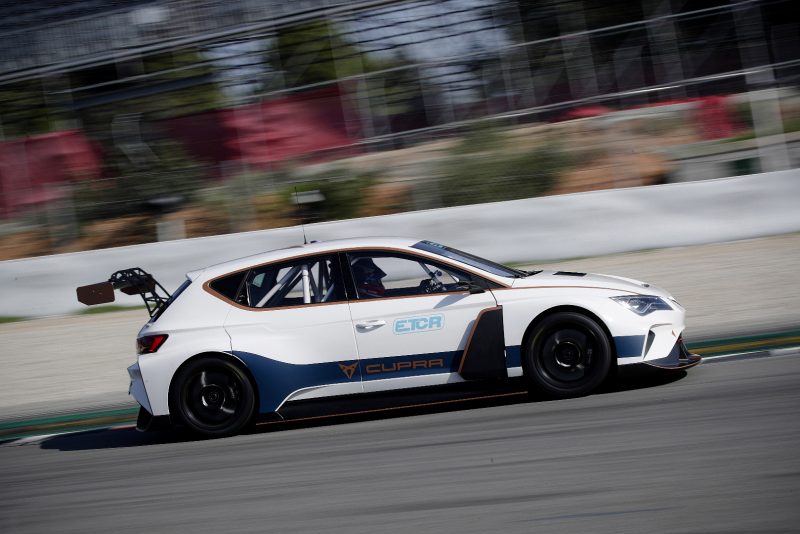 CUPRA's e-Racer is powered by two twin-electric motors located over the rear axle with a power delivery capability of up to 500 kW (680 bhp), and is equipped with an energy recovery system.
It weights 400 kilograms more than it's regular TCR counterpart, and can accelerate to 100 km/h in 3.2 seconds.
"In the wake of the global success achieved by TCR and being aware of the automotive market's current trend towards a new and responsible mobility, two years ago WSC Technology embarked on this ambitious project with the aim of educating the motorsport community in making contact with these new technologies that represent the future reality," Lotti explained to an audience including TouringCars.net
"The ETCR applies electric power units to the very same chassis concept of TCR cars. It is already attracting the interest of different car manufacturers that also regard it as a tool to restore the role of motorsport as a platform for research & development that can transfer experience and innovations to the standard products."
"Our ultimate goal is to show the fans that electric car races are as entertaining as those for the internal combustion-engined cars. And we would like to highlight the deep involvement of CUPRA in the overall project from a technical point of view. The cooperation between WSC and SEAT began from the inception of the TCR concept and has now taken a further step forward during this project with the development of the first racing car built in compliance with the ETCR technical regulations."